About Nevada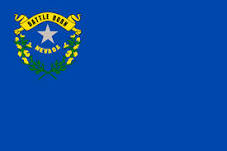 Time Zone Pacific:
UTC −8/DST−7
Clock shows DST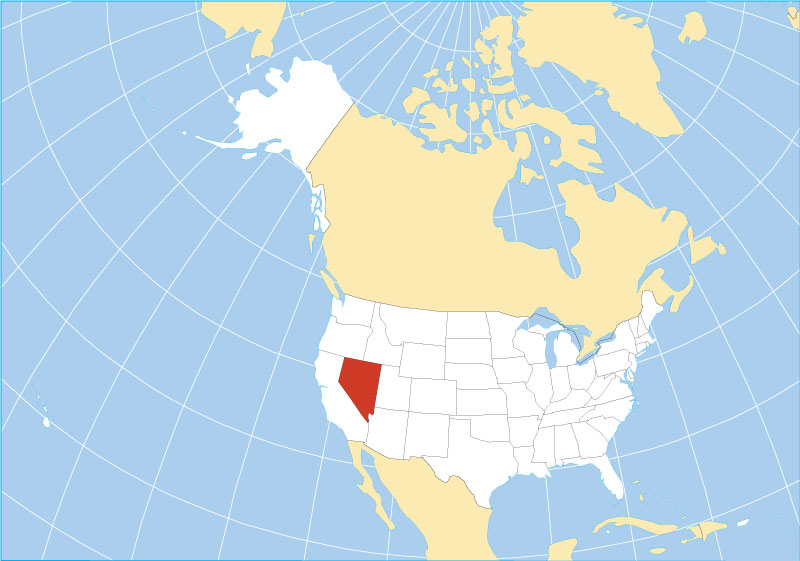 Nevada is a landlocked state in the western region of the United States, it borders Oregon and Idaho on the north, Utah on the east, Arizona on southeast, and California on the west and south west.




The Spanish were the first Europeans to explore the region. They called it Nevada (snowy) because of the snow covered mountains.
The United States acquired the area of Nevada from Mexico in 1848. Nevada Territory was organized from the western part of Utah Territory on 2nd March 1861. The territory added area along the eastern boundary from Utah Territory in 1862. Nevada was admitted to the Union on 31st October 1864, as the 36th state.




Area
area of 286,380 km² [1], making it somewhat larger than the United Kingdom. Compared with other US states, Nevada is about twice the size of New York state, but would fit into Texas almost 2.5 times.



Nevada's landscape is dominated by the Great Basin Desert within the Great Basin.
The temperate desert covers most of the state's area. The Great Basin Desert covers an area of more about about 492,000 km² (190,000 sq mi). It is the largest of the four major deserts in the United States with an area about twice the size of the UK. The arid region is located between the Sierra Nevada in west, the Wasatch Range of Utah in east, the Columbia Plateau in north, and the Mojave and Sonoran deserts in south.

The area is characterized by a unique basin and range topography – many parallel mountain ranges corresponding with flat, arid valleys running northeast-southwest.
There are more than 33 peaks within the desert with summits higher than 3,000 m (9,800 ft), but also the floor of the valleys in the region are at an elevation above 300 to 1,800 m (1,000 to 6,000 ft) a.s.l..

The Great Basin Desert is a "cold" desert, where most precipitation falls in the form of snow, especially at higher elevations.





Lakes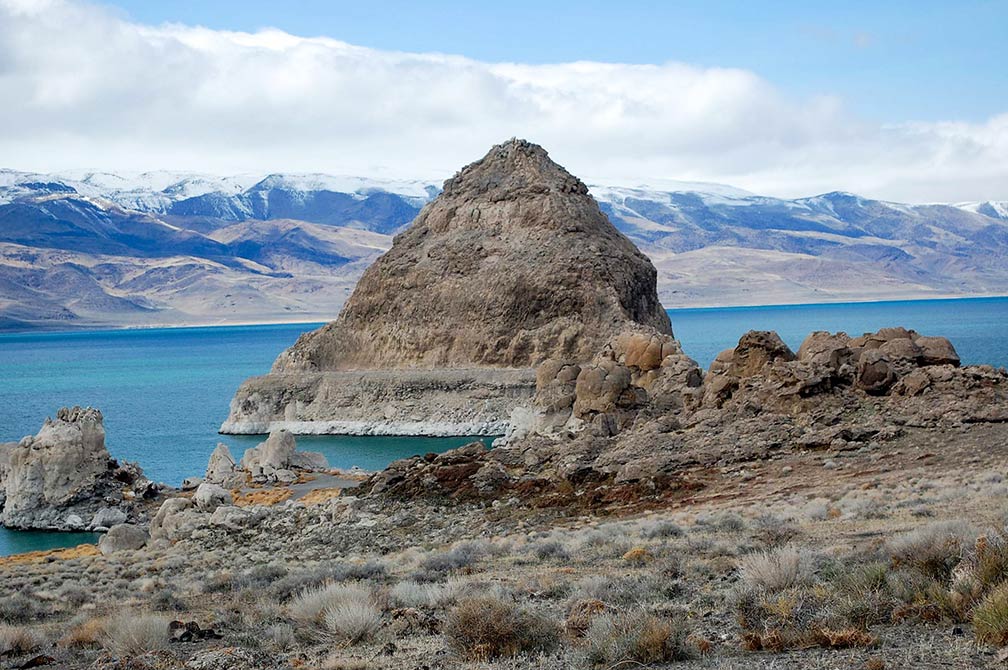 Image: Luke H. Gordon

Nevada's natural attractions are Lake Tahoe to the west of Carson City. North America's largest alpine lake is situated on the Nevada-California state line in the Sierra Nevada Mountains at an elevation of 1,897 m (6,225 ft). Along the lake's northeastern shore is Lake Tahoe Nevada State Park.

Pyramid Lake in Washoe County east of the Virginia Mountains is a remnant of the ancient Lake Lahontan that covered much of northwestern Nevada at the end of the last ice age (Pleistocene).

Lake Mead, in south east of the state is the largest reservoir in the US, the artificial lake is formed by the Hoover Dam (formerly Boulder Dam) on the Colorado River. The lake last approached full capacity in the summer of 1983 [2].


Canyons
Lamoille Canyon, a valley in Elko County in the Ruby Mountains, sculpted by glaciers in the last ice age.

Red Rock Canyon National Conservation Area, a region with large red rock formations west of Las Vegas. (https://www.blm.gov/programs/national-conservation-lands/nevada/red-rock-canyon)

Valley of Fire State Park offers red sandstone formations reflecting sunlight.
(http://parks.nv.gov/parks/valley-of-fire)


Mountain Ranges in Nevada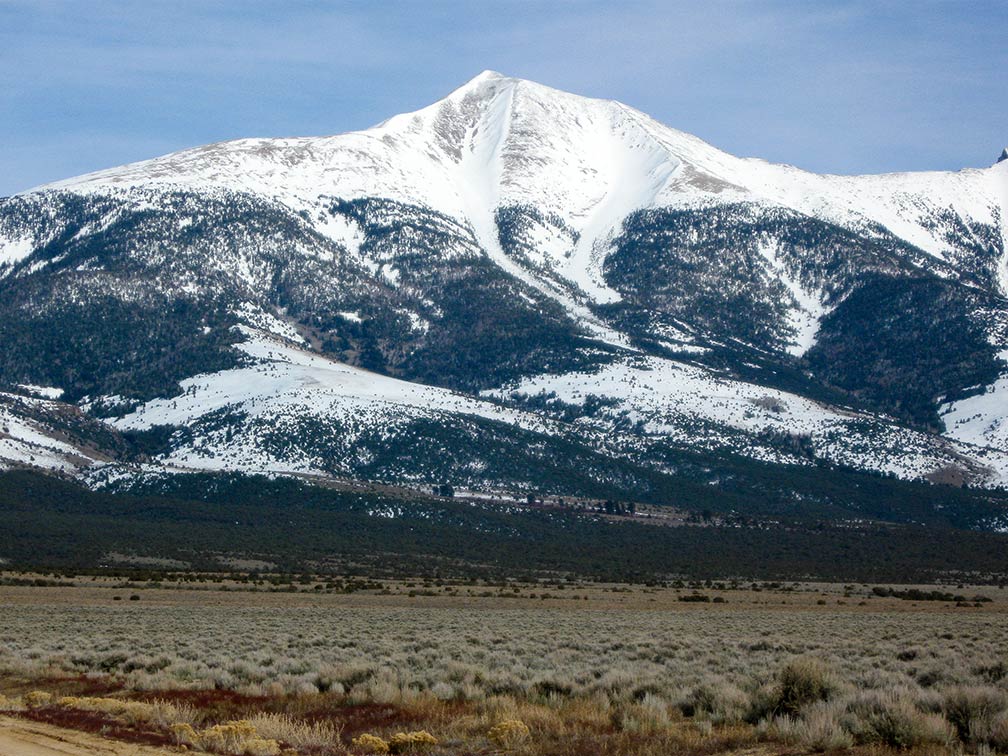 Image: DrunkDriver

Nevada has probably more mountain ranges than any other state in the contiguous United States. The Humboldt-Toiyabe National Forest (HTNF – https://www.fs.usda.gov/htnf), located in Nevada and a small portion of eastern California, is the principal U.S. National Forest in Nevada. It is the largest national forest in the lower 48 states. The park is not contiguous, its

seven

ranger districts are scattered across many mountain ranges in the state. [3]

Major ranges are:
Schell Creek Range within the Humboldt-Toiyabe National Forest, adjacent to Humboldt National Forest is Cave Lake State Park, a public recreation area southeast of Ely; highest point in the range is North Schell Peak at 3,622 m (11,883 ft).
Toiyabe Range, also within the Humboldt-Toiyabe National Forest; highest point in the range is Arc Dome at 3592 m (11,788 ft).
Ruby Mountains, in Elko County, dubbed "the Alps of Nevada". The chain of mountains reaches a maximum elevation of 3,472+ m (11,392+ ft) at the prominent peak of Ruby Dome.


Highest Point
Highest mountain in Nevada is Boundary Peak in the ‎White Mountains at 4,007 m, [4] located near the California border, more famous is snow-capped Wheeler Peak (at 3,982 m) highest summit in the Snake Mountains near the state's border with Utah.




Population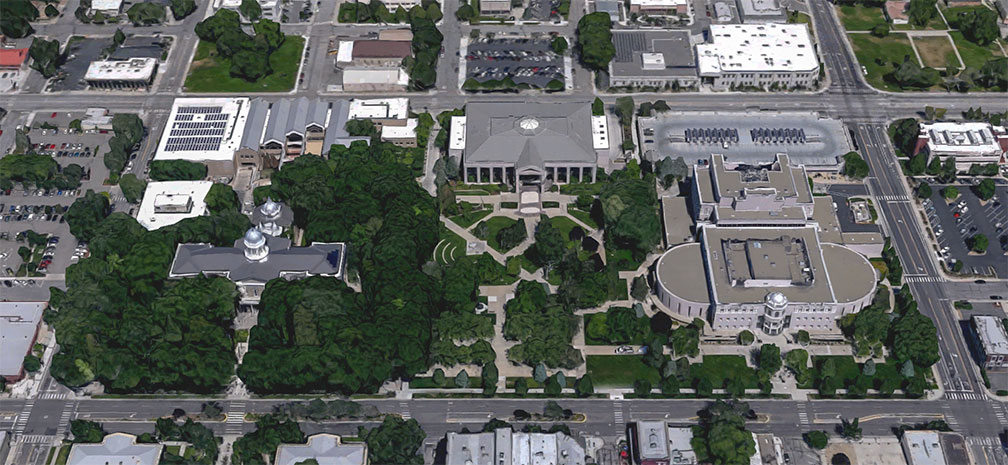 Image: Google

Nevada has a population of 2.9 million people (est. 2018) [5]. Capital is Carson City, largest city is Las Vegas, largest metropolitan area is Las Vegas–Paradise, NV MSA.
Other major cities are Reno, Henderson, North Las Vegas, and Sparks.

By far largest airport is McCarran International Airport (IATA code: LAS) in Paradise, Las Vegas, other airports are Reno/Tahoe International Airport (IATA code: RNO), and Boulder City Municipal Airport (IATA code: BLD).



Cities and Towns in Nevada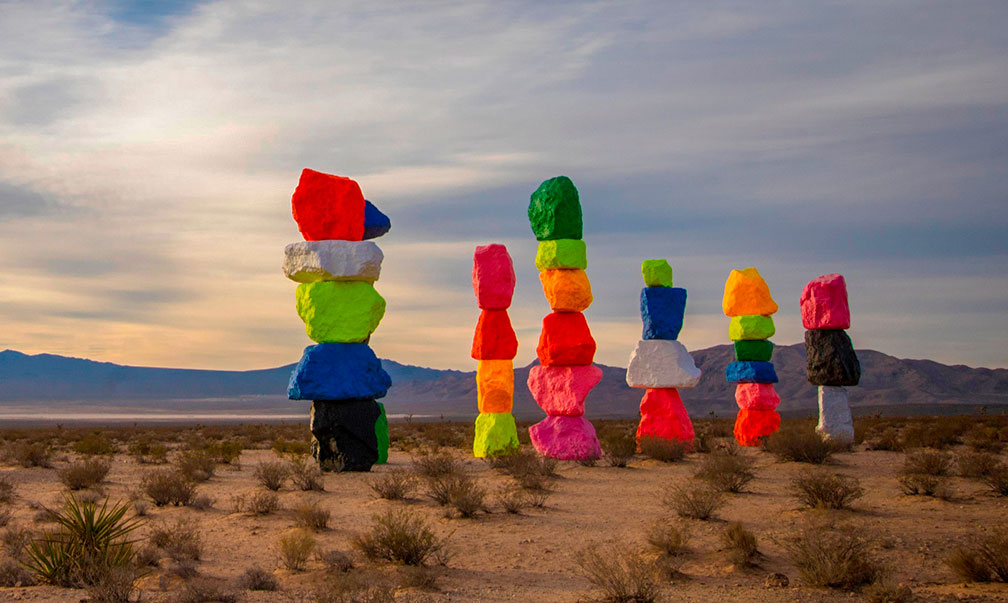 Image: Thomas

The map shows the location of following cities and towns in Nevada:


Largest cities in Nevada with a population of more than 90,000:
Las Vegas (600,000), Reno (228,000), Henderson (260,000), North Las Vegas (219,000), Sparks (91,000), Carson City (capital city; 55,000)


Population figures in 2014




Other cities and towns in Nevada:
Austin, Battle Mountain, Beatty, Boulder City, Caliente, Denio, Elko, Ely, Eureka, Fallon, Gardnerville, Hawthorne, Indian Springs, Laughlin, Lovelock, McDermitt, Mesquite, Panaca, Pioche, Round Mountain, Ruth, Tonopah, Virginia City, Wells, Winnemucca, and Yerington.







Image: Rmvisuals



The detailed map below is showing the US state of Nevada with boundaries, the location of the state capital Carson City, major cities and populated places, rivers, streams and lakes, interstate highways, principal highways, and railroads.




You are free to use this map for educational purposes (fair use), please refer to the Nations Online Project.