Area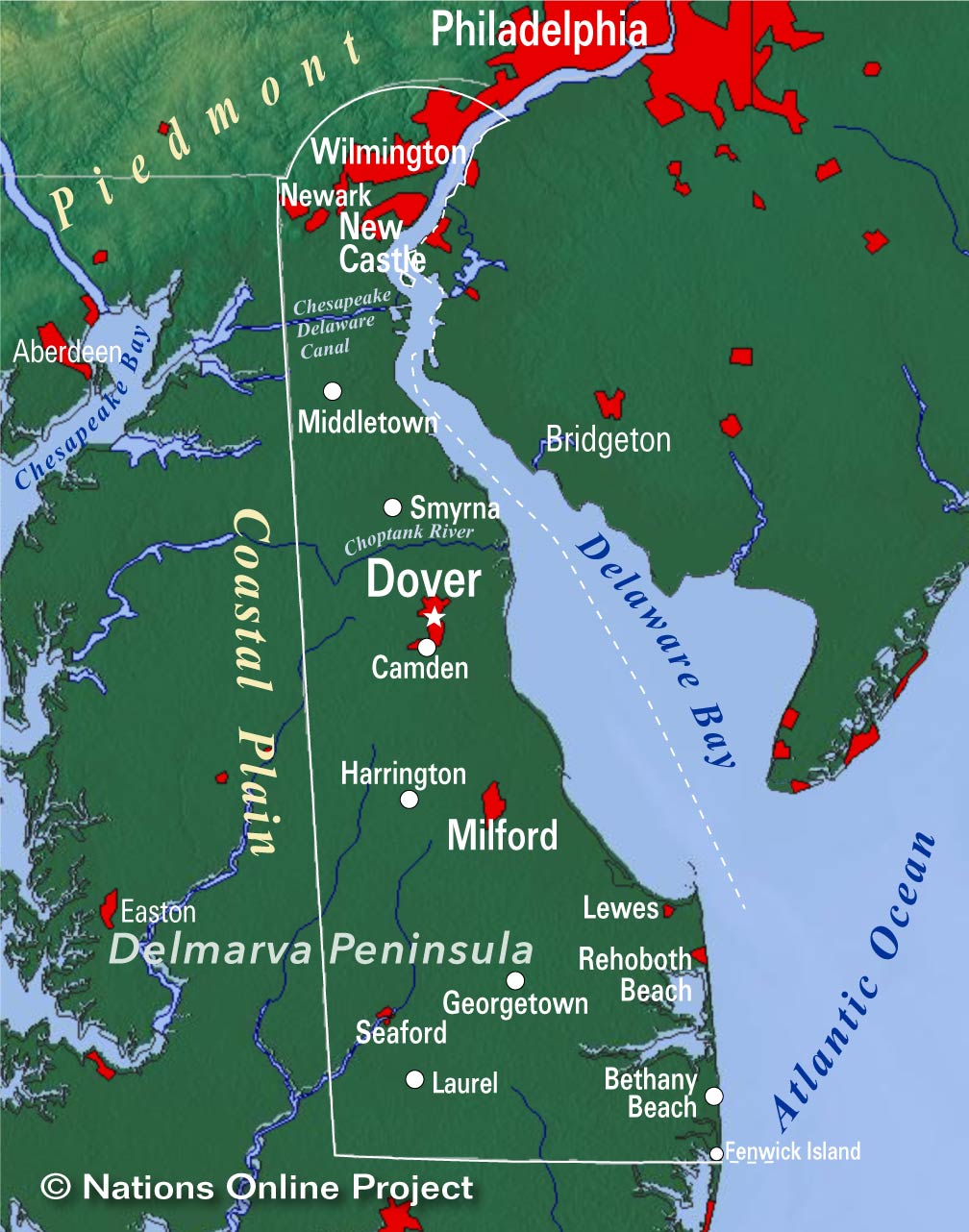 Delaware occupies an
area
of 6,446 km² (2,489 sq mi)
[1]
, it is the second smallest state in the US after
Rhode Island
. Measured from north to south, it is 154 km (95.5 mi) long; at its smallest point, it is just 14.5 km (9 mi) wide. Compared, it would fit into
Belgium
almost five times.
Compared with other US states, Delaware would fit into Texas more than a hundred times.
The state has just three counties, namely (from north to south) New Castle, Kent, and Sussex.
Situated at the northern end of the low-lying Atlantic Coastal Plain, Delaware's landscape is mostly boring flat; it has the lowest mean elevation of any state in the US. The highest point of Delaware (at about 460 ft, or 140 m), situated in a mobile home park, close to the official benchmark monument of the
Ebright Azimuth
.
Major rivers are Delaware River, Mispillion River, Indian River, and Nanticoke River.
Beaches in Delaware
Beaches in Delaware are popular tourist destinations for locals and visitors from the nearby areas of
Washington D.C.
,
Baltimore
, Wilmington,
Philadelphia
, South Jersey, and Hampton Roads. Delaware Beaches ranked nationwide number 1 in water quality in 2011. Southern Delaware is home to more than 25 miles of coastline along the Atlantic Ocean and Delaware Bay.
[2]
Major tourist towns at the Atlantic are the bustling towns of Dewey Beach and Rehoboth Beach, and "The Quiet Resorts" of Bethany Beach, South Bethany, and Fenwick Island.