About Tallahassee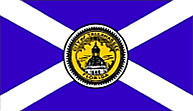 The satellite view shows Tallahassee, the county seat of Leon County and the capital of the State of
Florida
in the

United States
. Tallahassee lies about 164 mi (265 km) west of
Jacksonville
, near Florida's border with
Georgia
in the state's mostly rural panhandle, about 45 km (28 mi) north off the coast of the Gulf of Mexico.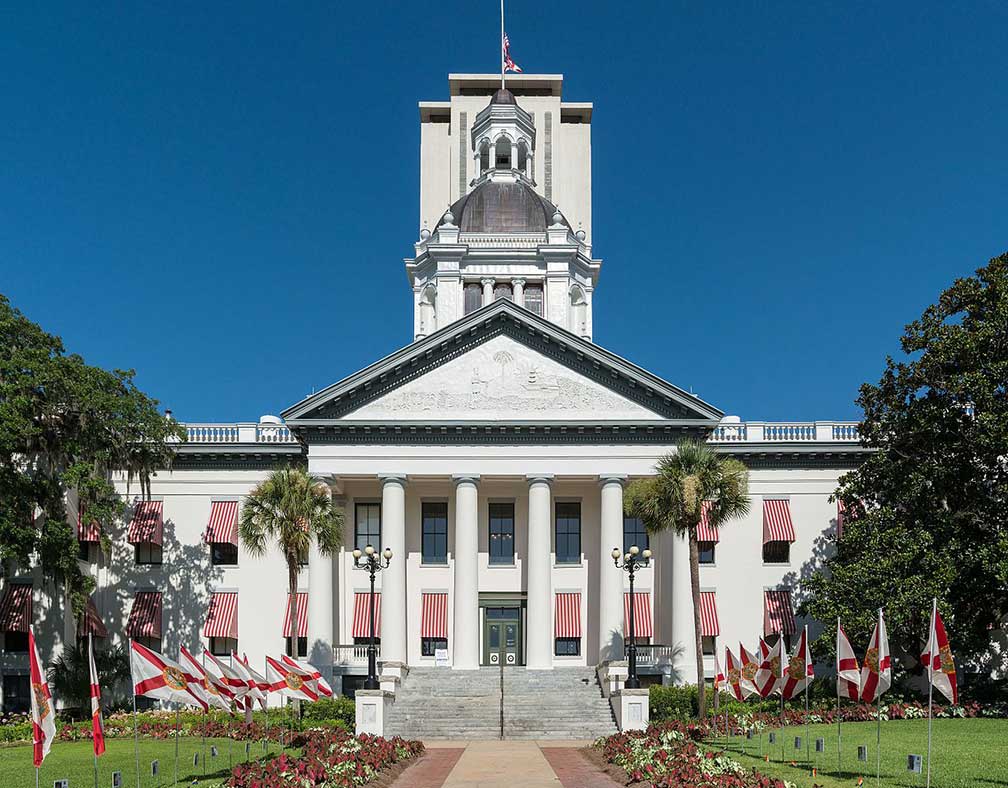 Image: DXR
In 1824 Tallahassee became the capital of Florida Territory, which later was admitted to the Union as the State of Florida in March 1845.
Florida's seventh largest city has a population of about 191,000 inhabitants (in 2017), 382,000 people live in Tallahassee metro area (in 2017).
The city's nicknamed is "Tally," or The big "T".
Florida's capital is a college town and home to two universities, the
Florida State Universit
y (
www.fsu.edu
), a public research university, and the
Florida Agricultural & Mechanical University
(
www.famu.edu
), one of the largest historically black universities in the US.
Tallahassee points of interest:
List of Tourist Attractions
Florida State Capitol
complex consists of four very buildings, the nineteenth-century Old Capitol building which houses the Florida Historic Capitol Museum (
www.flhistoriccapitol.gov
), the House of Representatives, the structure of the Senate chambers, and the 22-story Executive Office Building.
Museums: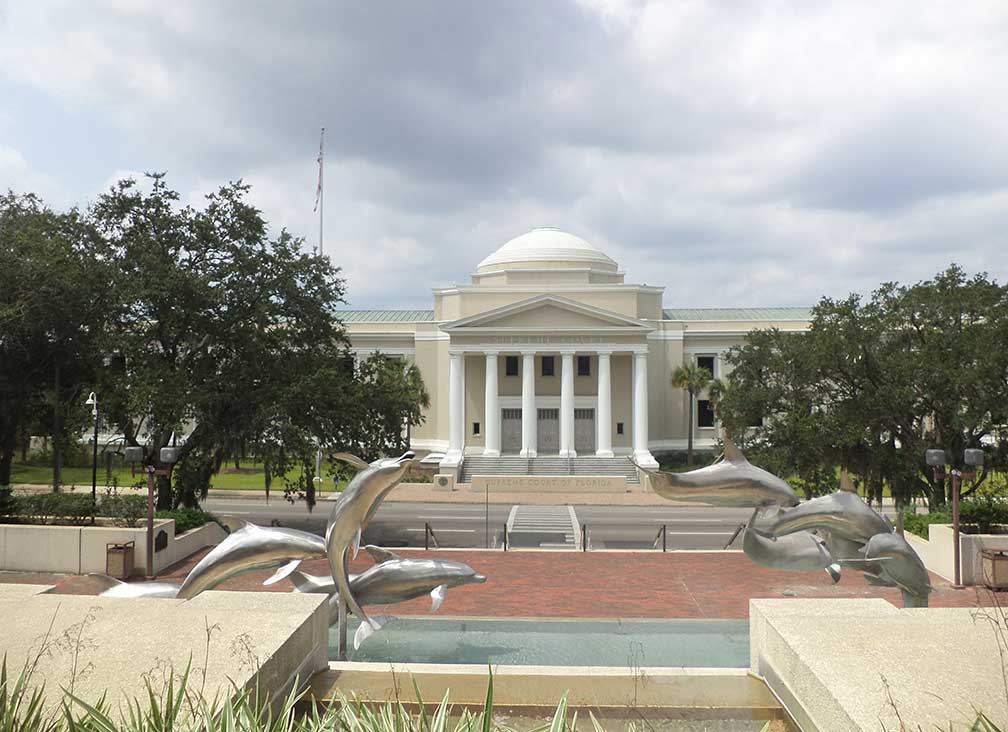 Image: Michael Rivera
Tallahassee Museum
showcases the Big Bend region's natural and cultural history, from the 19th century until today. The outdoor museum at Lake Bradford offers Florida wildlife with various animals, and rural life with reconstructed farm houses -
tallahasseemuseum.org
).
Museum of Florida History
(
museumoffloridahistory.com
), shows its collections of artifacts covering Florida's history and prehistory.
The
Lake Jackson Mounds Archaeological State Park
(
official park website
) is now a state park on the site of a former significant ceremonial ground of the so-called Fort Walton Culture, a prehistoric Native American culture. The park houses the remains of a group of earthen mounds presumably built by people of the Pensacola culture, an ancient Native American society (~1050–1500).
The
Tallahassee Automobile Museum
(
tacm.com
) is a museum for automobiles and collectibles, anything from Antique Time Pieces to Steinway Pianos.
San Luis de Apalachee
(
missionsanluis.org
), was a Spanish Franciscan mission from the 17th century, the site is now a living history museum named Mission San Luis.
Tallahassee arts:
Council on Culture & Arts
, COCA is the voice for the arts and cultural industry in Florida's capital area, they publish the Tallahassee arts guide
(tallahasseearts.org
.)
Railroad Square Art Park
, Tallahassee's alternative art scene and entertainment district near the Amtrak station.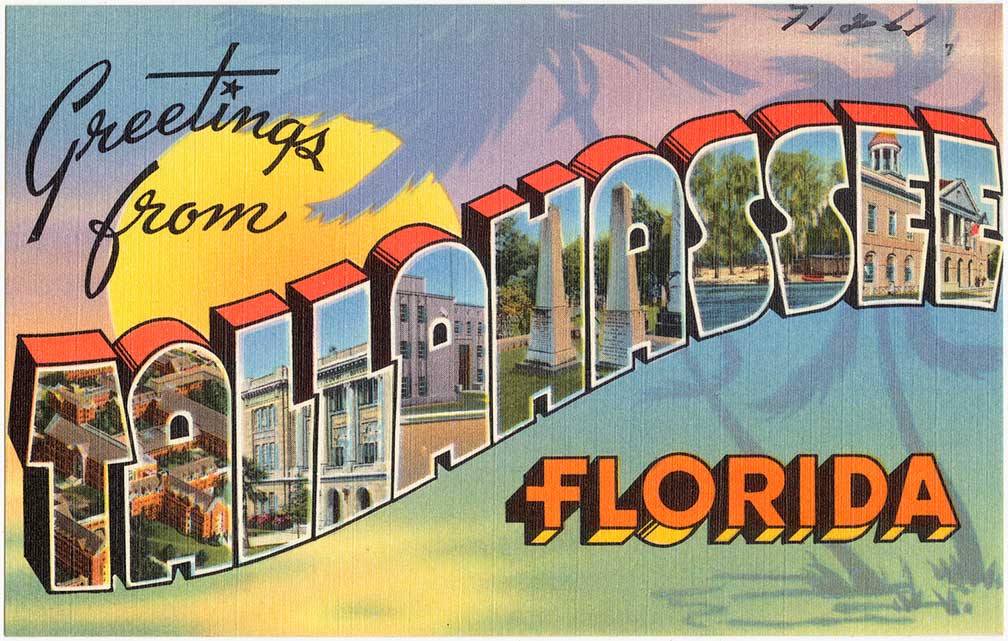 Image: Boston Public Library, Print Department
Performing arts:
FSU Theatre Department
, Florida State University's School of Theatre with
Richard G. Fallon Theatre
, its largest performance stage; The Lab Theatre, a 150-seat intimate theater, and the 189-seat Augusta Conradi Studio Theatre, the oldest theater on the campus.
Churches:
Co-Cathedral of Saint Thomas More
, is a Catholic co-cathedral.
Convention center:
The
Donald L. Tucker Civic Center
(
tuckerciviccenter.com
), hosts conventions, sports, concerts and seasonal events like rodeos.
Parks:
Cascades Park
(
discovercascades.com
), downtown city park offers a variety of outdoor and recreational amenities with an amphitheater, an interactive water fountain, and a children's play area.
Alfred B. Maclay Gardens State Park
is a Florida State Park, a botanical garden, and a historic site.
Tom Brown Park
(is a large recreation park with a lake, featuring several baseball fields, a disc golf course, tennis courts, a BMX track, a 5 km (3.1 mi) mountain bike trail.
Lakes:
Lake Overstreet
and
Lake Hall
are lakes in Alfred B. Maclay Gardens State Park.
Lake Jackson
is a shallow prairie lake with two sinkholes: Porter Sink and Lime Sink.
Lake Iamonia
a large, subtropical prairie lake.
Sports:
Doak Campbell Stadium
, the "Doak" is an American football stadium on the campus of the Florida State University.
Mike Martin Field at Dick Howser Stadium
a baseball field adjacent to Doak Campbell Stadium.
Bragg Memorial Stadium
a 25,500-seat American football stadium and home to the Florida A&M Rattlers.
Just zoom in to find the location of Florida Capitol buildings, the Historic Capitol of Florida "The Old Capitol" and the new capitol building (tower), as well as the nearby Museum of Florida History, and Cascades Park.
The page shows a city map of Tallahassee with expressways, main roads, and streets, zoom out to find the location of
Tallahassee Regional Airport
(
IATA code
: TLH), about 7 km (4 mi ) southwest of the central business district.
To find a location use the form below.