About Miami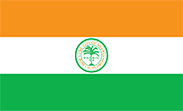 The satellite view shows Miami and its suburbs, the second largest city (after
Jacksonville
) in
Florida
,

USA
. The city is located in the southeastern part of the state at the mouth of the Miami River bordering the Biscayne Bay on a plain between the Everglades and the Atlantic Ocean.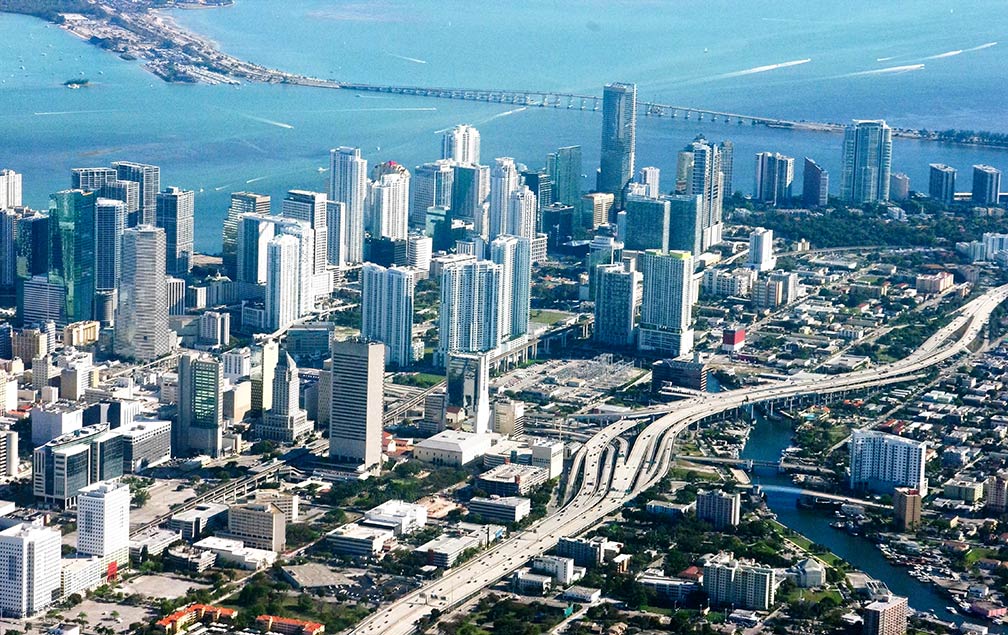 Image: Ron Reiring
What today is known as Miami has its beginnings in the 16th century as a tiny settlement. In 1567 the Spanish founded a mission in the area to pacify hostile Tequesta Indians who had inhabited the area for at least 2,000 years. An Indian village of hundreds of people dating to 500–600 B.C. was located at the mouth of the Miami River.
After Florida was sold to the United States, there were only small settlements until the end of the 18th century.
Miami only emerged in the 19th century when the railroad reached the town in April 1896.
Today Miami is Florida's second largest city with a population of about 454,000 people (in 2017). About 92,000 people live in neighboring Miami Beach.
Miami is the largest city within the Miami metropolitan area (Miami-Fort Lauderdale-West Palm Beach), the largest metro area in Southeastern USA with a population of 6.15 million people.
The city is home to the
University of Miami
(
www.miami.edu
), the private research university in Coral Gables was established in 1925.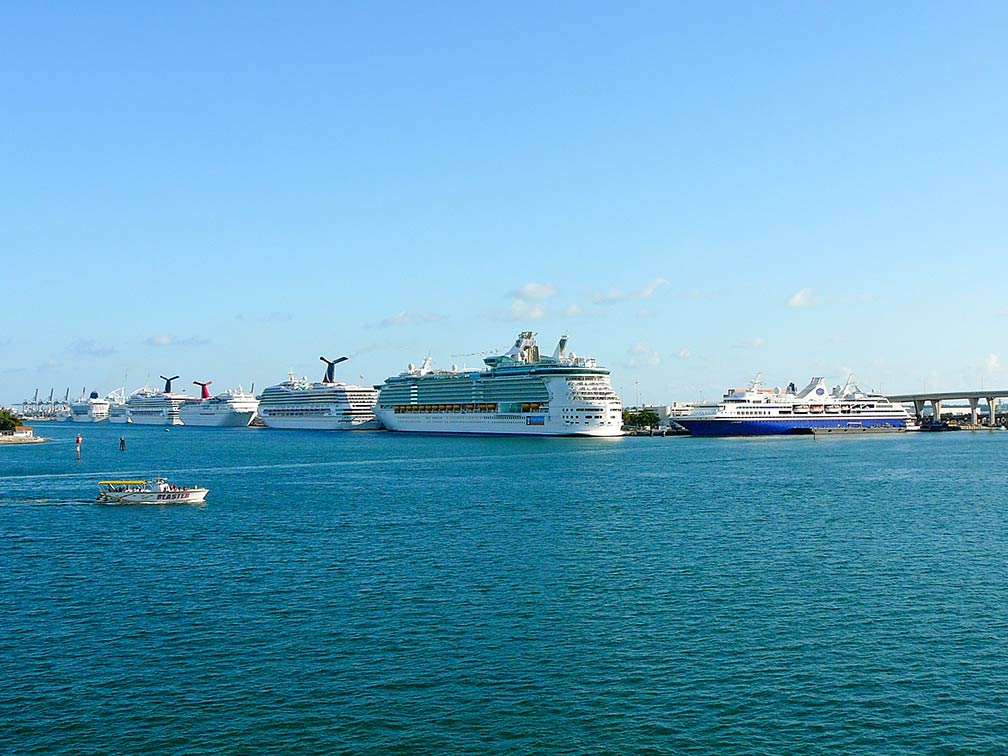 Image: Marc Averette
Miami points of interest:
Miami is best known for its tropical weather, its beaches, the Miami nightlife and it is one of the hottest spots in the gay and lesbian universe.
The city is home to many entertainment venues, theaters, museums, and performing arts centers like the
Adrienne Arsht Center for the Performing Arts
(
www.arshtcenter.org
), one of the largest performing arts centers in the United States. The performing art center consists of several facilities. The three main venues are the Sanford and Dolores Ziff Ballet Opera House, the Knight Concert Hall, and the Carnival Studio Theater.
The Arsht Center is home to the
Florida Grand Opera
(
www.fgo.org
), and the Miami City Ballet (
www.miamicityballet.org
).
The
New World Center
(
www.newworldcenter.com
), the new concert hall in Miami Beach is home to the
New World Symphony
orchestra (www.nws.edu), a training ensemble for young musicians. The concert hall was designed by world-renowned architect Frank Gehry and opened in January 2011. Adjacent to the building is the
Soundscape Park
, a public space known for its free "wallcasts": films, video art, and concerts are projected on a 7,000-square-foot (650 m²) wall.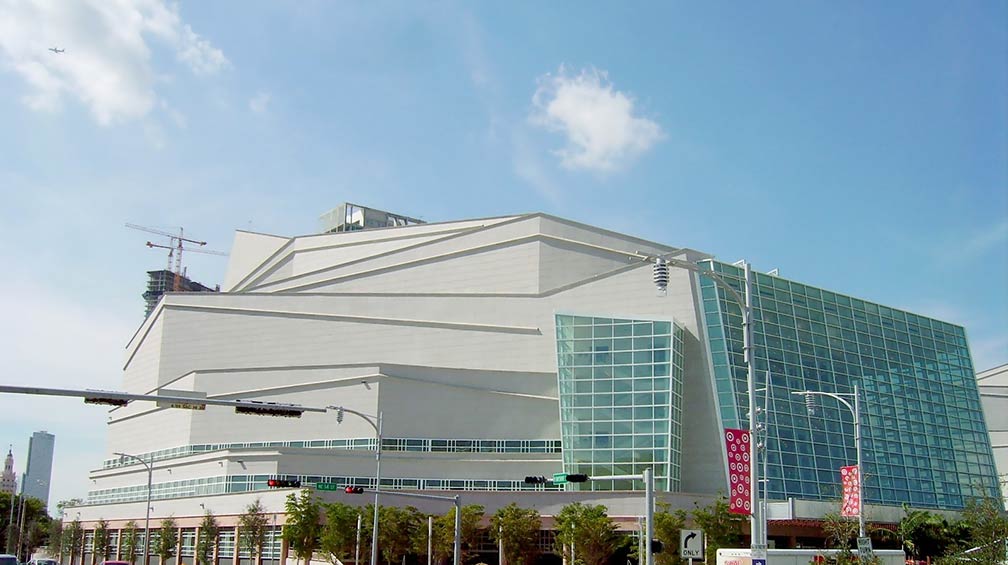 Image: Marc Averette
Miami is also known for its annual three-day
Coconut Grove Arts Festival
(
www.cgaf.com
), now stylized CGAF, formerly admission free, now it costs $10 per day, it is promoted as one of Florida's premier outdoor festivals for art, food and live music. The
Ultra Music Festival
(
ultramusicfestival.com
) is an annual three-day outdoor electronic music festival held in March at Bayfront Park.
Places:
Freedom Tower
, a historic Spanish Renaissance Revival style tower completed in 1925, today the tower houses a museum for contemporary art associated with Miami Dade College.
The
Miracle Mile
(in Coral Gables) a pedestrian-friendly sought-after shopping destination.
Museum Park
is an urban park and venue for large-scale events in downtown Miami on Biscayne Bay, north of Bayfront Park.
Key Biscayne
is the southernmost barrier islands along the Atlantic coast of Florida, home to Crandon Park, Key Biscayne village, and Bill Baggs Cape Florida State Park.
Venetian Pool
in Coral Gables. The historic public swimming pool is fed from artesian wells; it is the largest freshwater pool in the United States.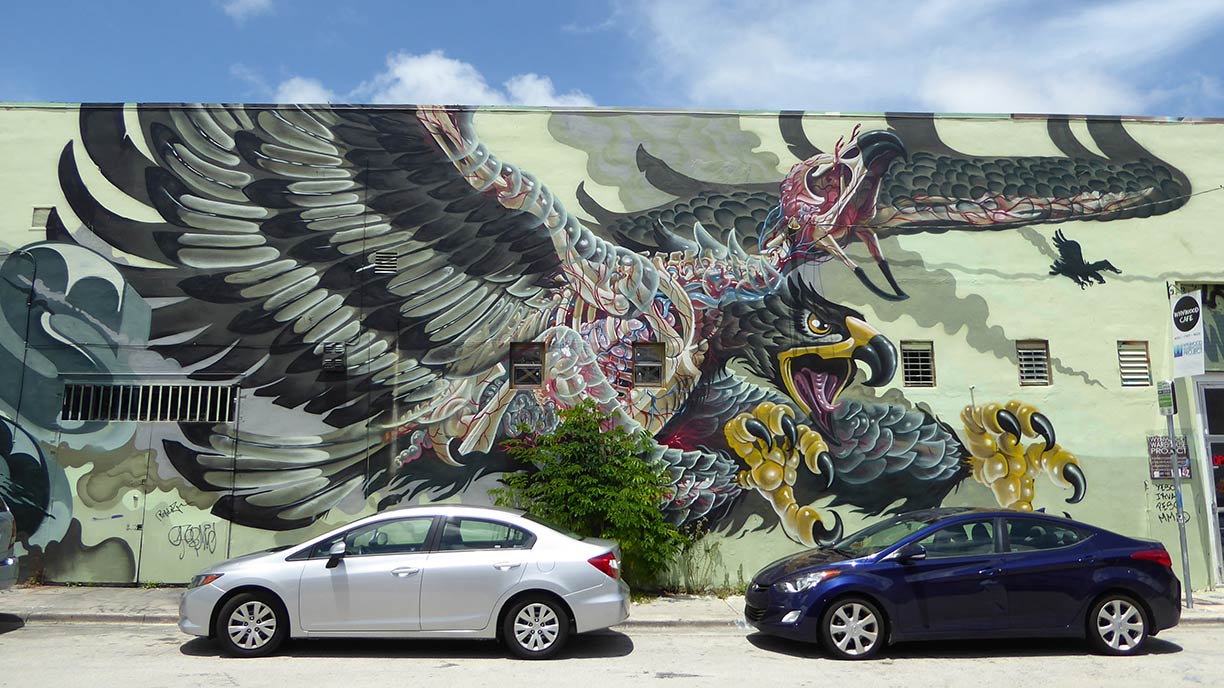 Image: duncan c
Museums:
Museum of Contemporary Art North Miami - MoCA
(
mocanomi.org
), the contemporary art museum in North Miami; see "What Happens When Politics of Class and Culture Collide".
[1]
Lowe Art Museum
(
www.lowe.miami.edu
) was the first art museum in South Florida. The museum is located in Coral Gables, it owns an extensive collection of art, from Greco-Roman antiquities to contemporary works of art. The University of Miami operates the museum.
Frost Art Museum
(
thefrost.fiu.edu
), admission free 'Miami's Best Museum' is located on the campus of Florida International University; the art museum and sculpture park showcases
Latin American and 20th-century American art.
Pérez Art Museum
- PAMM (
www.pamm.org
), a modern and contemporary art museum dedicated to collecting and exhibiting international art of the 20th and 21st-century.
Wolfsonian-FIU
(
www.wolfsonian.org
) is a museum for industrial-design, with a library and a research center; it is located in the heart of the Art Deco District of Miami Beach.
HistoryMiami Museum
(
www.historymiami.org
) is the largest history museum in Florida, a cultural institution committed to gathering, preserving and celebrating Miami's history.
Theater:
Olympia Theater
(
www.olympiatheater.org
), the historical atmospheric performing arts center serves as a movie theater, a concert venue and as a performing arts center.
Tower Theater
(
towertheatermiami.com
) movie theater with style, when it opened in December 1926, it was
the
state-of-the-art theater in the South. Today it is one of several venues of the
Miami International Film Festival
(
www.miamifilmfestival.com
).
Just the Funny
(
www.justthefunny.com
) improv theatre company improvises improvised comedy shows.
Parks:
Fairchild Tropical Botanic Garden
(
www.fairchildgarden.org
) an 83-acre tropical botanic garden with an extensive collection of rare tropical plants on display, located in Coral Gables.
Zoo Miami
(
www.zoomiami.org
) Miami-Dade Zoological Park and Gardens is the largest and oldest zoological garden in Florida.
Bayfront Park
, Miami's public city park in Downtown on Biscayne Bay.
Jungle Island
(
www.jungleisland.com
) an interactive Eco-Adventure park on Watson Island.
The Kampong
(
ntbg.org/gardens/kampong
) National Tropical Botanical Garden (NTBG) a tropical botanical garden and preserve in Coconut Grove.
Montgomery Botanical Center
(
www.montgomerybotanical.org
) palms and cycads.
The coastal resort city of
Miami Beach
with its Art Deco District is located east of Miami on a barrier island between Biscayne Bay and the Atlantic Ocean.
Just zoom in (+) to see Downtown Miami, from there to the northeast is Miami Beach, built on a stretch of islands along the northern part of Biscayne Bay. Miami's port is at Dodge Island.
The page shows a city map of Miami with expressways, main roads, and streets, zoom out to find
Miami International Airport
(Wilcox Field) (
IATA code
: MIA) located about five miles (8 km) by road west of Miami's central business district.
To find a location use the form below.