About Missouri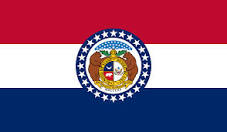 Time Zone Central:
UTC −7/DST−6
Clock shows DST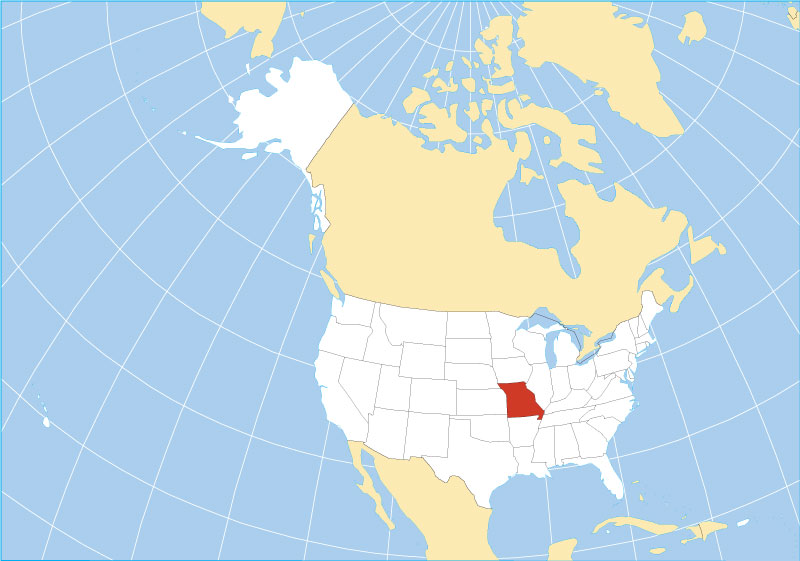 Missouri is a landlocked state in the Midwestern United States on the fringes of the Bible Belt.

The Show Me State (nickname) borders a total of eight different US states.

Bordering states are Iowa in the north, Illinois in east across the Mississippi River, Kentucky in south east, and Tennessee and Arkansas in south; Oklahoma and Kansas in west, and Nebraska across the Missouri River in north west.



History
France as part of the Louisiana Purchase in 1803. Missouri Territory was organized on June 4, 1812, from Louisiana Territory, and included all of the present-day states of Arkansas, Iowa, Kansas, Missouri, Nebraska, and Oklahoma and parts of Colorado, Minnesota, Montana, Nebraska, New Mexico, North Dakota, South Dakota, Texas, and Wyoming.

Missouri was admitted to the Union on 2nd March 1821, as the 24th state from a small part of Missouri Territory.



Area
Missouri covers an area of 180,540 km² [1], this is about half the size of Germany. Its landscape offers an upland plain prairie region in north, the Missouri portion of the mountainous Ozark Plateau in south west, and the Mississippi Alluvial Plain in the Missouri Bootheel region in the south eastern corner of the state.



Missouri can be divided into four geographical regions.
1. The Central Dissected Till Plains are situated north of the Missouri River, a high prairie landscapes with savanna and woodland valleys. The wide floodplains of the Missouri River and Mississippi River developed complexes of sandbars, marshes and wet prairies. Today, much of the Central Dissected Till Plains have been conver ted to pr o ductive pastur es and cropland. [2]
2. The Osage Plains in west-central Missouri are mostly flat plains with a few hills. Once a tallgrass prairie, but in the 19th and beginning 20th century, settlers transformed what was known as the "Great American Desert" or "The Inland Sea" into farmland. The tallgrass prairie survives in tiny areas unsuited for agriculture, like in Missouri's Prairie State Park in Barton County.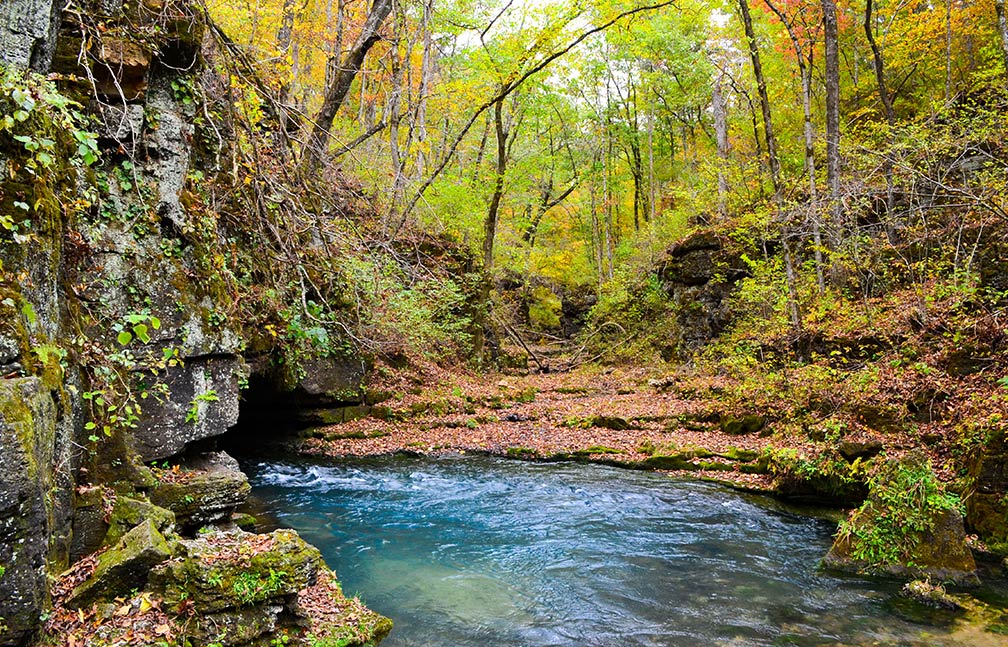 Image: Kbh3rd

3. The Ozark Plateau, Missouri's largest geographical region, is a heavily forested highland plateau dissected by rivers, valleys, and streams. There are two mountain ranges within the Ozarks: the Boston Mountains of Arkansas and the St. Francois Mountains of Missouri, created by volcanic and intrusive activity 1.48 billion years ago. Portions of the Ozark Plateau, the Springfield plateau, consisting of eroded limestone. Missouri is known as "The Cave State" with over 6000 recorded caves; the majority of these caves are found in the Ozarks. [3]
4. The Mississippi Alluvial Plain a lowland in the "Boot Heel" of the state along the Mississippi River. The broad Mississippi lowlands along the state's eastern borders is also known as the Mississippi embayment.



Missouri's highest pont is at Taum Saul Mountain, a flat ridge at 540 m (1,772 ft), situated in a large parks-and-wilderness area, the Taum Saul Mountain State Park in the St. Francois Mountains in the Ozarks. Another wilderness area is the Bell Mountain Wilderness of southern Missouri's Mark Twain National Forest.



Population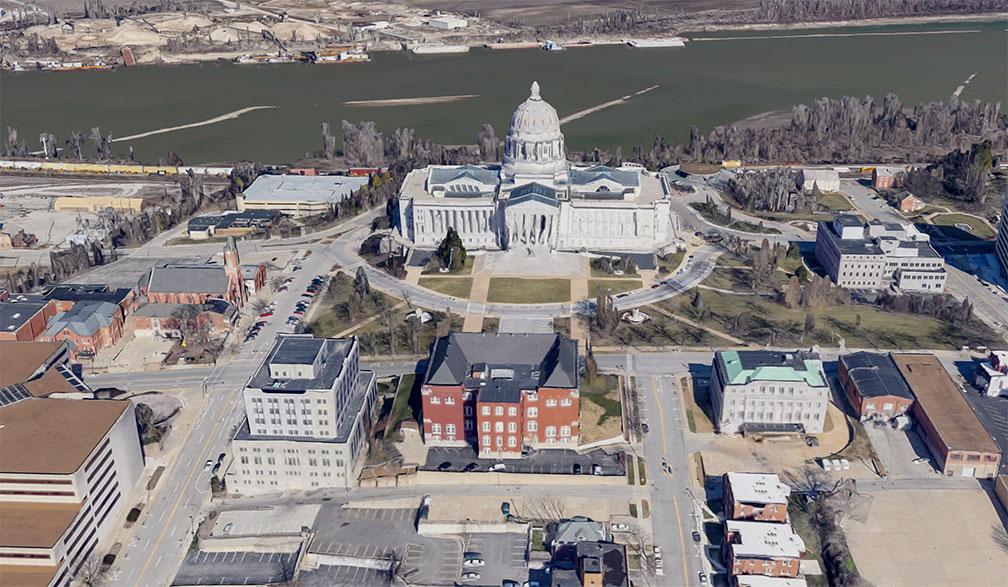 Image: Google

Missouri has a population of 6.1 million people (est. 2018) [2], state capital is Jefferson City, largest city is Kansas City, largest metropolitan area is Greater St. Louis, other major cities are Springfield, Columbia, and Independence.
Largest airports are Lambert-St. Louis International Airport (IATA code: STL) and Kansas City International Airport (IATA code: MCI).


Cities and Towns in Missouri

The map shows the location of following cities and towns in Missouri:

Largest city is Kansas City (467,000)
St. Louis (318,000), Springfield (164,000), Independence (117,000), Columbia (115,000)
Capital is Jefferson City (43,330)


Population figures in 2014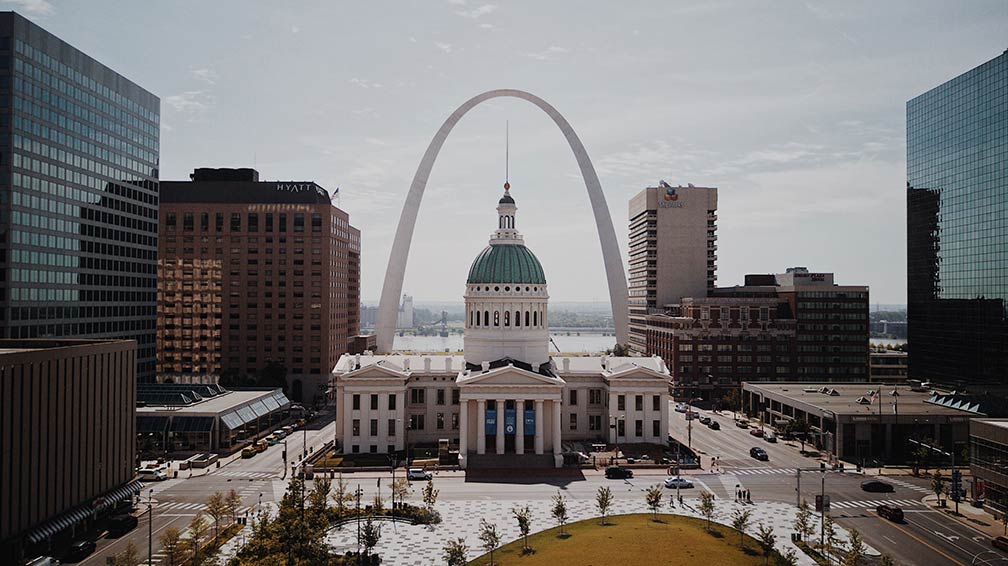 Image: Brittney Butler

Other cities and towns in Missouri:
Ava, Bethany, Bolivar, Boonville, Bowling Green, Branson, Brookfield, Butler, Cameron, Cape Girardeau, Carrollton, Carthage, Chillicothe, Clinton, Dexter, Doniphan, Edina, Farmington, Festus, Florissant, Fredericktown, Fulton, Gainesville, Gladstone, Hannibal, Harrisonville, Hermitage, Houston, Joplin, Kennett, Kirksville, Lamar, Lancaster, Lebanon, Lees Summit, Liberty, Macon, Malden, Marshall, Maryville, Mexico, Moberly, Monett, Mountain Grove, Neosho, Nevada, Oakville, Osceola, Park Hills, Perryville, Plattsburg, Poplar Bluff, Princeton, Raytown, Rock Point, Rolla, Salem, Sedalia, Sikeston, St Charles, St Joseph, Sullivan, Trenton, Troy, Van Buren, Vienna, Warrensburg, Warrenton, Washington, West Plains, and Willow Springs.





Image: Little Mountain 5

The detailed map below shows the US state of Missouri with boundaries, the location of the state capital Jefferson City, major cities and populated places, rivers, streams and lakes, interstate highways, principal highways, and railroads.




You are free to use this map for educational purposes (fair use), please refer to the Nations Online Project.