Area
area
of 145,746 km² (56,272.81 sq mi)
[1]
, compared it is slightly larger than
Greece
. Compared with other US states by area, Iowa is 6.5 times larger than
New Jersey
, but it would fit into
California
almost three times.
The 'Land of the Rolling Prairie' offers rolling prairies and cornfields, plus some steep hills and valleys in the paleozoic plateau area, the Driftless Area in the northeast, a region that has escaped the flattening effects of glaciation during the last ice age.
Most of Iowa's land is used for agriculture; crops cover about 60% of the state, 30% is grasslands (pasture and hay with some prairie and wetland).
Highest point
The highest natural point is
Hawkeye Point
at a whopping 509 m (1,671 ft). Situated close to the state line with Minnesota in the northwest, north of Sheldon. The hill is easy to find, there is a flagpole, a picnic bench, a tile mosaic, and several granite markers.
Rivers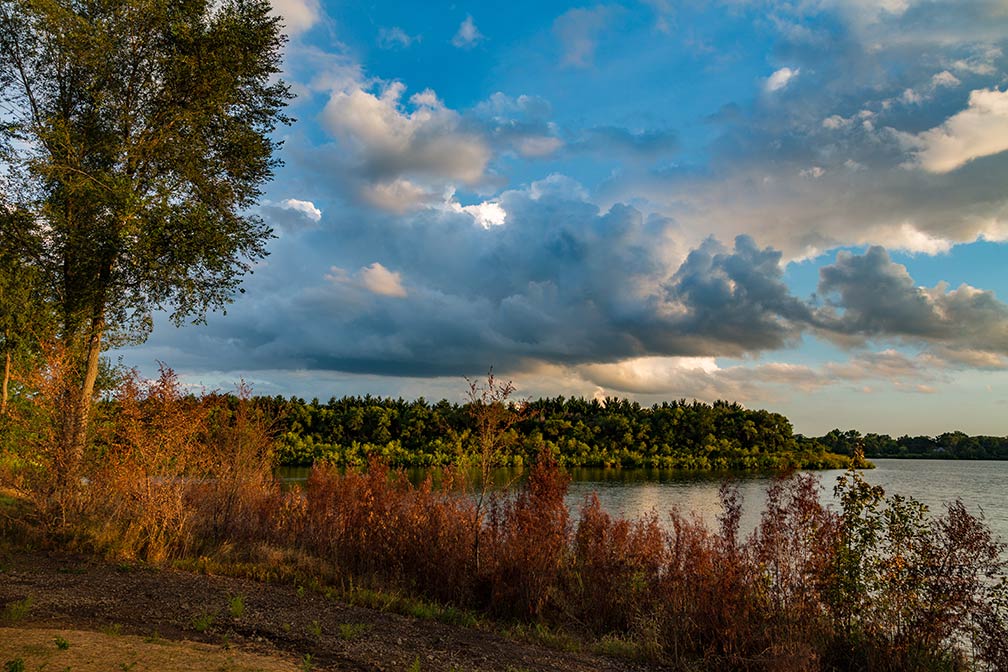 Image: Tony Webster
The Missouri River and the Mississippi are border rivers which define Iowa's border in west and east.
Other major rivers are the Des Moines River, the Cedar River, the Iowa River, and the Wapsipinicon River (Wapsi); they are all tributaries of the Mississippi.
The Big Sioux River, in the northwest, is a tributary of the Missouri River, it marks a section of Iowa's border with South Dakota. The Chariton River and the Grand River have their sources in Iowa.
Lakes
Largest lakes in Iowa are Lake Red Rock, a reservoir on the Des Moines River, and Iowa's Great Lakes, several deep glacial lakes in the northwest corner of the state. They are the largest natural lakes in the state. Rathbun Lake, Iowa's second-largest lake is located in Appanoose County; West Okoboji Lake and Spirit Lake are the two largest lakes of Iowa's Great Lakes, Saylorville Lake, another reservoir on the Des Moines River. Clear Lake is one of the largest natural lakes in the state.