About San Francisco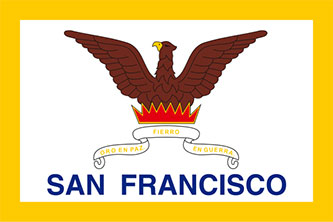 Satellite view showing San Francisco (Spanish for "Saint Francis"), a major port and the fourth most populous city in California, it is one of the

United States most cosmopolitan cities.
The city is located on the tip of the San Francisco Peninsula between the Pacific Ocean and San Francisco Bay on the West Coast of the United States.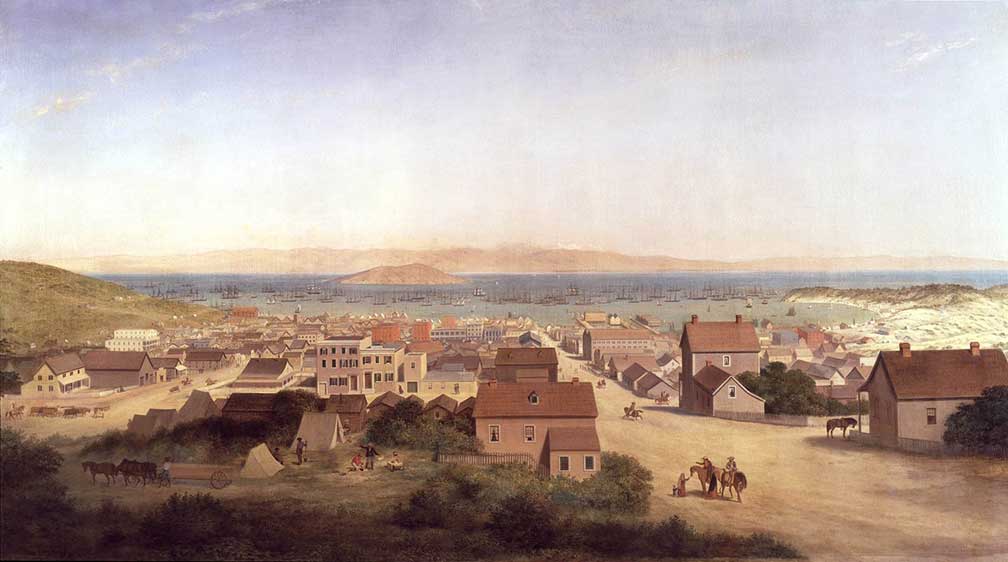 The city was founded in June 1776 at the Golden Gate by colonists from Spain who built a fort and a mission named after St. Francis of Assisi. The settlement grew slowly, in 1848 it was just a small seaport town with under 1,000 citizens.

It wasn't until the California Gold Rush of 1849 triggered rapid growth, the promise of fabulous riches brought a flood of treasure seekers, lawless conditions, and vigilante organizations into town.

In 1849 the population rose to 25,000, making it the largest city on the West Coast at that time.

Today San Francisco has a population of about 865,000 inhabitants (in 2016). More than 8 million people live in the San Francisco Bay Area.

San Francisco is famous for its hills, international also known since the 1968 American action film 'Bullitt' with Steve Mc Queen. In the mid-1960s the Haight Ashbury district in San Francisco was the center of the Flower Power movement.

San Francisco points of interest: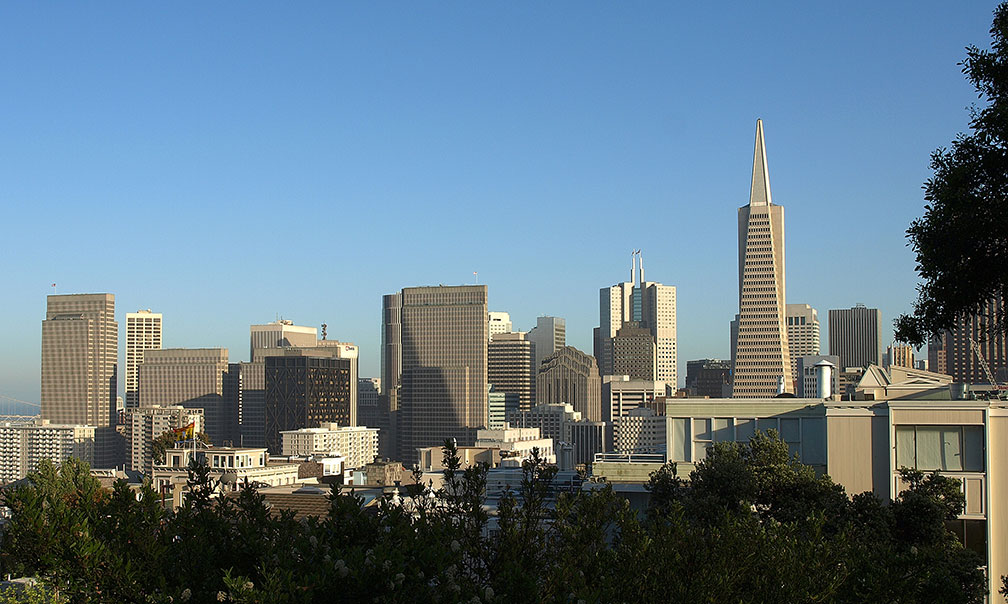 Image: worldaroundtrip

Landmarks: Golden Gate Bridge (bridge, famous as one of the top ten construction achievements of the 20th Century), Transamerica Pyramid (San Francisco's unique skyscraper), San Francisco-Oakland Bay Bridge (complex of bridges over San Francisco Bay connecting San Francisco with the port city of Oakland), Grace Cathedral (Episcopal cathedral on Nob Hill), Coit Tower (art deco tower with a viewing platform).

Places: Fisherman's Wharf, the former fish market is now a well known tourist destination with attractions such as
Ghirardelli Square, a public square with specialty shops and restaurants; Pier 39, a shopping area with free roaming sea lions; Ripley's Believe it or Not a curiosity cabinet; Musée Mécanique, a museum of 20th-century penny arcade games like Uncle Sam Hot Stuff meter, a Love tester machine, and a Grandmother fortune teller machine. Chinatown (oldest Chinatown in North America and the largest Chinese community outside Asia). Union Square (the heart of San Francisco, a plaza with a plethora of surrounding department stores, such as Macy's flagship store, upmarket boutiques, art galleries, posh hotels, gift shops, and beauty salons), Exploratorium (public learning laboratory for science, art, and human perception), Embarcadero and Central Embarcadero Piers Historic District (pier complexes along San Francisco's eastern waterfront), San Francisco Ferry Building (the terminal for ferries that travel across the San Francisco Bay)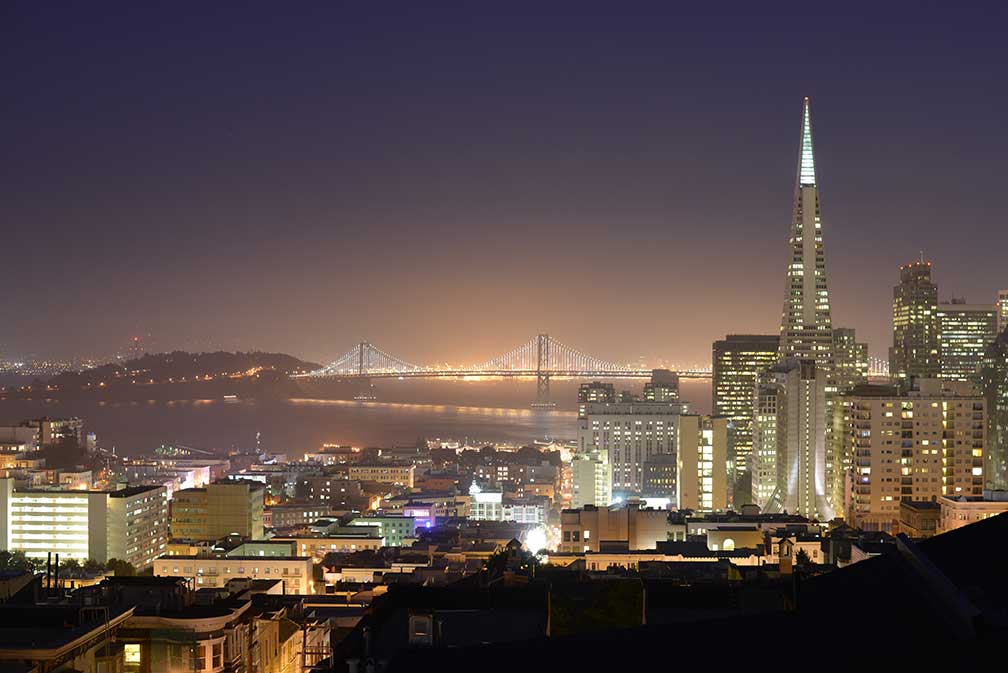 Image: Germán Poo-Caamaño

Public Transport:
F Market & Wharves (heritage streetcar service serves Fisherman's Wharf)
San Francisco Cable Car (moving tourist attractions)

Parks: Golden Gate Park, kind of Central Park in SF, there is the Music Concourse Area, an open-air plaza, adjacent to the concourse are the de Young Museum (fine arts) and the California Academy of Sciences (one of the largest museums of natural history in the world). Apart from that there is a Japanese Tea Garden, a Conservatory of Flowers a (large Victorian greenhouse), a Spanish colonial revival style Beach Chalet, two Windmills, several Statues, a Carousel, the Chain of Lakes and the San Francisco Botanical Garden at Strybing Arboretum. Mission Dolores Park (city park with city views, located inside the park is Mission Dolores, the oldest surviving structure in San Francisco). Yerba Buena Gardens (awarded two blocks of public parks)

Outdoors: San Francisco Maritime National Historical Park (a moored fleet of historic ships, with a visitor center and a maritime museum), Alcatraz Island (former offshore federal prison until 1963), Marin Headlands (national recreation area beyond Golden Gate), Ocean Beach (beach with cold water for serious surfers), Lands End (rocky shoreline at the mouth of the Golden Gate)

Stadiums: AT&T Park (baseball park), Levi's Stadium (in Santa Clara, football).

Just zoom in (+) to see the Transamerica Pyramid, San Francisco's tallest building (48 Floors; 260 m (853 ft.)).

The Map shows a city map of San Francisco with expressways, main roads and streets, San Francisco International Airport (IATA Code: SFO) is located in south-east.

To find a location use the form below. To view just the map, click on the "Map" button.


To find a location type: street or place, city, optional: state, country.


Local Time San Francisco:

Friday-September-22 23:41

Standard time zone Pacific Standard Time (PST): UTC/GMT -8 hours
Pacific Daylight Time (PDT) in use from the second Sunday in March, ends on the first Sunday in November; time zone offset: UTC/GMT -7 hours