About Texas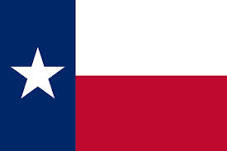 Most of the state is in Central Time Zone

Clock shows DST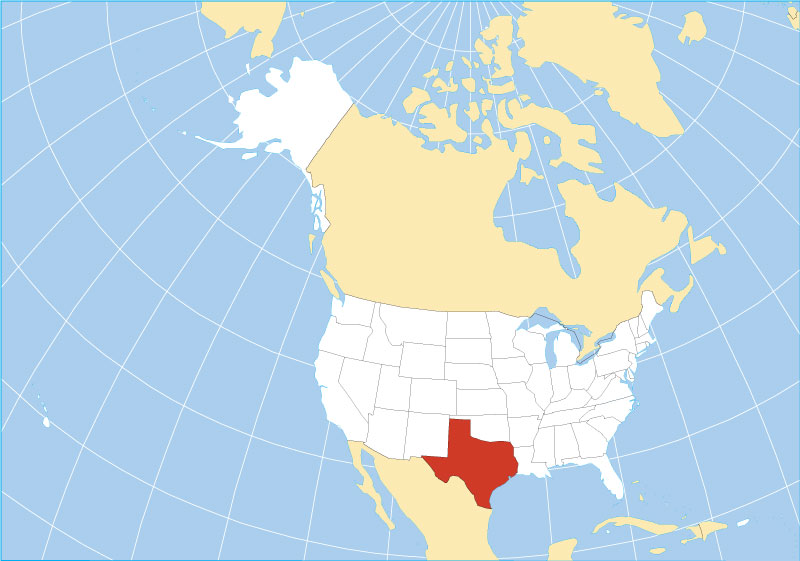 Texas is one of the 50 US states, located in the south-central part of the United States, with a 560 km (350 mi) long coastline on the Gulf of Mexico in south east, and a 3,169 km (1,969 mi) long border with Mexico along the Rio Grande.
The states' longest river forms a natural border to the Mexican states of Chihuahua, Coahuila, Nuevo León, and Tamaulipas in south west.

The Lone Star State (its nickname) is bordered by New Mexico in west; the Red River of the South defines sections of its borders to the U.S. states of Oklahoma and Arkansas, while the Sabine River creates a natural border to Louisiana in east. Other major rivers are, Brazos River, Canadian River, Colorado River and Pecos River. Texas consists of 254 counties.




The United States acquired the area through annexation and Texas was admitted to the Union on 29th December 1845, as the 28th state.
Texas formally relinquished its sovereignty to the United States on 14th February 1846.




Area
With an area of 696,241 km² (268,581 sq mi) [1], Texas is the largest state in the contiguous United States. It is about twice the size of Germany or somewhat larger than Afghanistan. Compared with another US state, Texas would fit two and a half times into Alaska.




Geography of Texas
The geography of Texas tends to be flat, except for the mountains west of the Pecos River.

Geographical Regions of Texas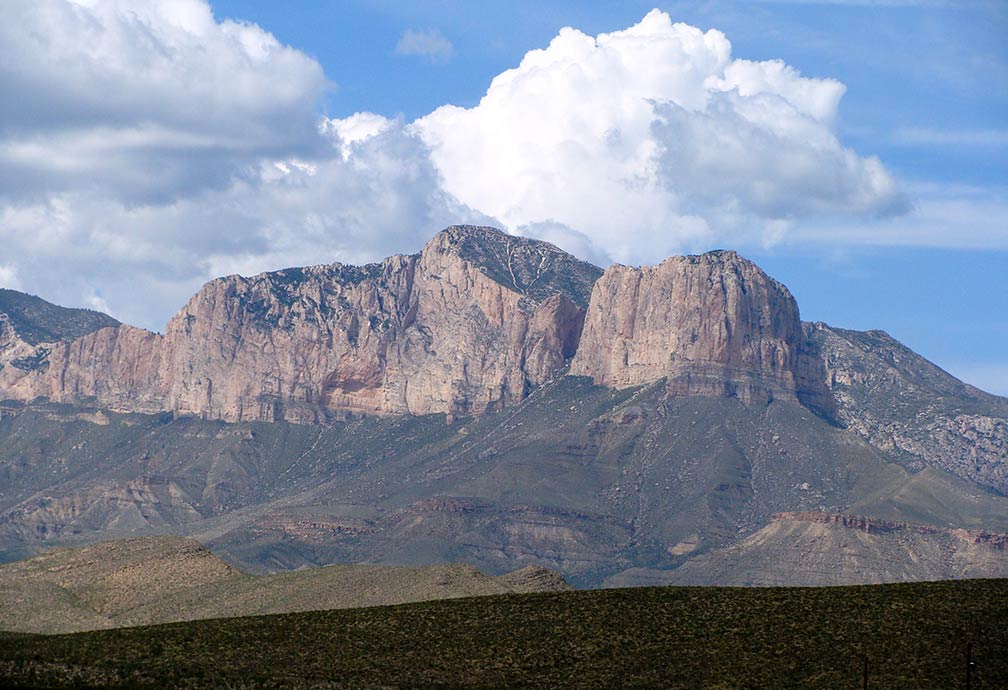 Image: Zereshk

Texas has four major geographical regions:
1. (Western) Gulf Coastal Plains, a vast region in Southern United States along the Gulf of Mexico. The coast of Texas features barrier islands, brackish water estuaries, and bays. The coastal plains in Texas are further subdivided into the Coastal Prairies, the remainder of a native grassland, today less than 1% remains as a refuge for rare and endangered species [2]; the Pine Belt (or Piney Woods), a critically endangered ecoregion with remnant coniferous forests in south east; the Rio Grande Plain and the Lower Rio Grande Valley in west and south; the Texas Blackland Prairies and Blackland Belt, a temperate tallgrass prairie grasslands ecoregion. The Post Oak Belt, a transition zone and ecoregion between the Piney Woods and the Blackland Prairie.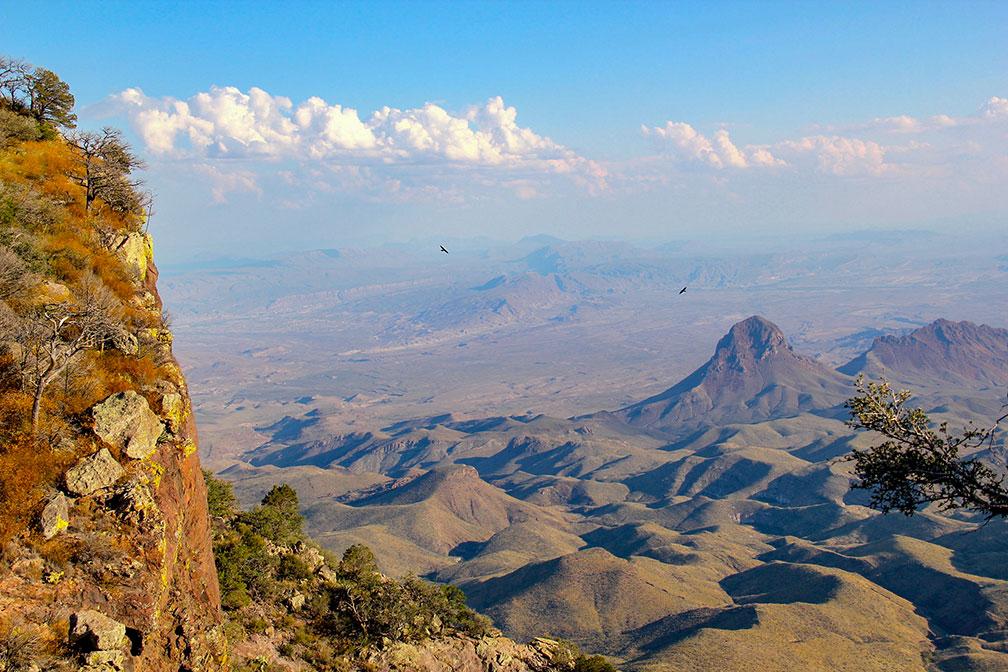 Image: daveynin

2. Interior Lowlands (aka the North Central Plains), the southwestern extension of the interior lowlands into Texas's north east. The region is subdivided into the West Texas Rolling Plains, with its large cattle-raising industry. The mostly treeless Grand Prairie with an agricultural economy and a largely rural population, with no large cities, except Fort Worth. [3]. The Eastern and Western Cross Timbers (aka Ecoregion 29), strips of land, partly forested, partly used for fruit and vegetable crops.

3. The Great Plains of Texas east of the Rocky Mountains features the High Plains in the north of the state, a vast, flat, high plain, also known as the Llano Estacado. The Caprock Escarpment is the dividing fault line between the High Plains and the lower West Texas Rolling Plains. The Edwards Plateau, the lower extension of the Great Plains supports three industries: cattle, goat, and sheep raising, its southeastern border is the Balcones Escarpment.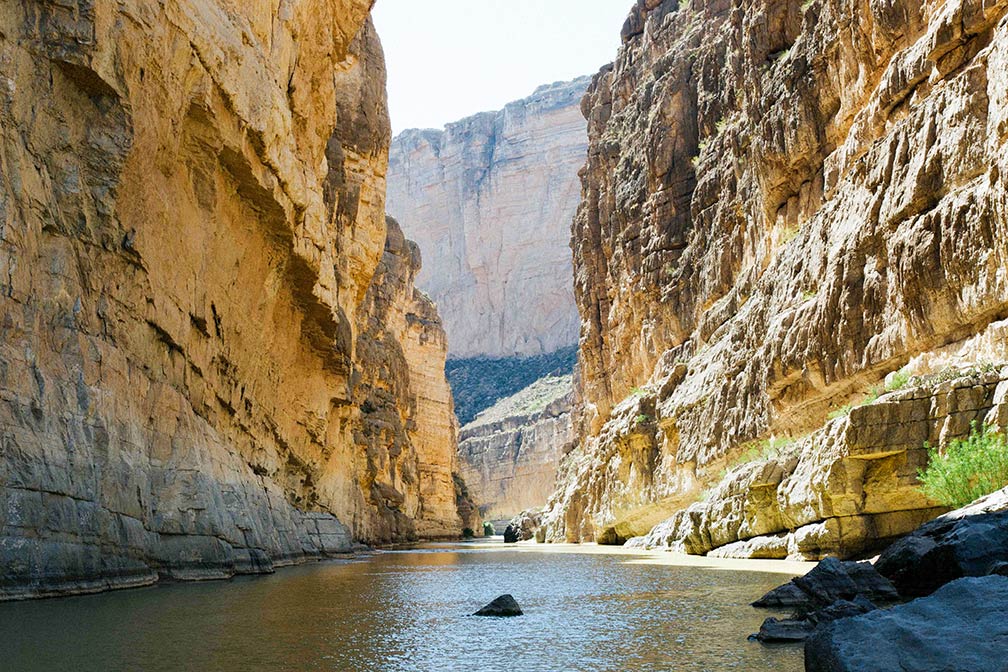 Image: Kyle Glenn

4. The Basin and Range Province in West Texas. Within the province are the Guadalupe Mountains, with the state's highest peak, the Guadalupe Peak, at 2,667 m (8,749 ft), the Davis Mountains (or Limpia Mts), a mountain range of volcanic origin, and the Chihuahuan Desert, a desert ecoregion of eastern Mexico and Texas covers much of West Texas and parts of the middle and lower Rio Grande Valley.

The climate of Texas is quite varied, ranging from subtropical along the southern gulf coast to continental in northern part, to semiarid in the mountains and arid in the deserts in the far west. The northern portion of Texas lies in the Tornado Alley, which extends from central Texas northward to Illinois and Indiana.



World Heritage Site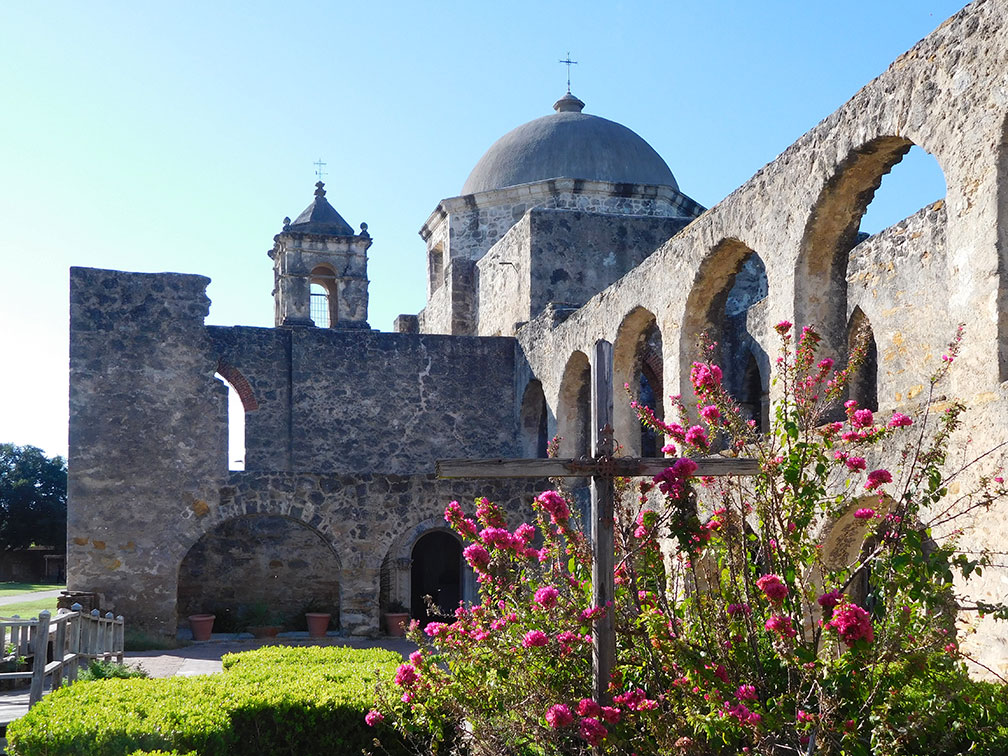 Image: Steven B Yount

Texas has since 2015 a UNESCO World Heritage Site.
The San Antonio Missions

, a group of former frontier missions and a ranch situated along a stretch of the San Antonio River basin in southern Texas.

The facilities were built in the 18th century in the former Spanish Province of Texas by Franciscan missionaries. The site illustrates Spain's efforts to colonize, evangelize and eventually expand the northern frontier of New Spain.

The property showcases architectural and archaeological structures, farmlands, residencies, churches and granaries, as well as water distribution systems.





Population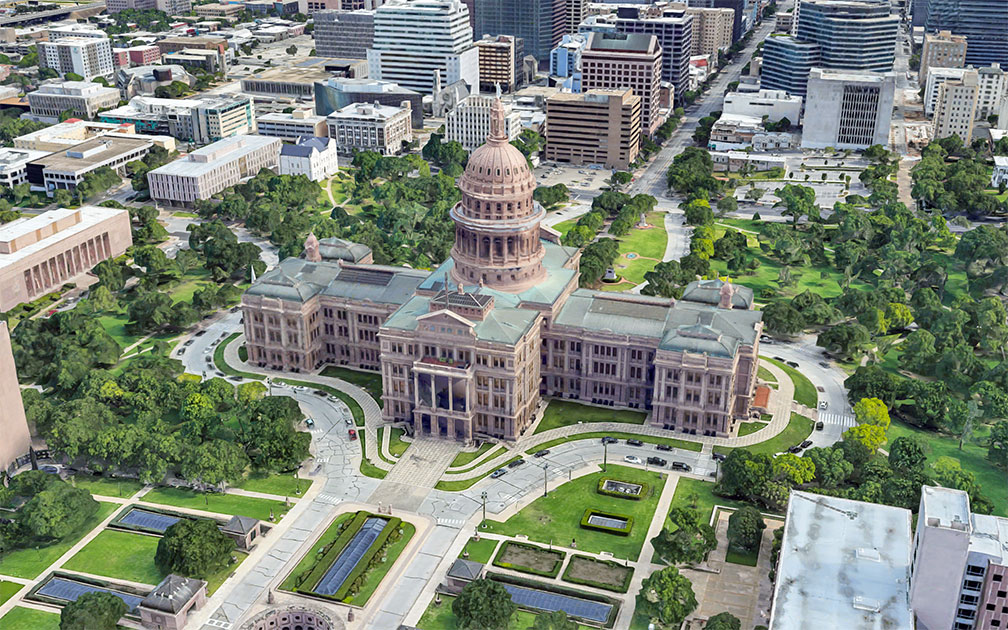 Image: Google

A population of 27.9 million (2018 est.) [3], makes Texas the second most populous state in the US (after California). Capital city is Austin; largest city and a primary port is Houston, second-largest city in Texas is San Antonio, largest metropolitan area is Dallas–Fort Worth. Other major cities are Fort Worth, El Paso, Arlington, and Corpus Christi.

The two largest airports in the state are Dallas/Fort Worth International Airport (IATA code: DFW) and Houston's George Bush Intercontinental Airport (IATA code: IAH), other major airports are William P. Hobby Airport (Houston; IATA code: HOU), Austin-Bergstrom International Airport (IATA code: AUS), San Antonio International Airport (IATA code: SAT), Dallas Love Field (IATA code: DAL), and El Paso International Airport (IATA code: ELP).



Cities and Towns in Texas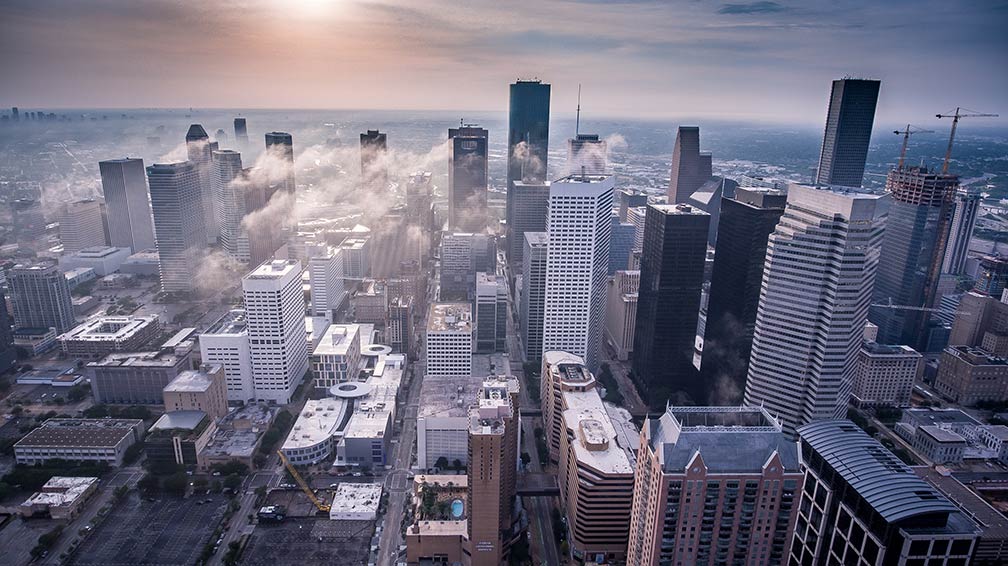 Image: Vlad Busuioc

The map shows the location of following cities and towns in Texas:
(major cities with a population of more than 150,000 in bold)

Abilene, Albany, Alice, Alpine, Amarillo, Andrews, Angleton, Anson, Arlington, Aspermont, Athens, Austin, Ballinger, Bay City, Baytown, Beaumont, Beeville, Big Spring, Bonham, Borger, Bowie, Brady, Brownfield, Brownsville, Brownwood, Bryan, Buffalo, Burnet, Canadian, Canyon, Carrizo Springs, Carthage, Cedar Park, Channing, Childress, Cisco, Clarendon, Clarksville, Cleburne, Coleman, College Station, Colorado City, Columbus, Conroe, Corpus Christi, Corsicana, Cotulla, Crockett, Crystal City, Cuero, Dalhart, Dallas, Del Rio, Denton, Dumas, Eagle Pass, Eden, EdnaVictoria, El Paso, Ennis, Fairfield, Falfurrias, Floydada, Fort Stockton, Fort Worth, Fredericksburg, Freeport, Gainesville, Galveston, Garland, George West, Georgetown, Gladewater, Goldthwaite, Goliad, Gonzales, Graham, Guthrie, Hallettsville, Hamilton, Harlingen, Henderson, Hereford, Hillsboro, Hondo, Houston, Huntsville, Irving, Jacksonville, Jasper, Johnson City, Junction, Kermit, Kerrville, Kilgore, Killeen, Kingsville, La Grange, Lake Jackson, Lamesa, Lampasas, Laredo, Levelland, Littlefield, Livingston, Longview, Lubbock, Lufkin, Luling, Madisonville, Marfa, Marlin, Marshall, Mason, McAllen, McCamey, McKinney, Mexia, Midland, Mission, Monahans, Mount Pleasant, Muleshoe, Nacogdoches, Nederland, New Braunfels, Odessa, Orange, Ozona, Paducah, Palacios, Palestine, Pampa, Paris, Pasadena, Pecos, Perryton, Pharr, Plainview, Plano, Port Arthur, Port Isabel, Port Lavaca, Post, Presidio, Robstown, Rocksprings, Rosenberg, Rusk, San Marcos, San Angelo, San Antonio, San Augustine, Sanderson, Seguin, Seminole, Seymour, Shamrock, Sherman, Sinton, Snyder, Socorro, Sonora, Stamford, Stephenville, Stratford, Sweetwater, Tahoka, Temple, Texarkana, Texas City, The Woodlands, Tyler, Uvalde, Van Horn, Vega, Vernon, Waco, Wharton, Wichita Falls, and Woodville.




The detailed map below shows the US state of Texas with boundaries, major cities and populated places, rivers and lakes, interstate highways, principal highways, and railroads.






You are free to use this map for educational purposes (fair use), please refer to the Nations Online Project.