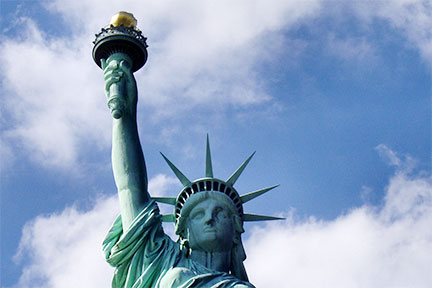 About the United States
Founded: 4th July 1776

Area: 9,63 million km² (3rd largest country in the world)

Population: 322 million (in 2016; 3rd most populous country in the world)

Administrative divisions: 50 states, 3,144 counties (including 137 county equivalents)

Spoken languages: English, Spanish, some survivals of Native American languages

Capital city: Washington D.C.
Largest city: New York City

Mainland border countries: Canada and Mexico

Main coastlines: Pacific Ocean, Atlantic Ocean, Gulf of Mexico
Longest river: Missouri River
Highest peak: Denali (6140 m (20,146 ft);  formerly Mount McKinley, Alaska)

Satellite view is showing the central part of North America with USA and its international borders.

Zoom in to see the boundaries of the U.S. States, the states' capitals, major cities, expressways, main roads and streets.

By click on the Map button it shows the United States with state capitals, cities, expressways, main roads and street maps.

To view just the map, click on the "Map" button.


To find a location type: street or place, city, optional: state, country.


Local Time Washington D.C.:

Thursday-June-8 2023 02:23

Standard time zone Eastern (EST): UTC/GMT -5 hours
Daylight Saving Time (EDT) in use from the second Sunday in March, ends on the first Sunday in November; time zone offset: UTC/GMT -4 hours.
For the diverse time zones in the U.S. see Time Zone Map of the United States