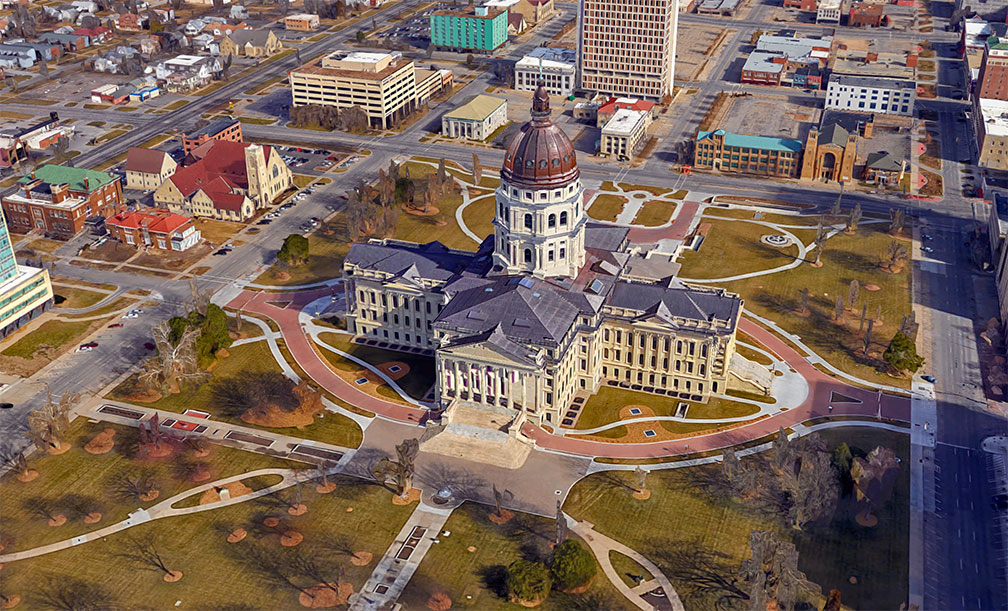 Image: Google
Kansas has a
population
of 2.91 million people (est. 2019)
[2]
, the state capital is
Topeka
, the largest city is Wichita.
Other major cities are Overland Park (part of the Kansas City metropolitan area), Olathe, Topeka, and Lawrence.
The region's largest urban conglomerate is
Kansas City
metropolitan area, a two-state metropolitan area that extends across the border between the US states of Missouri and Kansas.
Race and Ethnic groups
The population of Kansas is composed of Caucasians (white) 75.7%, 12.1% Hispanics or Latinos, 6.1% African Americans, 3.1% Asians, and 1.2% Native Americans.
[3]
The busiest
airport
in the state is
Wichita Dwight D. Eisenhower National Airport
(
IATA code
: ICT).
Cities and Towns in Kansas
The map shows the location of following cities and towns in Kansas:
The largest city is Wichita (390,000)
The second-largest largest city is Overland Park (192,500),
other major cities with more than 50,000 citizens are
Kansas City (Kansas) 153,000), Olathe (part of Kansas City metro, 135,500),
Topeka
(capital city, 126,000), Lawrence (95,500)
Shawnee (part of Kansas City metro, 65,200), Manhattan (55,000), and Lenexa (part of Kansas City metro, 53,000)

Image: Andrea Allen
Other cities and towns in Kansas:
Abilene, Arkansas City, Ashland, Atchison, Atwood, Belleville, Beloit, Chanute, Cherryvale, Cimmaron, Clay Center, Coffeyville, Colby, Concordia, Council Grove, Derby, Dodge City, El Dorado, Elkhart, Emporia, Fort Scott, Fredonia, Garden City, Garnett, Goodland, Great Bend, Greensburg, HaysIola, Hiawatha, Hill City, Holton, Hugoton, Hutchinson, Independence, Jetmore, Junction City, Kingman, Kinsley, Larned, Lawrence, Leavenworth, Lebanon, Liberal, Lyons, Manhattan, Marion, Marysville, Mc Pherson, Meade, Medicine Lodge, Neodesha, Ness City, Newton, Norton, Oakley, Oberlin, Osborne, Ottawa, Paola, Parsons, Phillipsburg, Pittsburg, Pratt, Russell, Salina, Scott City, Sharon Springs, St. Francis, St. John, Stockton, Sublette, Syracuse, Topeka, Tribune, Ulysses, WaKeeney, Wellington, Winfield, and Yates Center.

Image: Russell Feldhausen