Satellite view showing Austin, seat of Travis County and the capital city of Texas in the

United States. The 11th largest US city is located in south central Texas along the Colorado River, about 195 mi (315 km) south west of Dallas, 80 mi (130 km) north east of San Antonio, and 165 mi (265 km) west of Houston.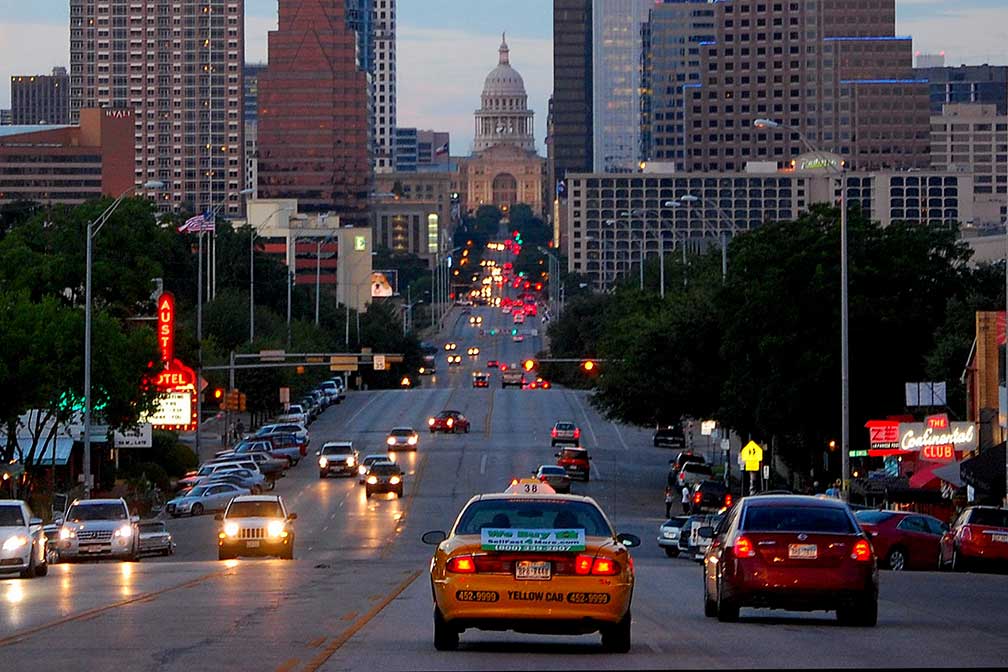 Image: LoneStarMike

The Texas Revolution (Oct. 1835 – Apr. 1836) was a success and Texas gained independence from Mexico and became the Republic of Texas, an independent country with its own president, congress, and - monetary system (the Republic of Texas Dollar). The new Republic was in need for a new capital, so in 1839 a commission was formed to find a site for a new capital. They opted for a place at Colorado River then known as Waterloo.

The riverside village of Waterloo was chosen to house the capital of the Republic of Texas and the town was renamed into Austin (in 1839) to honor Stephen F. Austin, father of the republic. Six years later in 1845, Texas was annexed by the United States.

Today Austin has a city population of about 932,000 inhabitants, 2 million people live in the Austin-Round Rock-San Marcos metropolitan area (est. 2015).

The city is home to the University of Texas at Austin is a state research university and the flagship institution of the University of Texas System.


Austin points of interest:


Image: Alan Levine

Austin is famous for its music scene (official slogan: The Live Music Capital of the World), its nightlife and later much needed breakfast tacos and BBQ, its food trucks, furthermore its moonlight towers, and an estimated 1.5 million-strong horde of migratory bats, living in summers underneath the Congress Avenue Bridge, it is also famous for the understandable resentments of locals against people who write nonsense about their city.

Historic places: Texas State Capitol, Texas' capitol building completed in 1888, houses the offices and chambers of the Texas Legislature and the Office of the Governor.

Museums: Bullock Texas State History Museum, a history museum with the 'Story of Texas' and an IMAX Theatre, Harry Ransom Center, exhibits culturally important documents and artifacts like Jack Kerouac's notebook and Robert De Niro's make-up stills.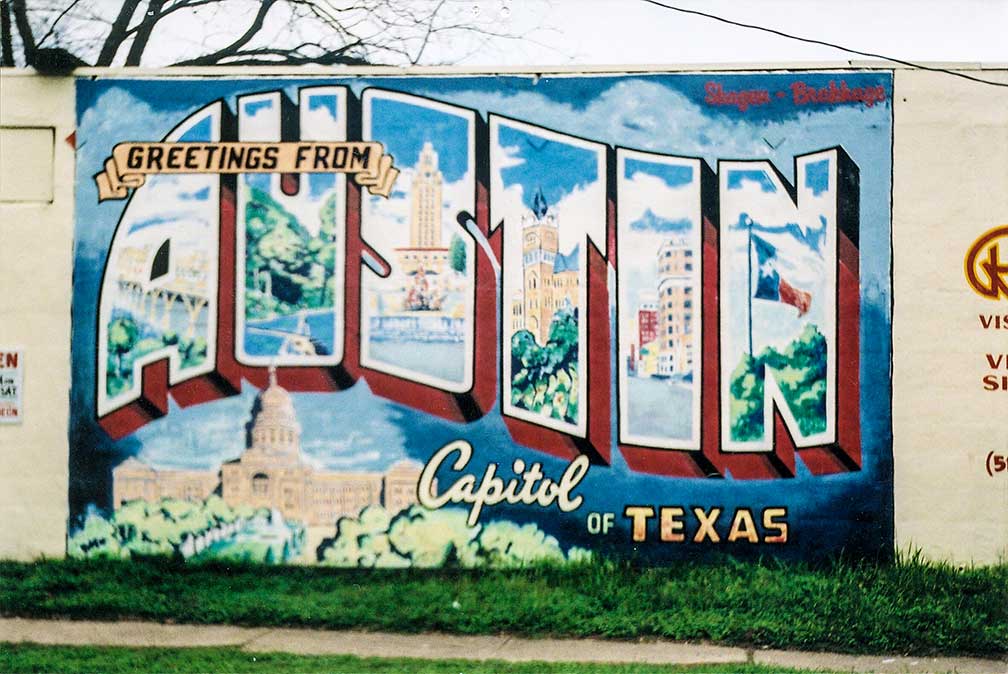 Image: OpalDivine

Visual Arts: Blanton Museum of Art, large university art museum. The Contemporary Austin, consists of two exhibition spaces, the Jones Center (closed for renovation until late fall 2016) and the Betty and Edward Marcus Sculpture Park at Laguna Gloria. Mexic-Arte Museum, and Emma S. Barrientos Mexican American Cultural Center (ESB-MACC), contemporary Mexican and Latino/a art. Umlauf Sculpture Garden and Museum, works of American sculptor Charles Umlauf. Women and Their Work Gallery, exhibitions, performances, literary readings and workshops.

Library: Lyndon Baines Johnson Library and Museum, one of the 13 Presidential Libraries in the US.

Local culture: Broken Spoke (honky-tonk dance hall)

Hotel: Driskill Hotel (upscale, oldest operating hotel in Austin)

Parks: Auditorium Shores, urban park within Town Lake Park, the site of major music performances at South by Southwest (SXSW) and Fun Fun Fun Fest (F3F).
Zilker Metropolitan Park and Zilker Botanical Garden (large recreational area and botanical garden along Colorado River), Austin Zoo (rescue zoo and animal sanctuary).

Aquarium: Austin Aquarium (fishes and reptiles)

Lakes: Lady Bird Lake (flood control and recreation), Barton Springs Pool (outdoor swimming pool fed by natural springs in Zilker Park), Texas Highland Lakes, six fresh water reservoirs whereof Lake Buchanan is the largest, others are Lake Austin, Lake Travis (with Hippie Hollow Park, the only legally recognized clothing-optional public park in Texas), Lake Marble Falls, Lake LBJ (Lyndon B. Johnson), and Inks Lake.
Outdoors: Mount Bonnell (mount with a vista on Lake Austin and the city's skyline beyond), McKinney Falls State Park, park with two and water falls several hiking trails.

Sports: Circuit of the Americas (motor racing facility in Elroy), Darrell K. Royal–Texas Memorial Stadium (100,000+ seater outdoor stadium, home to the University of Texas at Austin Longhorns football team), Frank Erwin Center, sports and events arena on the campus of the University of Texas at Austin. Dell Diamond, baseball stadium in Round Rock,

Just zoom in to see Texas State Capitol, a U.S. National Historic Landmark and seat of the state government of Texas.

The Map shows a city map of Austin with expressways, main roads and streets, zoom out to find Austin-Bergstrom Airport (IATA: AUS) located 5 miles (8 km) southeast of the central business district.

Other large cities in Texas are Dallas, Houston, and San Antonio.

To find a location use the form below. To view just the map, click on the "Map" button.

To find a location type: street or place, city, optional: state, country.


Local Time Austin:

Tuesday-November-20 17:35

Standard time zone: Central Standard Time (CST); UTC/GMT -6 hours Central Daylight Time (CDT) in use from the second Sunday in March, ends on the first Sunday in November; time zone offset: UTC/GMT -5 hours