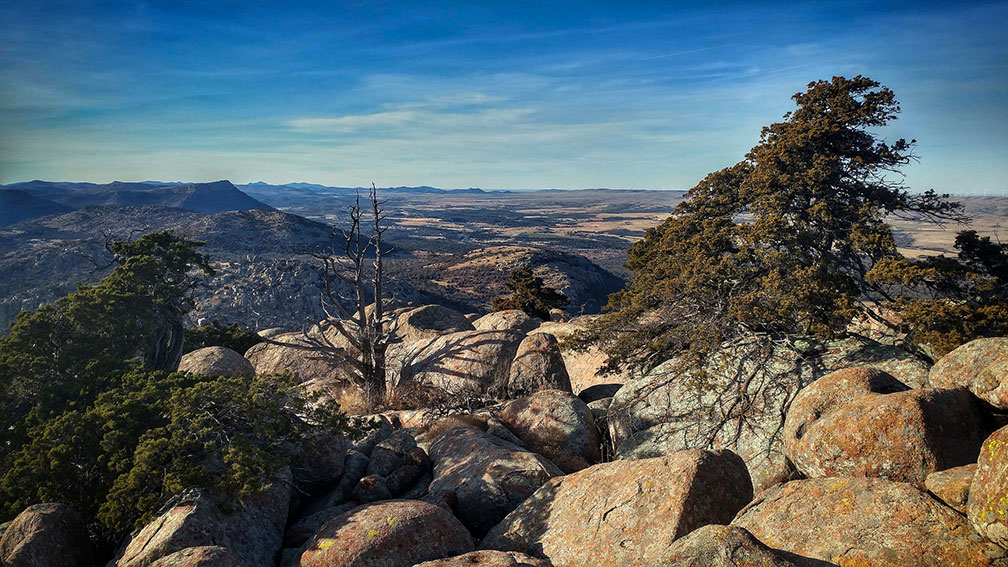 Image: Todd Morris
4. Within the southwestern portion of the Red Bed Plains rise the
Wichita Mountains
, rocky promontories and rounded hills made of red and black igneous rocks (cooled lava, granite, and rhyolite).
The
Wichita Mountains National Wildlife Refuge

is one of the oldest managed wildlife facilities in the United States.
5. To the east of the Red Bed Plains is the area of the
Sandstone Hills
, a region of gently rolling hills, cut by steep-walled canyons, and bordered in the south by the Arbuckle Mountains.
6. To the south of the Sandstone Hills are the ancient
Arbuckle Mountains
, a worn-out, folded, and faulted mountain range, which rises about 180 m to 210 m (600 to 700 ft) above the plains. Erosion has sculpted some bizarre rock formations in this area, and open-pit mining and quarries create patches of a moonscape. The Arbuckle mountains are composed of ancient bedrock and many layers of sedimentary rocks (dolomitic limestone). Turner Falls, a 23 m (77 ft) cascade on Honey Creek within the Arbuckle Mountains, is a popular tourist destination.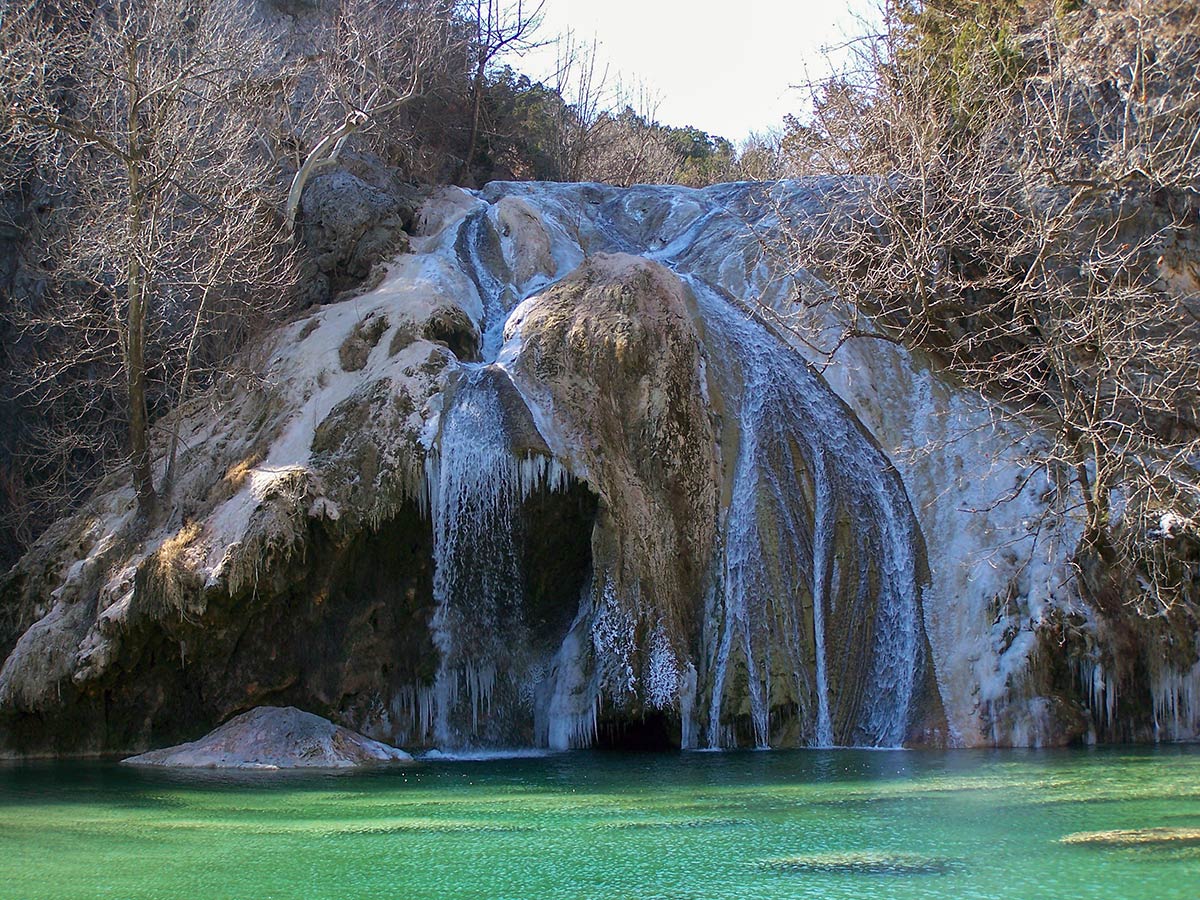 Image: adrannon
7. The
Prairie Plains
between the Sandstone Hills and the Ozark Plateau is predominantly an agricultural region. Still, it is in this region, especially in the Arkoma Basin, where oil and natural gas are produced.
The Prairie Plains and the Arkansas River Valley are also the areas with the most coal mining in the state.
8. The fertile
Red River Plains
along the Texas border is a landscape of rolling prairies interspersed with some forested hills. In this agricultural region, cotton, peanuts, soybeans, and vegetables are cultivated in the sandy soil.
9. Situated between the Arkansas River Valley and the Red River Plains are the densely wooded
Ouachita Mountains
, a fold-and-thrust belt of southeastern Oklahoma and western Arkansas. The rugged range of big hills was formed about 300 million years ago. The Ouachitas are part of the US Interior Highlands, the only major mountainous region between the Rockies and the Appalachians. Mt Magazine in Arkansas is with an elevation of 839 m (2,753 ft), the highest point in the Ouachitas.
10. To the north of the Ouachita Mountains across the Arkansas River Valley reaches two sections of the
Ozark Plateau
into Oklahoma, the Springfield Plateau, and the Boston Mountains. A landscape with wooded, rolling hills, and rounded ridges separated by narrow, steep-sided valleys. Elevations range from about 200 m to 500 m (650 to 1640 ft) a.s.l.. The plateau consists of about 70 percent forest, 20 percent pasture, and 10 percent cropland.
[2]