African Capitals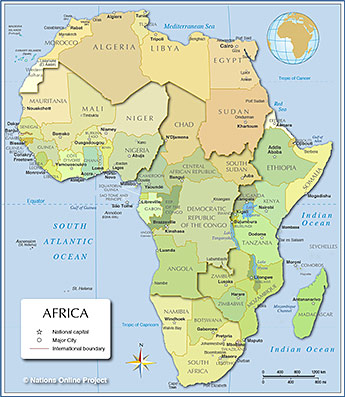 Map of Africa
, click to enlarge.
List of the Capital Cities of Africa.
On this page, you will find a list of all the capital cities of Africa with figures of the city population*.
Have a look at the cities from space; for each city, there is a searchable map/satellite view. Additionally, you will find links to the official or near official city site (if available). Almost all African states are developing countries with a less developed internet infrastructure; therefore, there are fewer capitals of Africa online.
The country links lead you to the respective country profile page.
* The size of the population in Africa's major cities is a problematic issue. There are not many reliable sources, and most are rough estimates of the urban population.
According to the United Nations, Africa's urban population has been growing at a very high rate. From about 27% in 1950 to 40% in 2015, and projected to reach 60% by 2050 (UN-DESA, 2014).
Both underdevelopment (poverty) and development have contributed to migration within African countries. Migration to the cities has encouraged the development of slums around large cities with countless inhabitants. The largest informal settlements (slums) are Khayelitsha in Cape Town, South Africa, Kibera in Nairobi, Kenya, and Accra's Jamestown, in Ghana.
The population figures refer to the metropolitan area of Africa's capitals. For example, Cairo, the largest city in Africa, has a population of about 9.1 million people, but more than 20 million people live in its metropolitan area.
keywords: Capital, Capital City, Capitals of Africa
Population Source: World Urbanization Prospects: The 2018 Revision (Population of Capital Cities in 2018)