About Montpelier

The satellite view shows Montpelier, the seat of Washington County and the capital of the State of
Vermont
. The 2nd least populous state in the

United States
is situated in New England, in the northeastern part of the nation.
Montpelier is located at two branches of the Winooski River in the upper central part of Vermont, 180 mi (290 km) northwest of
Boston
, and 132 mi (210 km) southeast of
Montreal
,
Canada
.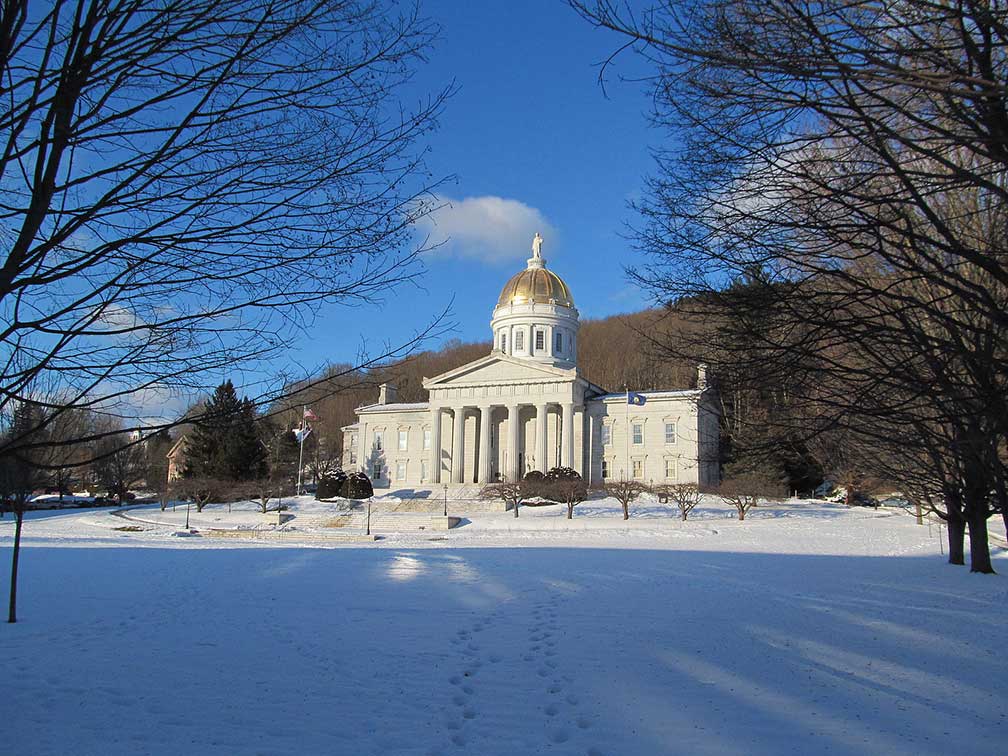 Image: John Phelan
Montpelier was chartered in 1781 as a grant to settlers from
Massachusetts
. A first settlement was built along the North Branch of the Winooski River in 1787; it was named after the city of
Montpellier
in Southern
France
.
In 1791, when Vermont became a state, Montpelier was a village of hardly 120 souls. But 15 years later the town's population grew already to 1.200 citizens.
Because of its central location within Vermont, Montpelier was selected as the state's capital in 1805.
What distinguishes Montpelier, VT from other American state capitals?
Just 7,500 people (in 2018) live in Montpelier, that makes the town to the U.S. State Capital with the smallest population.
The town is home to the
Vermont College of Fine Arts
(
vcfa.edu
), an arts institution, and the
New England Culinary Institute
(
neci.edu
), a culinary college.
Capital highlights: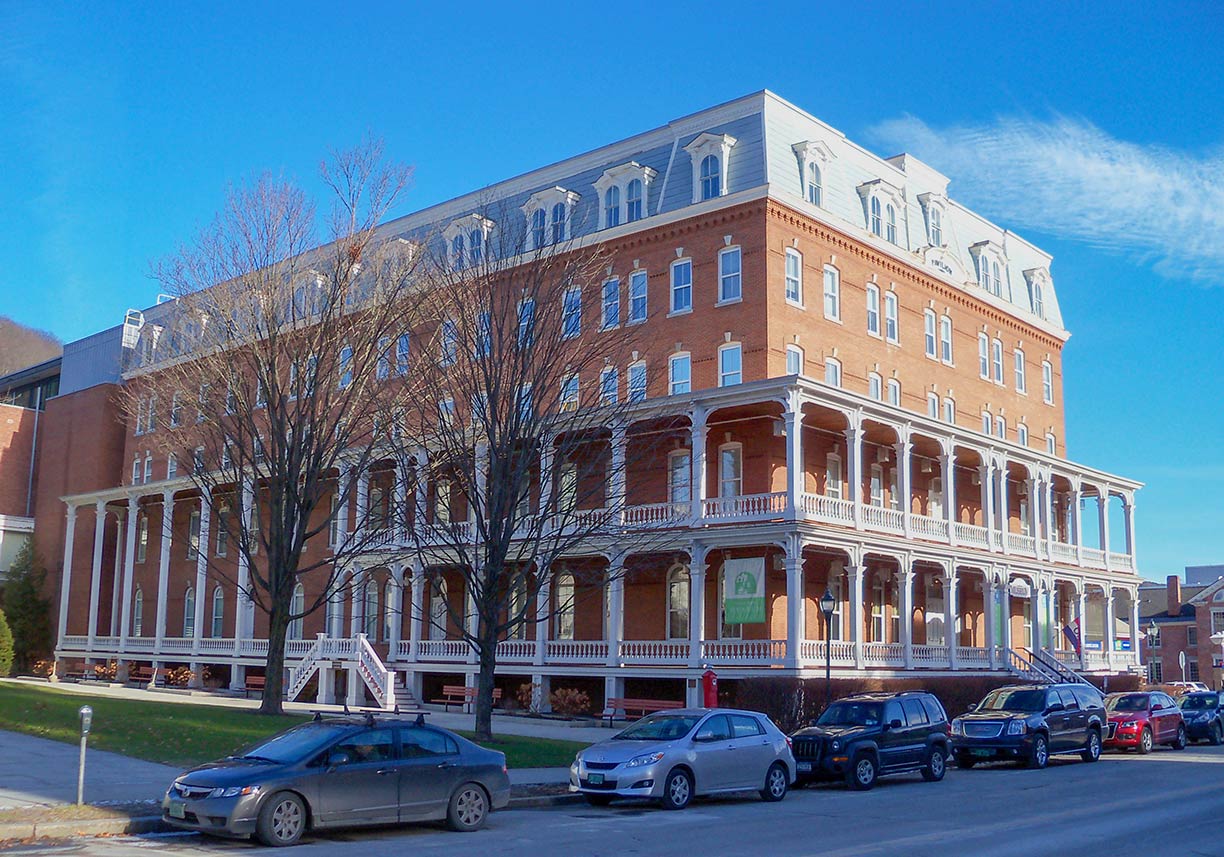 Image: AlexiusHoratius
Historic places:

Vermont State House
, the Greek Revival style State House is Vermont's third capitol, constructed in 1833. It is the seat of Vermont's General Assembly.
Museums:
Vermont History Museum
(
vermonthistory.org
), the museum of the Vermont Historical Society is housed in
The Pavilion
, the workplace of the Governor of Vermont.
Fairbanks Museum and Planetarium
(
www.fairbanksmuseum.org
), one hour drive to the east of Montpelier is the planetarium and museum for natural science, history, and ethnology in Fairbanks.
Theater:
Lost Nation Theater
(
lostnationtheater.org
), performing arts theater - staging stories about the hopeful possibilities of human interaction.
Fine dining:
NECI on Main
(
neci.edu/our-restaurants.php
); Farm-to-Table Fresh; culinary arts prepared by students of the New England Culinary Institute.
Shopping: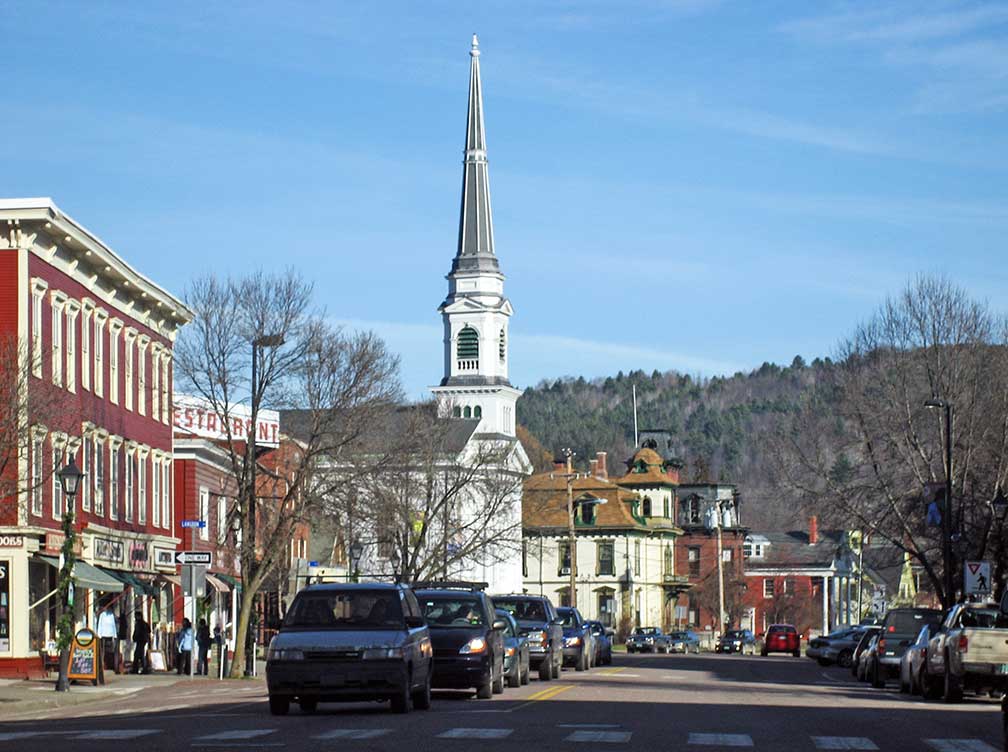 Image: GearedBull
Capital City Farmers Market
, sale of local produce, May-October each Saturday on 60 State Street; November-April twice monthly in the Montpelier City Center.
Bragg Farm Sugarhouse and Gift Shop
(
www.braggfarm.com
), produces Vermont Maple Syrup for eight generations.
Morse Farm Maple Sugarworks
(
www.morsefarm.com
), is since eight generation a family-owned Vermont maple syrup farm.
Cemetery:
Hope Cemetery
, is a cemetery and a granite sculpture garden in Barre, Vermont.
Sports:
Vermont Mountaineers
, the local collegiate summer baseball team.
Just zoom in (+) to see Vermont State House, the seat of Vermont's General Assembly.
The page shows a city map of Montpelier with expressways, main roads, and streets and the location of Edward F. Knapp State Airport (
IATA code
: MPV), a general aviation airport located in Berlin VT, 4.6 mi (7 km) south of Montpelier.
The nearest international airport is
Burlington International Airport
(
IATA code
: BTV), 36 mi (58 km) northwest of the capital town.
To find a location use the form below.