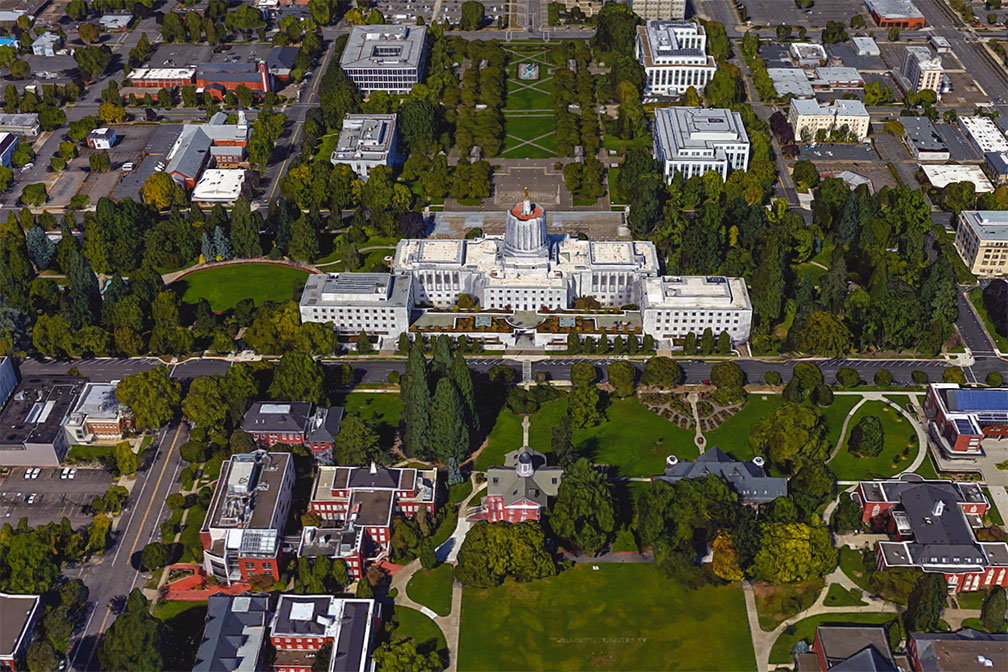 Image: Google
Oregon has a
population
of 4.2 million people (2019 est.)
[2]
; the capital is
Salem
and the largest city is
Portland
, a major river port. The largest metropolitan area is Portland metro with a population of 2.4 million people.
Almost 70% of Oregon's population lives in the Willamette Valley, one of the most fertile agricultural landscapes in the world.
Race and Ethnic groups
Oregon's population is 87% white, 13.4% Hispanic or Latino, 5% Asian, 2.2% African American, and 1.8% Native American.
[3]
Cities and Towns in Oregon
The map shows the location of following cities and towns in Oregon:
The 10 largest Cities in Oregon
Portland
(653,000)
Salem
(173,000)
Eugene (171,000)
Gresham (110,000)
Hillsboro (108,000)
Beaverton (99,000)
Bend (97,600)
Medford (82,000)
Springfield (63,000)
Corvallis (58,600)
Source: Population figures in 2018
Other cities and towns in Oregon:
Albany, Ashland, Astoria, Baker City, Bly, Brookings, Burns, Canyon City, Condon, Coos Bay, Enterprise, Florence, Grants Pass, Hermiston, John Day, Jordan Valley, Keizer, Klamath Falls, La Grande, Lakeview, Madras, McMinnville, Newport, North Bend, Ontario, Pendleton, Port Orford, Prineville, Redmond, Reedsport, Roseburg, Seaside, St Helens, The Dalles, Tillamook, and Vale.
Airports
The largest
airport
in the state is
Portland International Airport
(
IATA code
: PDX). Other major airports are Eugene Airport (Mahlon Sweet Field; IATA code: EUG), Rogue Valley International-Medford Airport (IATA code: MFR), and Redmond Municipal Airport (Roberts Field; IATA code: RDM).

Image: Jonni Armani