About Columbus

The satellite view shows Columbus, the county seat of Franklin County; it is the largest city and the capital of
Ohio
, a state bordering Lake Erie in the north in the northeastern

United States
. Columbus is located in Central Ohio at the confluence of the Scioto and Olentangy rivers, about 100 mi (170 km) northeast of
Cincinnati
, and 145 mi (230 km) southwest of
Cleveland
.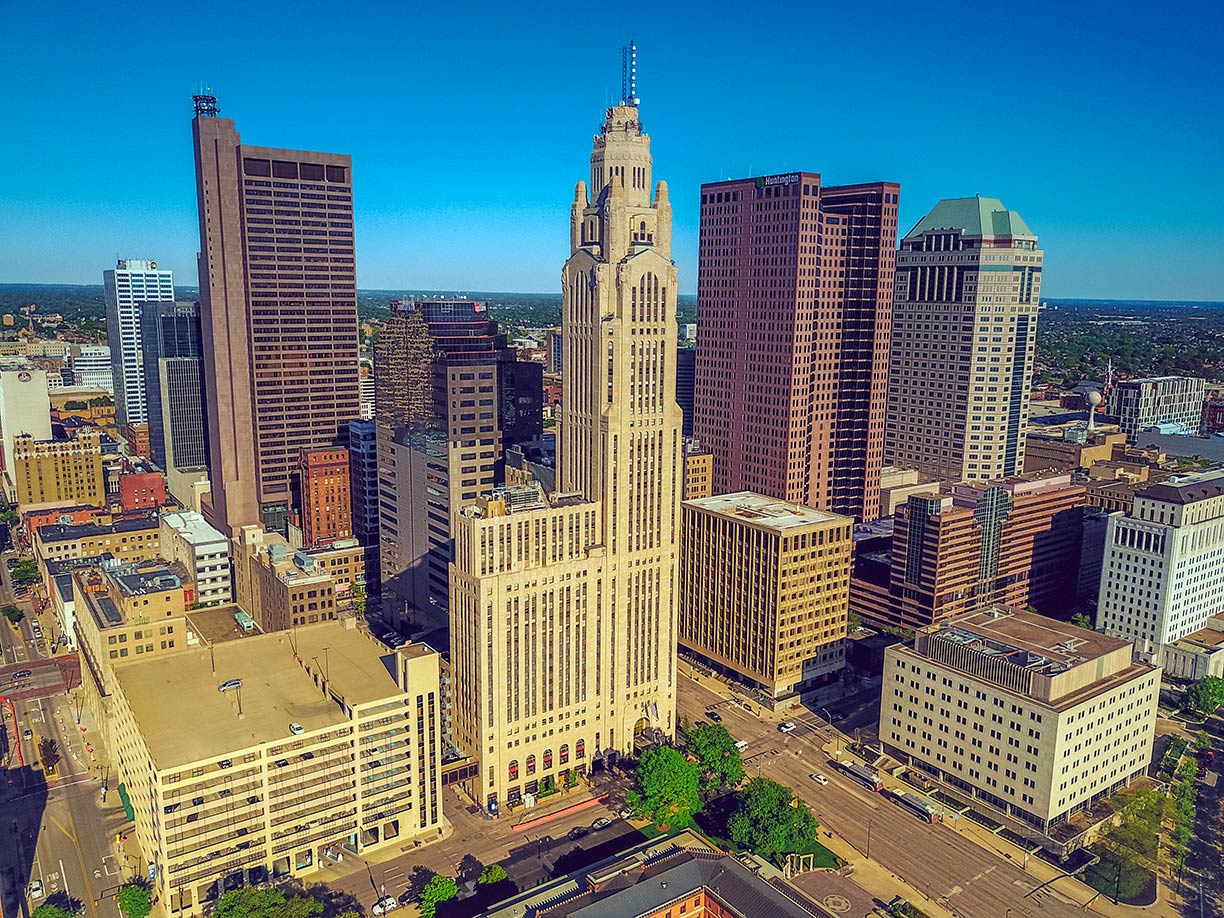 Photo: Tim Trad
In 1763 the Treaty of Paris made Ohio Country part of the British Empire.
In 1797, Franklinton (now a neighborhood in Columbus) became the first American settlement at the confluence of the Olentangy and Scioto Rivers.
Ohio achieved statehood in 1803 and was in need of a capital. The state legislature decided to build a new city in the center of Ohio, preferably near major transportation routes, at that time primarily rivers.
The city was founded in 1812 on the "High Banks," a bluff overlooking a bend in the Scioto River, opposite Franklinton, and named in honor of Christopher Columbus, the Italian explorer who discovered the sailing route to the New World.
Today, Columbus is the 14th-largest city in the US with a
population
of about 880,000 inhabitants (2018), more than 2 million people live in the Columbus Metropolitan Statistical Area.
The city is the seat of the government of Ohio.
The economy of the metropolis relies on education, government, insurance and banking, aviation and defense, textile manufacturing and clothes, healthcare research and industry, technology, and services.
The city is home to several colleges and universities. The
Ohio State University
(
www.osu.edu
), or Ohio State (OSU), is the highest ranked public university in Ohio and one of the largest universities in the United States. The
Columbus State Community College
(
www.cscc.edu
), with its main fields in Health Science, Liberal Arts, and Business. The
Columbus College of Art & Design
(
www.ccad.edu
), is one of the oldest private art and design colleges in the United States.
Historic sites: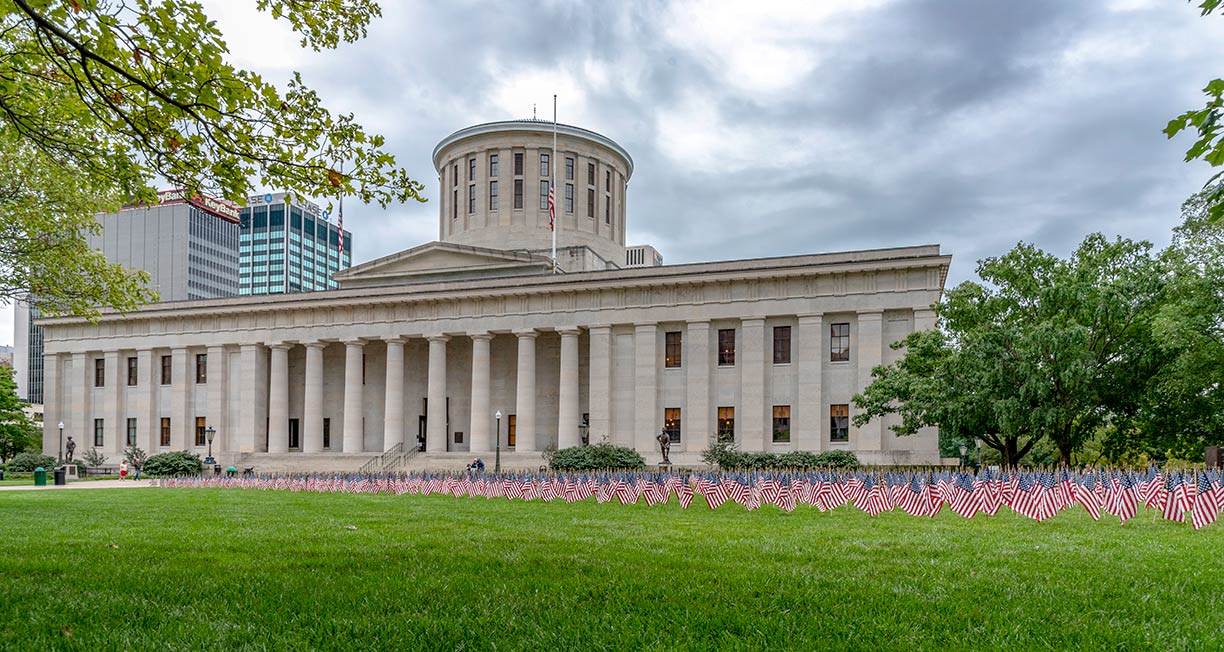 Photo: Sixflashphoto
The
Ohio Statehouse
(
www.ohiostatehouse.org
), the Greek Revival style state capitol in Columbus was completed in 1861; it houses the bicameral Ohio General Assembly, consisting of the House of Representatives and the Senate.
Kelton House Museum and Garden
Mansion showcasing 19th-century life
Historic home & garden, once a stop on the Underground Railroad, with exhibits on 19th-century life.
Thurber House
(
www.thurberhouse.org
) historic house and former home to James Thurber, an American cartoonist, and author; today the house is gathering place for readers and writers, and home to the annually Thurber Prize for American Humor.
The LeVeque Tower
The 47-story Art deco skyscraper houses a hotel and a theater; it opened as the American Insurance Union Citadel in 1927, it is still the second tallest building in the city.
Historic neighborhoods:
Brewery District, Columbus
The Brewery District between German Village and Scioto Audubon Metro Park caters beer aficionados with draft beer bars and music venues in historic houses. The district also has a lively dining scene with gastropubs, tapas snack bars, and farm-to-table eateries.
German Village

Quaint shops, cottages & Schiller Park
The German Village was settled in the early-to-mid-19th century by a large number of German immigrants. It is known for charming brick houses built by 19th-century, its numerous neighborhood restaurants, with mostly locally owned
Shops selling books, traditional fudge, and handmade
Victorian Village
Striking period homes & Goodale Park The Victorian Village is known for quaint, leafy streets lined with late-19th- and early-20th-century homes in a variety of architectural styles, such as Gothic Revival mansions, Second Empire
Italian Village
Trendy eateries & the Italian Festival
A former immigrant neighborhood, the Italian Village draws foodies to bakery-cafes, inventive pizzerias, and casual diners. Pizza and sausage stalls set up near the late-1800s St. John the Baptist.
The Short North
is a neighborhood centered on the main strip of High Street with bars, contemporary galleries and the Wexner Center for the Arts. Short North also has a lively LGBT community and hosts the annual Columbus Pride parade (
columbuspride.org
) on High Street between Goodale Park, Genoa Park and Bicentennial Park.
Museums: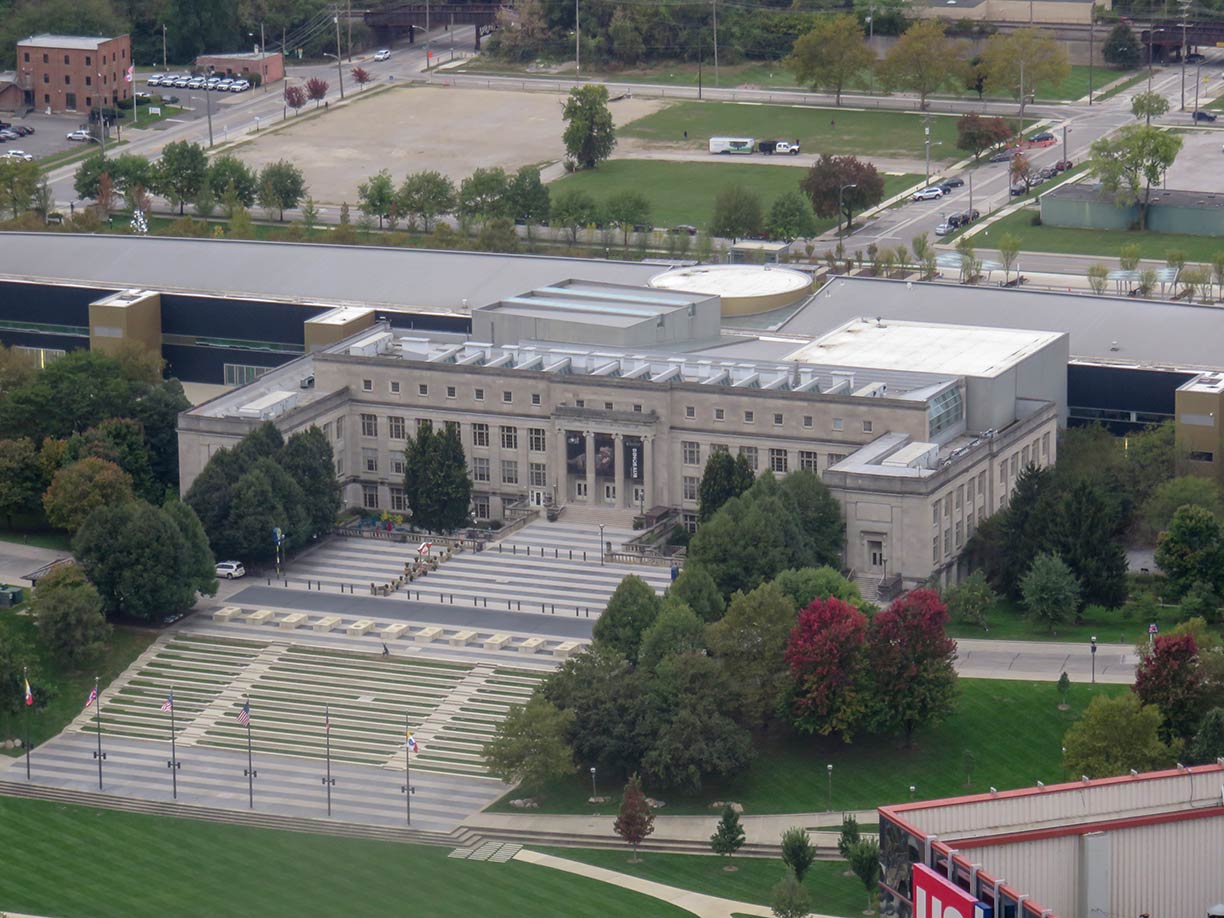 Photo: Antony-22
COSI
(
cosi.org
), the Center of Science and Industry is a huge educational science center with a museum that has a Dinosaur Gallery and a planetarium; the center offers interactive exhibits, working labs, and planetarium shows.
Ohio History Connection
(
www.ohiohistory.org
), the organization operates dozens of state historic sites across Ohio. Its headquarters is the
Ohio History Center
, also a museum, a library and an archive of Ohio history, located near the compounds of the Ohio Expo Center and State Fair.
Ohio Village
(
www.ohiohistory.org/visit/ohio-village
), a living history museum with an interactive re-creation of a 1860s town.
National Veterans Memorial and Museum
(
www.nationalvmm.org
); NVMM is the first-of-its-kind museum, telling the stories of US veterans, their families, and the fallen heroes. The museum opened in October 2018.
Orton Geological Museum
(
ortongeologicalmuseum.osu.edu
) is a small archaeological science museum located on the South Oval on the Ohio State University's main campus.
Visual arts: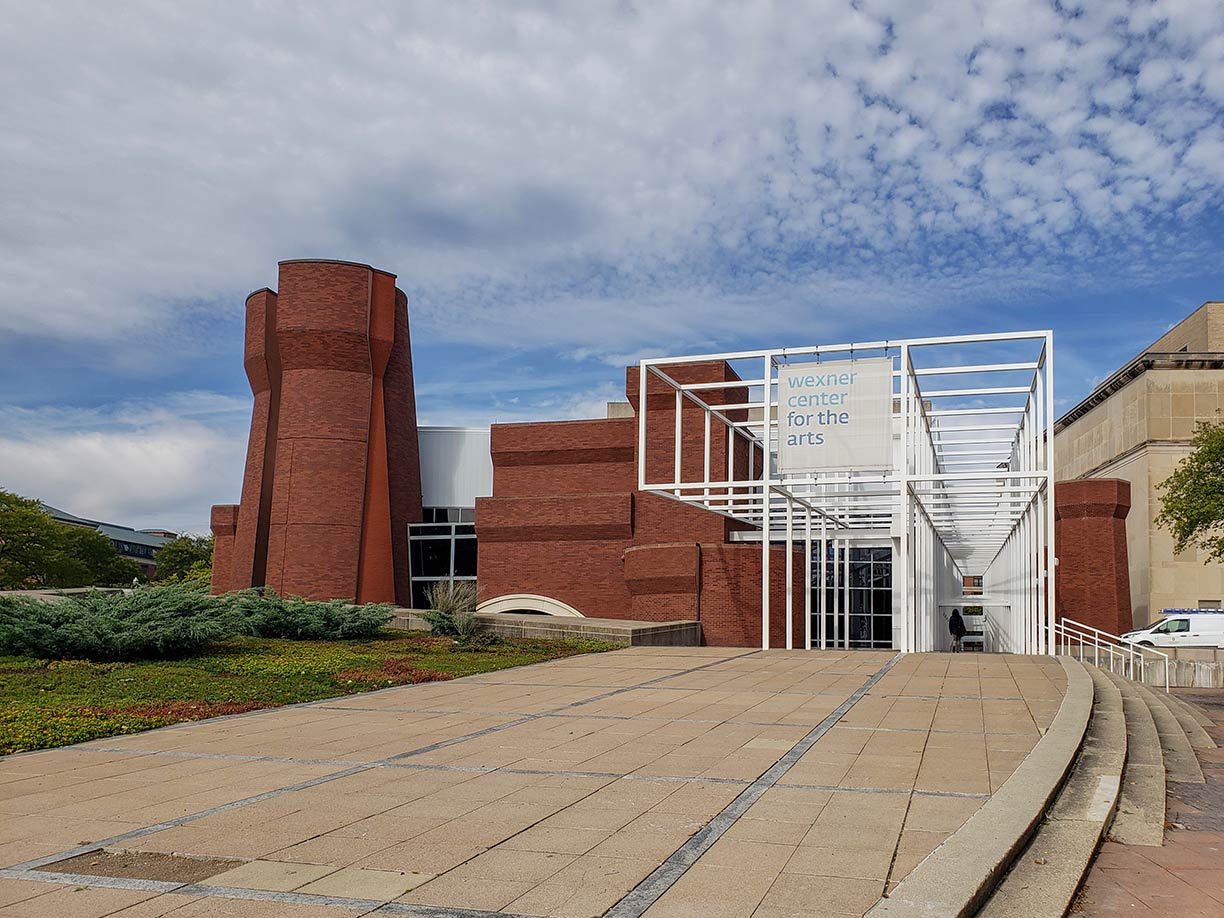 Photo: RightCowLeftCoast
Wexner Center for the Arts
(
wexarts.org
), university hub for modern art, a multidisciplinary laboratory for the exploration and advancement of contemporary art.
Columbus Museum of Art
(
www.columbusmuseum.org
), Ohio's first art museum showcases American and European modern art, as well as contemporary art, folk art, glass art, and photography.
Cultural Arts Center
(
www.culturalartscenteronline.org
), an art center with classes and workshops; its gallery features contemporary art and emphasizes emerging artists.
Concerts and performing arts:
Columbus Symphony Orchestra
(
www.columbussymphony.com
) is the oldest performing arts organization in the city and the only full-time professional symphony in central Ohio.
EXPRESS LIVE!
(
www.promowestlive.com
) is a multi-purpose indoor and outdoor concert venue located in the Arena District.
Newport Music Hall
(
www.newportmusichall.org
), America's longest continually running Rock Club, located on High Street.
Bluestone
(
liveatthebluestone.com
), country music concerts in a 19th-century former Baptist church.
Lincoln Theatre
(
www.lincolntheatrecolumbus.com
), a performing arts venue located in the King-Lincoln, a historically African American neighborhood in Columbus.
The King Arts Complex
(
kingartscomplex.com
), offers educational exhibits, arts, jazz and more.
Columbus Association for the Performing Arts
(
www.capa.com
) is a non-profit arts and theater management organization which runs the
Columbus Performing Arts Center
, the
Ohio Theatre
, the
Southern Theatre
, and the
Palace Theatre
, a restored movie palace built in 1926, and now a multi-use performing arts venue.
Shadowbox Live
(
www.shadowboxlive.org
), a resident ensemble theater company.
Riverfront Amphitheater
in Genoa Park hosts local events, concerts, and festivals.
Convention center:
Greater Columbus Convention Center
(
columbusconventions.com
), is the city's convention center, surrounded by restaurants, shops, hotels and entertainment venues.
Shopping:
Easton Town Center
(
eastontowncenter.com
), indoor and outdoor shopping complex and mall.
North Market
(
www.northmarket.com
) two-floor market with a mixture of farm products, retail, and food stands, and there is a Farmers Market every weekend during the growing season.
Polaris Fashion Place
(
polarisfashionplace.com
) a two-level pet-friendly massive shopping mall with a play area for kids and a food court.
Gaming:
Hollywood Casino Columbus
(
www.hollywoodcolumbus.com
), gambling venue with dining, and live bands playing to the rhythm of slot machines.
Fun:
Columbus Zoo and Aquarium
(
www.columbuszoo.org
), about 20 mi (30 km) by road north of downtown at the southern end of the O'Shaughnessy Reservoir; wildlife viewing in eight regions of the world, more than 7,000 animals and an enormous parking lot.
Zoombezi Bay
(
zoombezibay.columbuszoo.org
), Summer only water park with several wet attractions among them, Croctail Creek, the park's adults-only lazy river.
Jungle Jack's Landing
Jungle Jack's Landing is a small amusement park with family fun rides, part of the Columbus Zoo and Aquarium in Powell, Ohio.
Magic Mountain Fun Center
(
magicmountainfuncenter.com
), two amusement parks for family fun and entertainment.
Fairs and festivals:
Ohio State Fair
(
ohiostatefair.com
), is one of the largest state fairs in the United States, held in Columbus from late July through early August.
Columbus Arts Festival
(
www.columbusartsfestival.org
)
Acclaimed annual festival shows artworks in the categories mixed media, photography and digital art, painting and drawing, ceramics, jewelry.
Columbus Food Truck Festival
(
columbusfoodtruckfest.com
), two days in August, mobile food from food trucks, vendors, and bands at the Bicentennial Park.
Jazz & Rib Fest
(
www.hotribscooljazz.org
) between Genoa and Bicentennial Park, a no-go area for vegetarians, vendors selling barbecue beef, pork ribs, pulled pork sandwiches, and beer accompanied by live music.
ComFest
(
www.comfest.com
), Community Festival is an annual music and arts festival held in June in Goodale Park.
Outdoors:
Hoover Dam
Iconic concrete dam, built in 1935 Tours & a viewing platform showcase this soaring concrete dam which attracts millions of visitors.
Field of Corn (with Osage Orange Trees)
Publicly funded art installation in the city of Dublin, an unquestionably unique park with huge concrete corn sculptures, the site is also known as "Cornhenge."
ZipZone
(
zipzonetours.com
), canopy tours with zip-lines and rope bridges.
Green Belt Network
is a network of six Green Belts winding through the urban fabric of the city; the recreation areas are under development by Columbus Recreation and Parks.
Olentangy Trail
is a trail along the Olentangy River, leading from Worthington to downtown Columbus.
Alum Creek State Park
, a 4,600-something-acre recreation area at Alum Creek Lake, an artificial lake north of Africa.
Caves:
Olentangy Indian Caverns
Ancient caverns with Delaware history
The local Delaware tribe used to inhabit these caverns, now accessible for tours in season only.
Parks: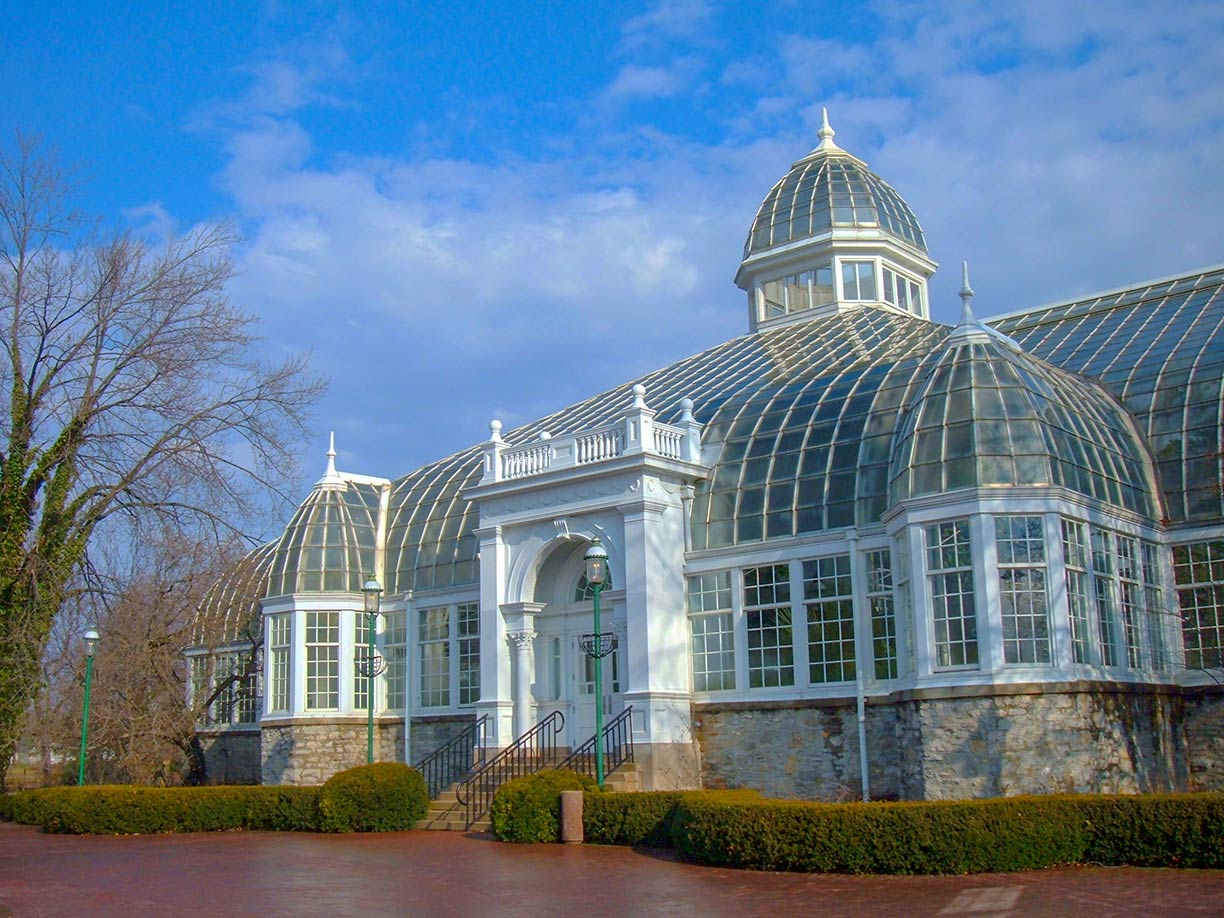 Photo: Analogue Kid
Goodale Park
is a landscaped public city park in the Victorian Village area with a skyline view.
Scioto Greenway
(
www.sciotomile.com
), an urban reclamation and redevelopment project with a $36 million price tag, turned the once industrial landscape at the riverbank into a scenic green riverside area in downtown Columbus with a bird habitat, several parks with paved trails for biking, in-line skating, and running, plus places for hiking, fishing, volleyball, and a climbing wall.
Topiary Park
(
www.topiarypark.org
) park featuring sculptured shrubs, it is 'a landscape of a painting of a landscape' adjacent to the Columbus Metropolitan Library (
www.columbuslibrary.org
).
Columbus Park of Roses
(
www.parkofroses.org
) a landscaped public garden created in 1953 and now includes 400 varieties of roses. Best time to visit is late May when the Heritage Rose Garden is in full bloom.
Bicentennial Park
, a riverside urban green space with a one-of-a-kind fountain, an outdoor stage, and a restaurant, traditionally one of Columbus' most popular parks.
Clinton-Como Park
, a recently renovated park that contains a section of the Olentangy Greenway Trail along the east bank of the Olentangy River.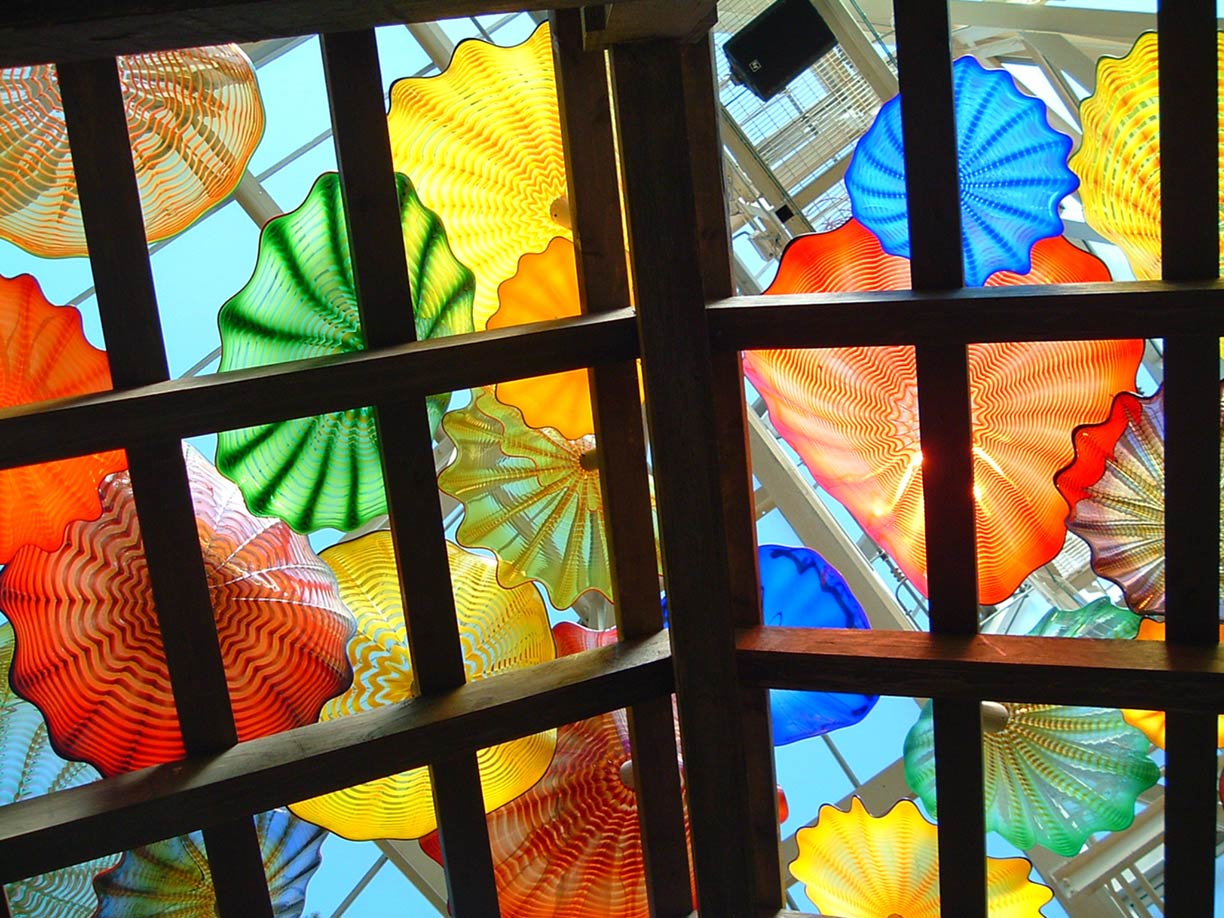 Photo: Analogue Kid
Schiller Park
, the second oldest park in the city, is a recreation area in the German Village, in the park is a fishing pond, an open-air stage, and a statue of German poet Friedrich von Schiller in the center of the park.
John F. Wolfe Columbus Commons
(
columbuscommons.org
), family-friendly park in downtown Columbus with space for activities, seasonal events at the covered Pavilion, cafes, a reading room, gardens, and a carousel.
Franklin Park Conservatory and Botanical Gardens
(
www.fpconservatory.org
) is a botanical garden on landscaped grounds with 400 plant species and greenhouses with art exhibitions, especially artworks created by Dale Chihuly.
Chadwick Arboretum
(
chadwickarboretum.osu.edu
) the arboretum on the Agriculture campus of The Ohio State University showcases a variety of native and non-native plants and trees.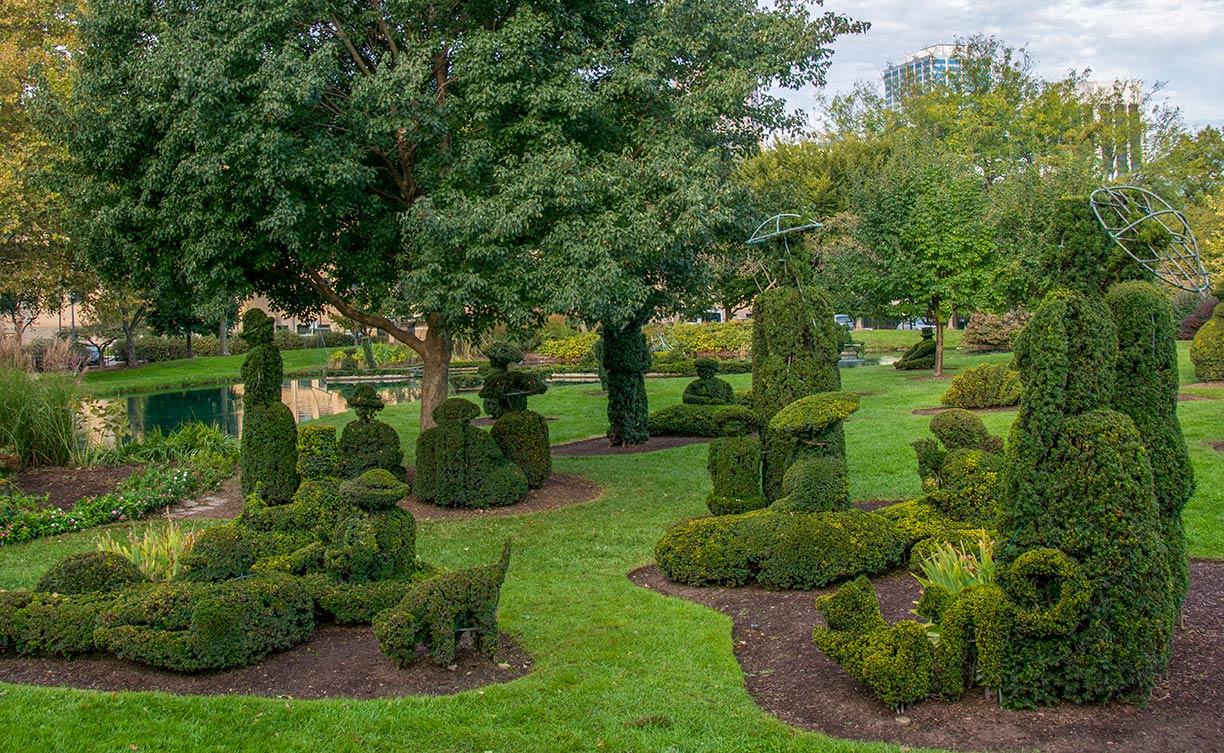 Photo: Ɱ
Columbus and Franklin County Metro Parks (www.metroparks.net), the Central Ohio Park System provides information about all the Metro Parks in Central Ohio.

Antrim Park is a 120-acre recreation destination with several athletic fields and a section of the Olentangy Greenway Trail.

Battelle Darby Creek Metro Park, half an hour from downtown Columbus; it is the largest Metro Park; 7,000+acre of restored prairie areas with forests, rivers, creeks, and bison.

Blendon Woods Metro Park is a Metro park with a waterfowl refuge, nature observations, and a nature learning center with mounted animals on display, there is a disc golf course, and ice skating, sledding, and hiking trails.

Highbanks Metro Park lies to the north of the city, a National Natural Landmark and the most visited park in the Metro Park system, featuring a complex of Native American earthworks and hiking trails.

Homestead Metro Park is a 44-acre community park with country atmosphere, a covered bridge, a train station replica, two barns, and a paved trail.

Hayden Falls Park is a park with gorge and a 35-ft waterfall with a viewing platform.

Indian Run Falls, green space with two waterfall and nature trails. The cascades are most impressive after rain or in Spring.

Prairie Oaks Metro Park, dog-friendly sprawling grasslands with a creek and lakes for boating and fishing.


Sports:
Arena District is a commercial and residential area around Nationwide Arena at the site of the former Ohio Penitentiary.

Nationwide Arena (www.nationwidearena.com) is a multipurpose arena and concert stage; the arena is home to Columbus Blue Jackets (www.nhl.com/bluejackets) ice hockey team.

Huntington Park (huntingtonparkcolumbus.com) is home to the Columbus Clippers baseball team (www.clippersbaseball.com)

Ohio Stadium, the Horseshoe, American football stadium on the campus of The Ohio State University, home venue of the Ohio State Buckeyes football team (ohiostatebuckeyes.com).

MAPFRE Stadium (www.mapfrestadium.com), the soccer stadium just north of the Ohio Expo Center and State Fairgrounds, is home to the Columbus Crew SC.

Just zoom in to see Ohio Statehouse, completed in 1861. The Greek Revival building houses the Ohio General Assembly and the ceremonial offices of the Governor.

The Map shows a city map of Columbus with expressways, main roads, and streets, zoom out to find the location of John Glenn Columbus International Airport (flycolumbus.com; IATA code: CMH), formerly known as Port Columbus International Airport located seven mi (12 km) east of the Central Business District of Columbus.

To find a location use the form below.