Background
The Federal Republic of Germany is located in the heart of Europe. The nation-state now known as Germany was first unified in 1871 as a modern federal state, the German Empire.
In the first half of the 20th century two devastating World Wars, of which Germany was responsible for, left the country occupied by the victorious Allied powers.
With the advent of the Cold War, two German states were formed in 1949: the western Federal Republic of Germany (FRG) and the eastern German Democratic Republic (GDR).
The democratic FRG embedded itself in key western economic and security organizations, the EC and NATO, while the communist GDR was on the front line of the Soviet-led Warsaw Pact. The decline of the USSR and the fall of Communism enabled Germany's unification in 1990.
With the unification of the two German states, the country became Europe's most populous nation and strengthened its role as a key member of the European Union and of the continent's economic, political, and security organizations.


Official Name:
Bundesrepublik Deutschland
local short form: Deutschland
int'l long form: Federal Republic of Germany
int'l short form: Germany
former: German Empire, German Republic, German Reich.

ISO Country Code: DE - DEU - .de

Time zone: Central European Time (CET)
Actual Time :

Mon-July-22 18:02


Local Time : CET = UTC +1h
Daylight Saving Time (DST) March - October (UTC +2)

Country Calling Code: +49

Capital City: Berlin
Former (transitional) Capital City: Bonn

Major Cities:
(city population)
Bremen (543 000), Dortmund (592 000), Dresden, Düsseldorf (568,000), Essen (603 000), Frankfurt (644 000), Hamburg (1.7 million), Hannover (516 000), Köln (964 000), München (1.2 million), Stuttgart (582 000)

Government:
Type: Democratic-parliamentary federal state
Founded: 1949 (Basic Law, i.e., Constitution, promulgated on 23 May 1949).
On the 3rd October 1990, the Federal Republic of Germany and the German Democratic Republic unified in accordance with Article 23 of the FRG Basic Law.

Geography:
Location: Central Europe bordering the Baltic Sea and the North Sea in north.
Area: 357 031 km² (137 850 sq. mi.)
Terrain: Low plain in the north; high plains, hills, and basins in the center and east; mountainous alpine region in the south.
Highest mountain: Zugspitze 2 962 m.

Climate: Generally moderate continental climate without sustained periods of cold or heat, maritime climate in the North, in the South mountain climate in the Alpine regions.

People:
Nationality: German(s)
Population: 81,7 million (2015)
Ethnic groups: Primarily German; Danish minority in the north, Sorbian (Slavic) minority in the east; 8.2 million foreign residents, 10% of the population (2015).
Religions: Protestants (27.9 million), Catholics (27.3 million); approximately 3.2 million Muslims.
Language: German, second languages: English, French, Turkish.

Natural resources: Coal, lignite, natural gas, iron ore, copper, nickel, uranium, potash, salt, construction materials, timber, arable land.

Agriculture products: Potatoes, wheat, barley, sugar beets, fruit, cabbages; cattle, pigs, poultry.

Industries: Among the world's largest and most technologically advanced producers of iron, steel, coal, cement, chemicals, machinery, vehicles, machine tools, electronics, food and beverages; shipbuilding; textiles.

Exports - commodities: motor vehicles, machinery, chemicals, computer and electronic products, electrical equipment, pharmaceuticals, metals, transport equipment, foodstuffs, textiles, rubber and plastic products.

Exports partners: USA 9.6%, France 8.6%, UK 7.5%, Netherlands 6.6%, China 6%, Italy 4.9%, Austria 4.8%, Poland 4.4%, Switzerland 4.2% (2015)

Imports - commodities: machinery, data processing equipment, vehicles, chemicals, oil and gas, metals, electric equipment, pharmaceuticals, foodstuffs, agricultural products.

Imports partners: Netherlands 13.7%, France 7.6%, China 7.3%, Belgium 6%, Italy 5.2%, Poland 5%, USA 4.7%, Czech Republic 4.5%, UK 4.2%, Austria 4.2%, Switzerland 4.2% (2015)

Currency: Euro (EUR)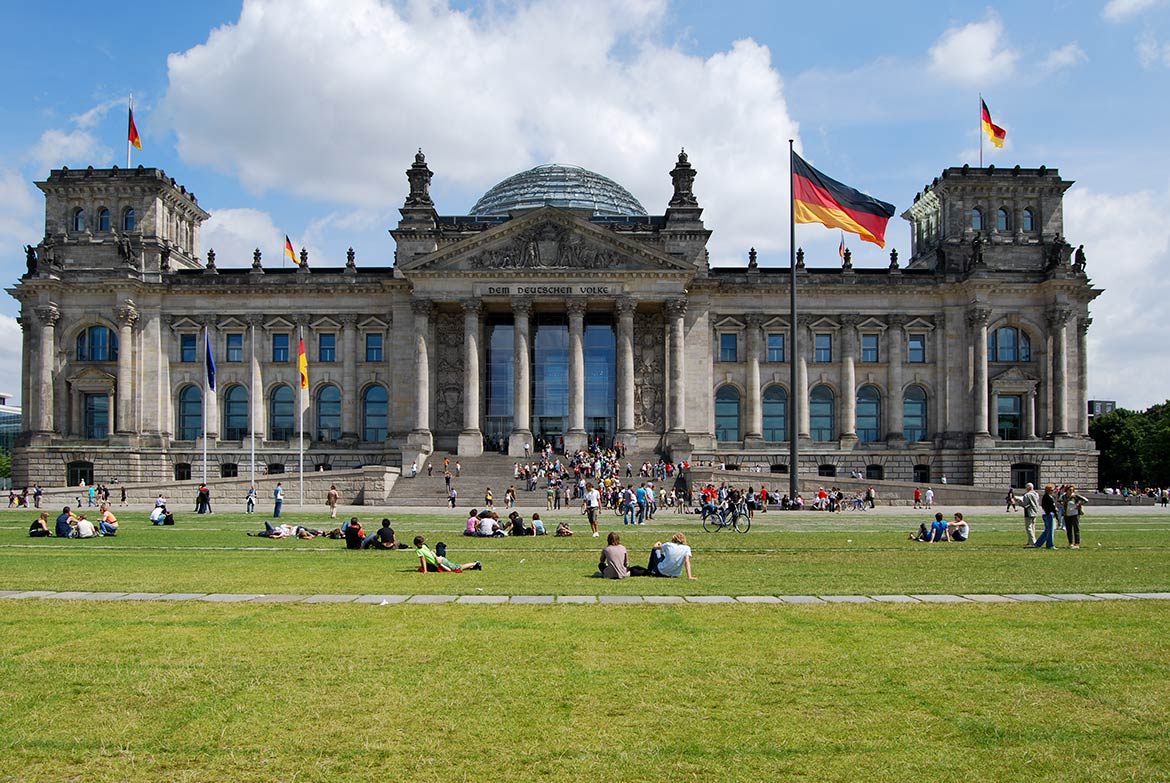 Image: kk nationsonline.org




Political system
Germany is a federal, parliamentary, representative democratic republic. Its political system is based on the constitutional law, known as the Grundgesetz (Basic Law) Germany's constitutional law was approved on 8 May 1949 in the city of Bonn, at that time the provisional German capital. The Federal Government and cabinet is made up of the Federal Chancellor and 15 Federal Ministers. Chief of state is the Federal President (Bundespräsident), but his role is more ceremonial, head of government and the nation's leading political figure is the chancellor (Bundeskanzler).



Official Government Sites
Note: External links will open in a new browser window.



Bundespräsident
Home page of the President of the Federal Republic of Germany, the Federal President is the head of state.

Bundesregierung online
Official site of the German Federal Government.


Auswärtiges Amt
The Foreign Office of the Federal Republic of Germany.

Diplomatic Missions
The German UN Mission
Homepage of the Permanent Mission of Germany to the United Nations.
The German Embassy
German Information Center, Washington D.C. provides comprehensive background information on Germany.
German Missions abroad
List of German Missions worldwide.
Addresses of Foreign Missions in Germany
List of addresses of Missions of foreign countries in Germany (in German).



The German Federal States
More Links and Information on and about all German Federal States.


Statistics
Statisches Bundesamt Deutschland
The Federal Statistical Office provides Human Geography Data Collections.


Weather
Deutscher Wetterdienst (DWD)
Meteorology and Climatology.




Map of Germany
Political Map of Germany.


Administrative Map of Germany
Map showing the federal states of Germany.



Google Map Germany (Deutschland)
Searchable map of Germany.

Information and searchable maps of major German Cities:
Berlin, Bremen, Dresden, Düsseldorf, Erfurt, Frankfurt, Hamburg, Hannover, Kiel, Köln, Magdeburg, Mainz, München, Potsdam, Saarbrücken, Schwerin, Stuttgart, Wiesbaden



Maps of the German States

Map of the Baltic Sea Area
Political map of the Baltic Sea region.


Map of Europe
Political Map of Europe.