Maps of Asia

Reference Map of Asia
Political Map of Asia.



Map of Central Asia
Map of Central Asia region.




Southeast Asia



Map of Southeast Asia
Map of the Southeast Asia region.



Map of Western Asia
Map of Western Asia and the Middle East region.



Maps of Asia
Political maps of almost all Asian countries.

Google maps of Asian countries:


Index of Google Maps of Asia
List of searchable Maps of Countries and Major Cities of Asia.


External Links:
Maps of Asia
Perry-Castañeda Library Map Collection.

Map of the Commonwealth of Independent States (CIS)
The free association of sovereign states formed in 1991, and comprising Russia and the republics of Armenia, Azerbaijan, Belarus, Georgia, Kazakstan, Kyrgyzstan, Moldova, Tajikistan, Turkmenistan, Ukraine and Uzbekistan, that were formerly part of the Soviet Union.

Maps of China



China Map



Administrative Map of China
Political Map of China's Administrative Divisions.

External Link:
Maps of China
Country Maps, City Maps.

Maps of India



India Map



Map of India
Administrative Map of India with States and Union Territories and their Capitals.

States of India:
Andhra Pradesh, Arunachal Pradesh, Assam, Bihar, Chhattisgarh, Goa, Gujarat, Haryana, Himachal Pradesh, Jammu and Kashmir, Jharkhand, Karnataka, Kerala, Madhya Pradesh, Maharashtra, Manipur, Meghalaya, Mizoram, Nagaland, Orissa, Punjab, Rajasthan, Sikkim, Tamil Nadu, Tripura, Uttaranchal, Uttar Pradesh, West Bengal

Union Territories:
Andaman and Nicobar Islands, Chandigarh, Dadra and Nagar Haveli, Daman and Diu, Lakshadweep, Puducherry

Google Map of India
Satellite view of India.

External Link
Maps of India
A collection of Maps of India.
Google maps of Middle East countries:



Index of Google Maps of the Middle East
Google Maps of Countries and Capital Cities of the Middle East.

Google Maps:
Bahrain | Egypt | Iran | Iraq | Israel | Jordan | Kuwait | Lebanon | Oman
Palestine | Qatar | | Saudi Arabia | Syria | United Arab Emirates | Yemen

External Links:
Map of the Middle East region (2003)
Middle East Maps
by MidEast Web.
Maps of The Middle East

Historical Maps of Asia
Perry-Castañeda Library Map Collection of Historical Maps of Asia.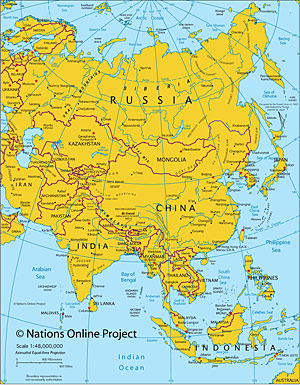 Map of Asia (click on the map to enlarge)