About South Carolina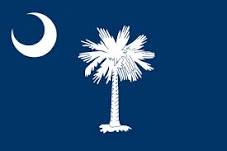 South Carolina is a state in the southeastern United States, it is bordered to the north and north east by North Carolina. The Savannah River forms a natural border with Georgia in the south and west, and the Atlantic Ocean in south east. The states nickname is "The Palmetto State".

The area of South Carolina was part of the original territory of the United States. Both North Carolina and South Carolina were included in the charter that established Carolina in 1663. South Carolina joined the Union on 23rd May 1788 as the 8th state, it was one of the original 13 founding states.

The region of what is today South Carolina was permanently settled by the English from 1663. South Carolina was separated from North Carolina in 1729. In 1860, it was the first state to secede from the Union, precipitating the American Civil War. It was readmitted to the United States on 25 June 1868.



Area
The state occupies an area of 82,931 km² (32,020 sq mi) [1], compared it is about the size of Austria (83,871 km²). South Carolina consists of 46 counties.


South Carolina's Landscape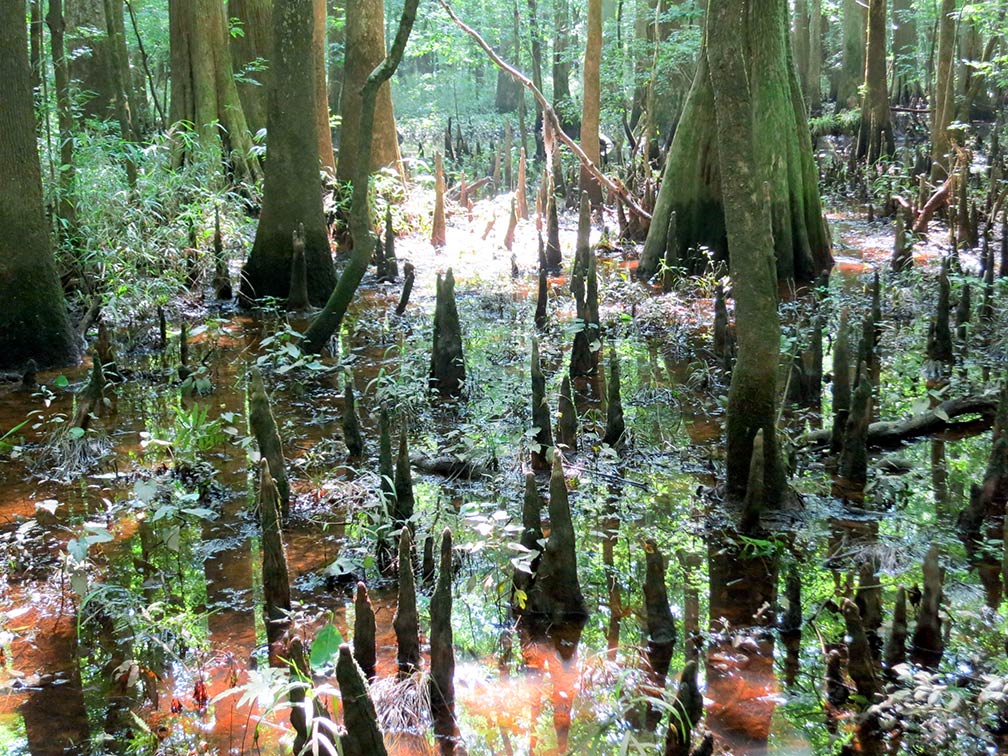 Image: Simon

Five different regions define SC (from southeast to northwest):


The narrow Coastal Zone along the seashore includes the barrier islands, natural harbors inside bays, lagoons, and inlets, the beach, and the river deltas, it is part of South Carolina's portion of the Atlantic Coastal Plain.
SC's Atlantic Coastal Plain can be divided into the Outer Coastal Plain (or Lower Coastal Plain), with swamps along the rivers (some swamps have been drained to gain farmland); and the gradually rising, fertile Inner Coastal Plains (or Upper Coastal Plain), within that region are the Sandhills, sandy hills and dunes, remnants of the ancient coastline.
The 'fall line' escarpment demarcates the border between the lowland of the coastal plains and the upland Piedmont plateau, it is the site where rivers and streams drop off the Piedmont onto the Coastal Plain.
The hilly Piedmont region are the foothills of the remnants of an ancient, eroded mountain chain, the Appalachian Mountains.

The state's mountain region in north west represents a small portion of the Blue Ridge Mountains, a range in the much larger Appalachian Mountain Chain. Highest elevation in the state is Sassafras Mountain with 1,085 m (3,560 ft), located near the South Carolina - North Carolina border.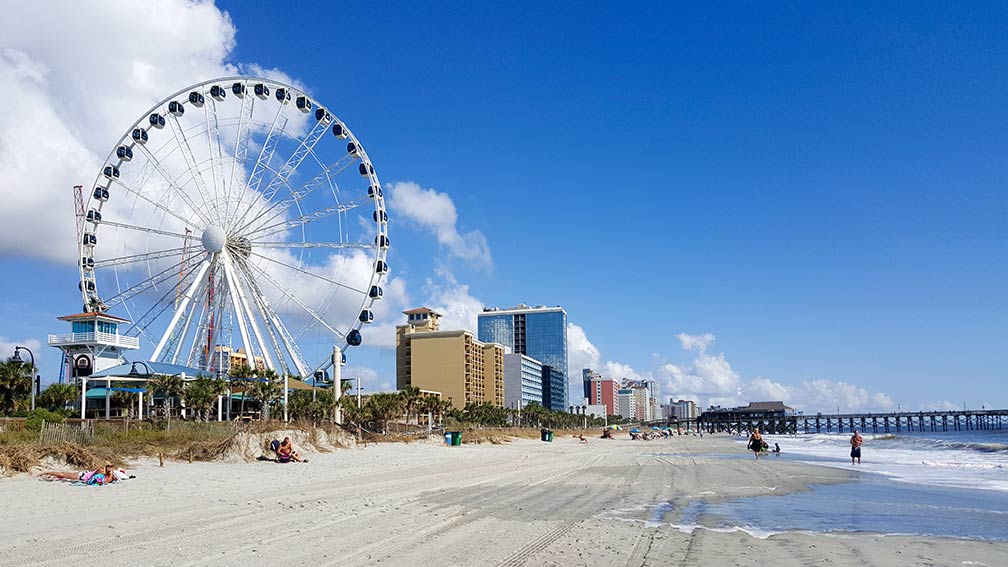 Image: The ed17

Within the state there are several major lakes, the largest being Lake Marion, Lake Strom Thurmond, and Lake Moultrie. Major rivers are Savannah River, Catawba River, the Pee Dee River, the Saluda, the Santi and the Black River.



Population
South Carolina has a population of 5 million people (2018 est.) [2]; capital and largest city is Columbia. Other major cities are Charleston and North Charleston, Mount Pleasant and Rock Hill.
Busiest airports in the state are Charleston International Airport (IATA code: CHS), and Greenville-Spartanburg International Airport (IATA code: GSP).



Cities and Towns in South Carolina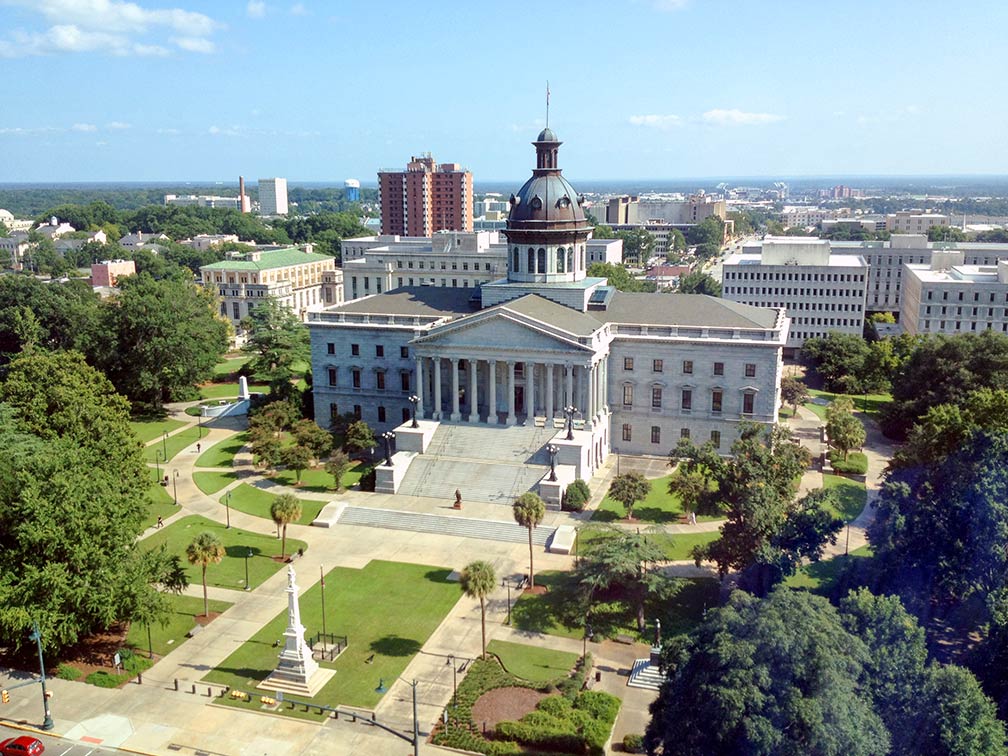 Image: HaloMasterMind

The map shows the location of following cities and towns in South Carolina:

Largest cities in South Carolina with a population of more than 40,000:
Columbia (133,000), Charleston (128,000), North Charleston (104,000), Mount Pleasant (75,000), Rock Hill (69,000), Greenville (61,000), Summerville (46,000), Sumter (41,000), Hilton Head Island (39,000)
Population figures in 2014

Other cities and towns in South Carolina:

Abbeville, Aiken, Allendale, Anderson, Bamberg, Beaufort, Belton, Bennettsville, Camden, Cheraw, Chester, Clemson, Clinton, Conway, Darlington, Easley, Florence, Gaffney, Georgetown, Goose Creek, Greenwood, Greer, Hartsville, Kingstree, Lake City, Lancaster, Laurens, Marion, Mullins, Myrtle Beach, Newberry, Orangeburg, Spartanburg, St Andrews, Union, and Walterboro.



The detailed map is showing the US state of South Carolina with boundaries, the location of the state capital Columbia, major cities and populated places, rivers, streams and lakes, interstate highways, principal highways, and railroads.




You are free to use this map for educational purposes (fair use), please refer to the Nations Online Project.