Map is showing Iran an Islamic republic between the Caspian Sea in north and the Persian Gulf in south. The country was formerly known as Persia. Iran is bordered by Afghanistan, Armenia, Azerbaijan, Iraq, Pakistan, Turkey, and Turkmenistan.

With an area of 1,648,195 km², Iran is almost three times the size of France or slightly smaller than Alaska.
Most of the country is situated on the Iranian Plateau (a geological formation in Western and Central Asia), with the exception of the coastal regions at the Caspian Sea and the Khuzestan Provincein south west at the Persian Gulf.

Highest mountain in the country is Mount Damavand 5,610 m (18,410 ft), a potentially active volcano in the Alborz range south of the Caspian Sea, 71 km north east of Tehran.
Most rivers in Iran are relatively short, shallow streams, the only navigable river is the Karun (Karoun) with a length of 725 km.

The country has a population of 78,2 million people. Largest city and capital is Tehran. Other major cities are Mashhad, Isfahan, Karaj, Tabriz, Shiraz, Ahvaz, and Qom. Spoken language is Persian (Farsi, official). Official religion is Shia Islam.

Regions of Iran
Iran is divided into five regions with thirty one provinces. The five regions are Tehran, Isfahan, Tabriz, Kermanshah, and Mashhad.

Map shows Iran and the surrounding countries with international borders, provincial boundaries, the national capital, provincial capitals, major cities, main roads, railroads and major airports.

Click a country name on the map to get the respective country profile.




You are free to use this map for educational purposes, please refer to the Nations Online Project.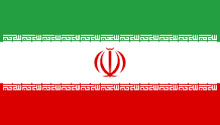 Bookmark/share this page


One World - Nations Online
All Countries of the World