About Rhode Island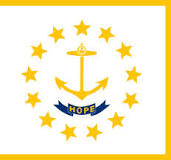 Rhode Island, officially the State of Rhode Island and Providence Plantations, is not an island. It is the smallest of the 50 US states by area, situated on the East Coast of the United States in the New England Region. Compared it is just about twice the size of the city of Phoenix in Arizona.

Rhode Island has land borders with only two other states, on the north and east with Massachusetts and in west with Connecticut, in the south the state is bounded by the straits of Block Island Sound and Rhode Island Sound. It shares a short maritime border with New York State between Block Island, RI and Long Island, NY. Narragansett Bay, an inlet of the Atlantic Ocean extends deep into the south eastern portion of the state.

The Colony of Rhode Island and Providence Plantations was created in the 17th century. English colonists first settled on present-day Aquidneck Island (Rhode Island) in 1630s. Nearly one and a half century later, in 1776, the colony declared independence from the British Crown as the first of the thirteen original American colonies, but it was the last to sign the Constitution, so it became the 13th constituent US state.





Area
area of 3,999 km² (1,544 sq mi) [1], thereof consists one-third of water (1,324 km² or 511 sq mi). This might be the reason for its official nickname "The Ocean State", the other one is 'Little Rhody'.



Rhode Island consists of 5 counties, 4 major islands and 1 estuary (Narragansett Bay). The five counties are (ordered by their population (in 2015)) Providence County (633,500), Kent County (164,800), Washington County (126,500), Newport County (82,400), and Bristol County (49,100).

The islands are Aquidneck Island (officially Rhode Island), Conanicut, Prudence and Block Island.



Population
Rhode Island is the second most densely populated state in the US (after New Jersey), with a population of 1,056,000 people (43rd in the US; 2018 est.) [2].

Largest city and state capital is Providence (pop. 179,200, in 2015), largest metropolitan area is Providence-Warwick, RI-MA Metro with a population of 1.6 million people, approximately 600,000 inhabitants more than Rhode Island itself, because of the metro's expansion into southern Massachusetts.

Other major cities are Warwick (pop. 81,700), Cranston (pop. 81,000), Pawtucket (pop. 71,600), East Providence, Woonsocket and the port city of Newport.
Busiest airport in the state is Providence/Warwick Theodore Francis Green State Airport (IATA code: PVD).



Cities and Towns in Rhode Island



Largest cities in Rhode Island with a population of more than 40,000:
Providence (179,200), Warwick (81,700), Cranston (81,000), Pawtucket (71,600), East Providence (47,000), Woonsocket (41,200)
Population figures in 2015

Other cities and towns in Rhode Island:

Bristol, East Greenwich, Hope Valley, Kingston, New Shoreham, Newport, North Providence, Pascoag, Portsmouth, Tiverton, Wakefield, Warren, West Warwick, and Westerly.




The detailed map below is showing the US state of Rhode Island with boundaries, the location of the state capital Providence, major cities and populated places, rivers, streams, and lakes, interstate highways, principal highways, and railroads.






You are free to use this map for educational purposes (fair use), please refer to the Nations Online Project.