Maryland Map
Maryland is one of the 50 states in the US, located in the Mid-Atlantic region of the United States. Maryland is bounded to the north by the Mason-Dixon, that forms the border with Pennsylvania, the Potomac River forms most of its border with West Virginia and Virginia in the west, and in east it borders Delaware and the Atlantic Ocean. It surrounds a good portion of Washington D.C. in west. Chesapeake Bay with its many branches, the largest arm of the sea in the contiguous US, is reaching deep inland from the Atlantic Ocean and defines the center of Maryland with its serrated coastline.

With an area of 32,131 km² (12,406 sq mi), Maryland is ranked 42nd of the 50 US states, compared it is about the size of Belgium.
Maryland is made up of twenty-three counties and Baltimore City, which is considered to be on a par with a county.

Maryland's population is just about 6 million people, largest cites in the state are: Baltimore, by far the largest city with 622,000 citizens, all other cities like Frederick, Gaithersburg, Rockville and Bowie, have a population of under 70,000 people including Annapolis, the state's capital. Besides those cities there are urbanized census-designated places (CDP), the largest are Columbia (pop. 103,000), Germantown (pop. 90,700), Silver Spring (pop. 76,000), Waldorf (pop. 71,000), and Glen Burnie (pop. 67,500).


Major rivers are the Potomac, the Patapsco, the Patuxent, and the Potomac River, all of them empty into Chesapeake Bay.
Highest point is Hoye Crest at 3,360 feet (a.s.l.), on Backbone Mountain in Garrett County on the Maryland-West Virginia border in west, not far from Maryland's largest lake the Deep Creek Lake. By the way, all of Maryland's lakes today were constructed.

Maryland's Geography
Maryland's geography offers three main regions and six physiographic provinces... [show]



The detailed map showing the US state of Maryland with boundaries, the state capital Annapolis, major cities and populated places, streams and lakes, interstate highways, principal highways, and railroads.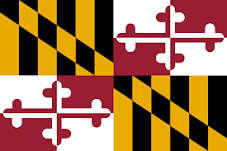 Bookmark/share this page


One World - Nations Online
countries of the world