About Hawaii
The US state of Hawaii is an island group located in the central Pacific Ocean southwest of the continental United States, about 4,400 km (2,800 mi) south of Alaska, and 4,200 km (2,600 mi) north of Tahiti (French Polynesia). The Aloha State (its official nickname) is made up of hundreds of islands spread over 2,400 km (1,500 mi). The total area of the islands is 16,635 km² (6,423 sq mi), it's slightly larger than half the size of Belgium (30,528 km²) or slightly smaller than half the size of Taiwan (36,188 km²).

On the map you see the eight largest islands, the "main islands" located at the southeastern end of the archipelago. In order from the northwest to southeast, they are Niihau (Ni'ihau, The Forbidden Isle), Kauai (Kaua'i, The Garden Isle), Oahu (O'ahu, The Gathering Place), Molokai (Moloka'i, The Friendly Isle), Lanai (Lānaʻi, The Pineapple Isle), Kahoolawe (Kaho'olawe, The Target Isle), Maui (The Valley Isle), and Hawaii (Hawai'i, The Big Island).

Hawaii has a population of 1.43 million people (2015 est).
Official languages are English and Hawaiian.

More about Hawaii [show]

A detailed map showing the US state of Hawaii with its islands, the state capital Honolulu,
major cities and populated places, streams and lakes, interstate highways, and other principal highways.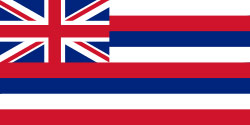 Bookmark/share this page


One World - Nations Online
countries of the world