About Indiana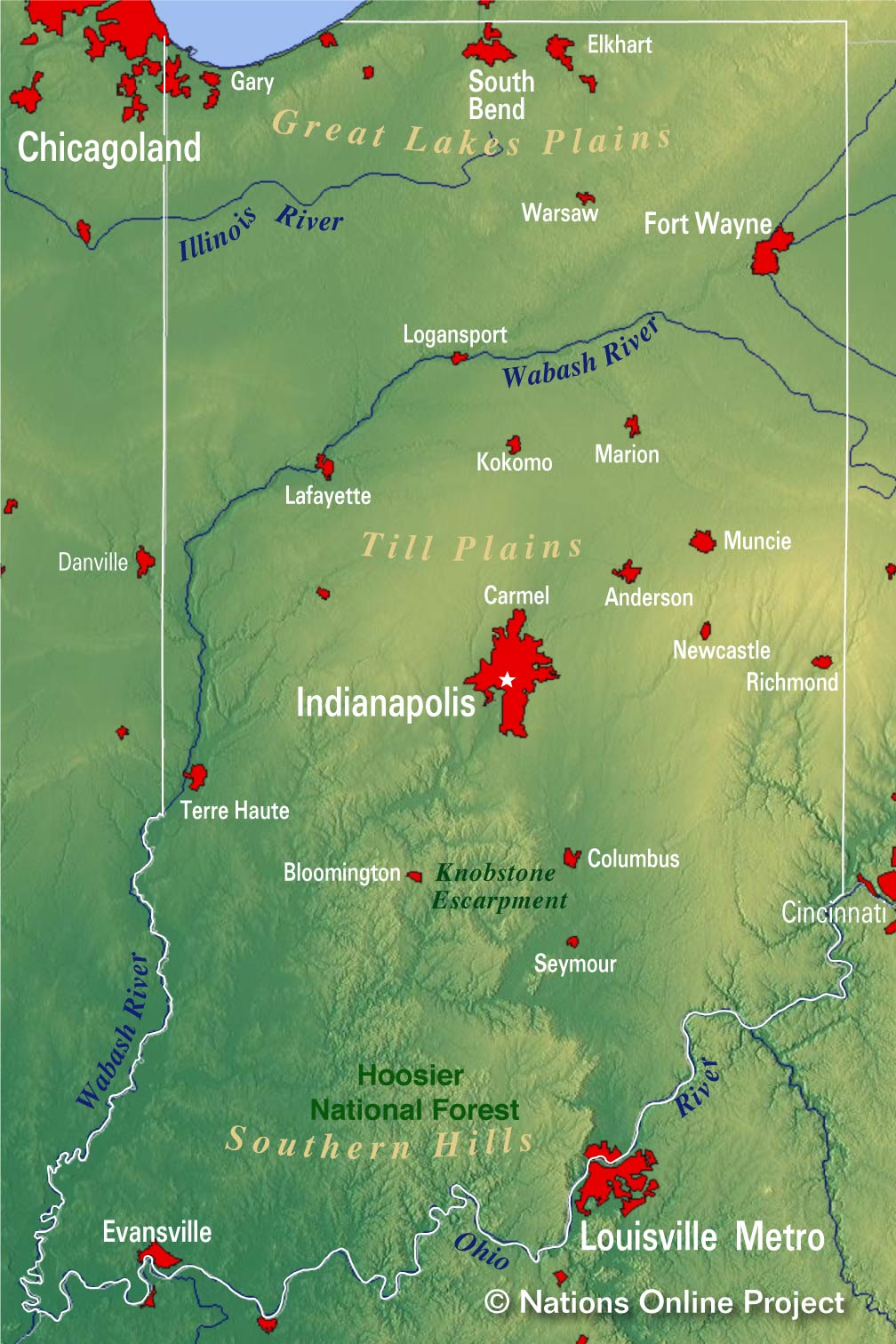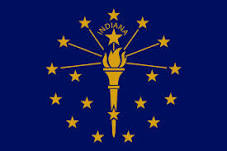 Indiana is a Midwestern US state located at the 'Crossroads of America' (Seventh Street and Wabash Avenue intersection at Terre Haute).

Indiana is bordered in east by Ohio, in west the Wabash River forms a section of its border with Illinois, in the south the Ohio River creates the natural border with Kentucky, in north it shares a state line with Michigan. Indiana has also a short coastline at Lake Michigan in north west.

The region of what is today Indiana was colonized by the French in the 18th century and ceded to Britain in 1763. It was passed to the US twenty years later in 1783. The region was then part of the Northwest Territory which later became the state of Ohio and the Territory of Indiana. The first Constitution of the State of Indiana was completed and adopted 29 June 1816, Indiana joined the Union on 11th December 1816 as the 19th state.


Geography of Indiana
Indiana is relative small (US rank 38), it occupies an area of 94,321 km² (36,418 sq mi) [1], compared it is somewhat larger than Portugal (92,090 km²), but it would fit more than seven times into Texas.

The state can be divided into three main geographical regions:
- In the northern third is the Great Lakes Plain, with rolling to flat farmland, dotted with small cities and towns. Much of Northern Indiana is considered part of Amish Country.
- The Tipton Till Plain in the central third is the most populous region, and right in the middle Indiana's largest metro area, Indianapolis metropolitan area.
- In the southern third is the Southern Hills and Lowlands region a mixture of farmland, forest and very hilly areas.
So, highest natural point in Indiana is a hill, Hoosier Hill, with 383 m (1,257 ft ), located in central east near the Ohio borderline.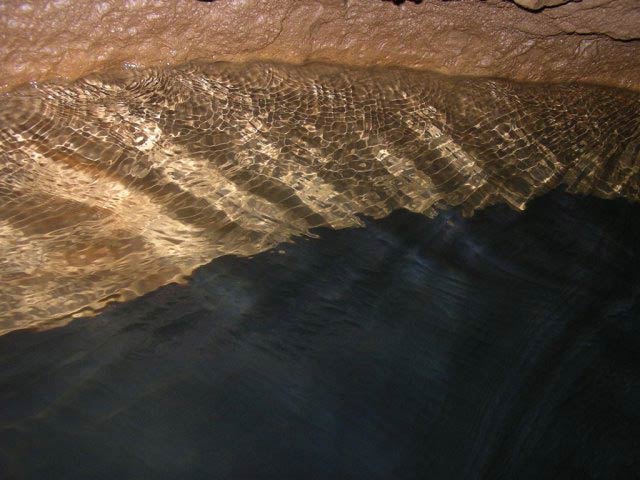 Image: Nowimnthing

Other major rivers in the state besides those mentioned above are the Tippecanoe River and the White River. Indiana's largest lakes are artificial like Patoka lake and Lake Monroe, Indiana's largest lake, with Charles C. Deam Wilderness Area on its south shore, the state's only federally protected wilderness area.

For its size, Indiana has a massive population, 6.64 million people (2017 est, US rank 17) [2] live in "The Hoosier State" (Indiana's nickname).
Capital and largest city is Indianapolis. Other major cities are Fort Wayne, Evansville, South Bend, Carmel, and Fishers.
Busiest airport in the state is Indianapolis International Airport (IATA code: IND).


Cities and Towns in Indiana

Map shows the location of following cities and towns in Indiana:

Major cities are:
Indianapolis, Fort Wayne, South Bend, Evansville

Other cities and towns in Indiana:
Anderson, Angola, Auburn, Bedford, Bloomington, Carmel, Columbus, Crawfordsville, Decatur, Elkhart, Elwood, Fishers, Frankfort, Frankfort, Franklin, Gary, Goshen, Greencastle, Greensburg, Greenwood, Hammond, Huntington, Jasper, Jeffersonville, Kokomo, La Porte, Lafayette, Lawrence, Linton, Logansport, Madison, Marion, Martinsville, Michigan City, Muncie, New Albany, Noblesville, Peru, Plymouth, Portage, Princeton, Richmond, Rochester, Seymour, Shelbyville, Shoals, Terre Haute, Vincennes, Wabash, Warsaw, Washington, and West Lafayette.





You are free to use this map for educational purposes (fair use), please refer to the Nations Online Project.