About New Jersey
New Jersey is one of the 50 federal states of the United States of America, located in the northeastern US, bordered in north and northeast by the State of New York, in east by the Atlantic Ocean, in south and southwest by Delaware across Delaware Bay; and on the west by Pennsylvania across the Delaware River.

Colonized by Dutch settlers and ceded to Britain in 1664, it became one of the original thirteen states. Admission to the Union on 18th December 1787, it was admitted as the 3rd state.

New Jersey occupies an area of 22,608 km² (8,721 sq mi), compared it is about the size of Belize or half the size of Estonia. Despite its relative small area New Jersey is ranked 11th in the population list of US states, it is the most densely populated state in the US. The state is located at the center of the Northeast Megalopolis, between Boston and New York City to the northeast, and Philadelphia, Baltimore, and Washington, D.C., to the southwest.

Main rivers are, the Delaware River, which forms the border with Pennsylvania, and the Hudson River, which forms parts of the border with New York state.
Highest point in the state is "High Point" with 549.6 m (1,803 ft) located in the northern corner of New Jersey.

The "Garden State" (its nickname) has a population of 8.95 million people (2015 est.); capital is Trenton, largest city is Newark.

A detailed map showing the US state of New Jersey with boundaries, the state capital Trenton, major cities and populated places, streams and lakes, interstate highways, principal highways, and railroads.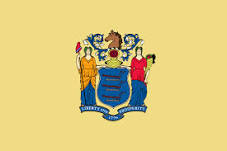 Bookmark/share this page


One World - Nations Online
countries of the world