Singapore is a country in Southeast Asia that consists of the island of Singapore (linked by a causeway to the southern tip of the Malay Peninsula) and about 54 smaller islands. The city-state, officially the Republic of Singapore, is situated 137 kilometers (85 mi) north of the equator, and just south of Peninsular Malaysia. In south the Strait of Singapore separates the island from the Riau Archipelago of Indonesia.

Singapore occupies an area of 718 km², compared, it is slightly smaller than Bahrain or slightly larger than 3.5 times the size of the District of Columbia, Washington, DC.

Singapore has a population of 5.5 million people (in 2015). Just north of the city state lies Johor Bahru, capital city of the Malayan state of Johor and second largest city in Malaysia. The total population of the Singapore-Johor Bahru conurbation is 6.6 million.

Official languages of Singapore are Malay, Mandarin and Tamil, also official language is English which is used as lingua franca between the various population groups.

Established as a trading post under the East India Company in 1819 by Sir Stamford Raffles, Singapore came under British colonial rule in 1867, it became first a British Crown Colony in 1946 and then a self-governing state within the Commonwealth of Nations in 1959. Federated with Malaysia in 1963, it declared full independence two years later. Since then the city has been developed into one of the wealthiest countries in Asia, in terms of GNI per capita, it ranks after Hong Kong and Japan.

Map is showing the island city-state with surrounding area, main roads, railroads, ferries and airport.

Border Countries:
Malaysia and Indonesia.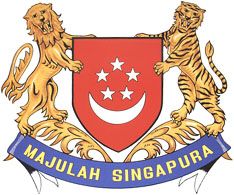 Bookmark/share this page


One World - Nations Online
all countries of the world