About Arizona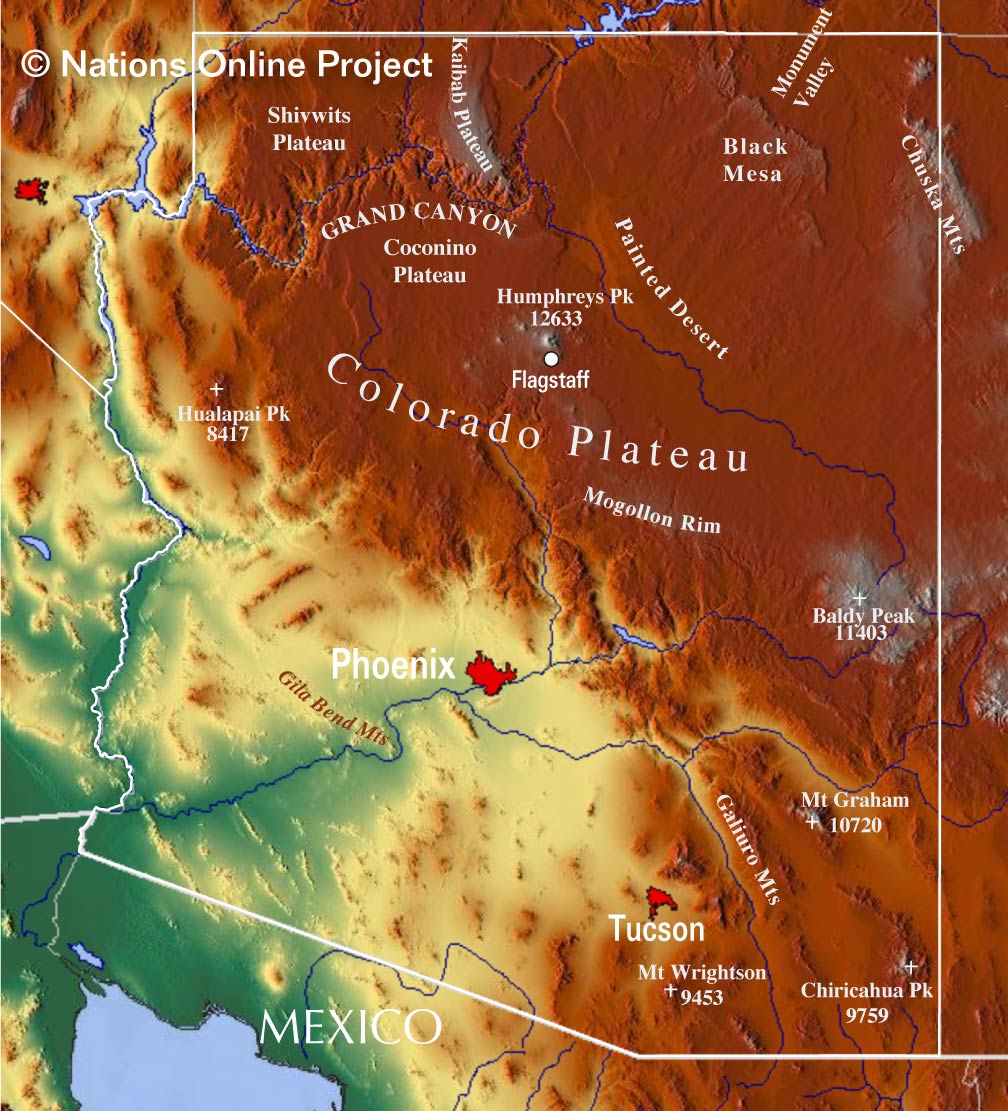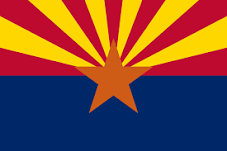 Arizona is a landlocked US state situated in the southwestern United States, north of Mexico.

The state is bordered by Utah to the north, by New Mexico to the east, to the south by the states of Sonora and Baja California (Mexico), and to the west by California and Nevada.

Arizona was part of New Spain until 1821, it was organized as a US territory in 1863 from lands ceded by the Treaty of Guadalupe Hidalgo in 1848 and the Gadsden Purchase in 1853. Arizona was the 48th state and the last of the contiguous states to be admitted to the Union on 14th February 1912.


Area
Arizona occupies an area of 294,207 km² (113,594 sq mi) [1], compared it is slightly smaller than Italy (301,318 km²) or the Philippines (300,000 km²).

Arizona is known for its desert landscape in its southern half. The Colorado Plateau in the northern part of the state is largely made up of high desert, with scattered areas of forests. Part of the plateau is the Painted Desert and the Petrified Forest National Park. On the Arizona-Utah state line there is Monument Valley with its well known sandstone buttes, because the Valley has been featured in many Hollywood movies, especially Westerns. The state has a dry desert climate with very hot summers and temperate winters.



Image: Roger Bolsius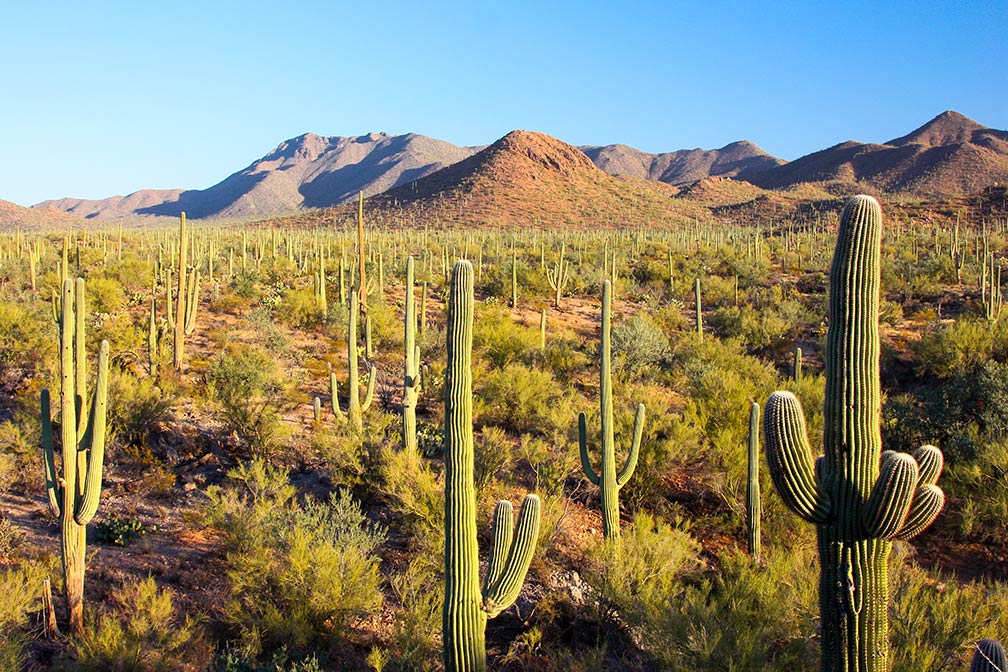 Image: Joe Parks

In the north western part of the state there is one of America's best known natural landmarks, the Grand Canyon, a steep-sided canyon formed by the Colorado River and and its tributaries over a period of some million years. Grand Canyon National Park

is one of 23 World Heritage Sites in the US. Humphreys Peak is the highest natural point in the state with 3,852 m (12,637 ft) located within the Kachina Peaks Wilderness about 18 km (11 miles) north of Flagstaff.

Population
The Grand Canyon State (Arizona's nickname) has a population of 6,93 million (2017 est.) [2]; capital and largest city is Phoenix, second-largest city is Tucson with more than half a million people, largest metro area is Phoenix Metropolitan Area (pop. 4.2 million). Other major cities (pop. more than 200,000) are Mesa, Chandler, Glendale, Scottsdale, and Gilbert.
Busiest airport is Phoenix Sky Harbor International Airport (IATA code: PHX).

The detailed map below shows the US state of Arizona with boundaries, the location of the state capital Phoenix, major cities and populated places, streams and lakes, interstate highways, principal highways, and railroads.


Cities in Arizona



Major cities are: Phoenix, Tucson, Scottsdale, Tempe, Mesa, Glendale.

Other cities and towns in Arizona:

Ajo, Alpine, Ash Fork, Benson, Bisbee, Buckeye, Bullhead City, Camp Verde, Casa Grande, Chandler, Chinle, Clifton, Colorado City, Cottonwood, Douglas, Eagar, Eloy, Flagstaff, Florence, Gila Bend, Globe, Grand Canyon, Green Valley, Holbrook, Kayenta, Kingman, Lake Havasu City, Lukeville, Marana, Miami, Nogales, Oro Valley, Page, Parker, Payson, Peach Springs, Polacca, Prescott, Quartzite, Safford, San Luis, Sedona, Sells, Show Low, Sierra Vista, Snowflake, St Johns, Superior, Tombstone, Tuba City, Wickenburg, Willcox, Williams, Window Rock (Capital of Navajo Nation), Winslow, and Yuma.