About Minnesota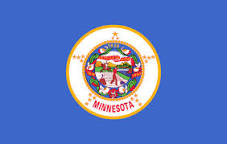 Minnesota is one of the 50 states of the United States, located in the northern central US mainland, it is part of the Great Lakes Region, bordered by the Canadian provinces of Ontario and Manitoba on the north, by Lake Superior and Michigan (by a shared water border) on the northeast, and Wisconsin on the east. Iowa lies to the south, North Dakota and South Dakota to the west.

Part of what is today Minnesota was ceded to Britain by the French in 1763 and then acquired by the US in 1783. The remainder formed part of the Louisiana Purchase in 1803. Minnesota joined the Union on 11th May 1858, as the 32nd state.



Area
Minnesota occupies an area of 225,181 km² (86,939 sq mi) [1], compared it is somewhat smaller than Romania (238,391 km²) or just slightly larger than the US state of Utah.

Canada), Leech Lake, Mille Lacs, Lake Winnibigoshish, and the Red Lake. Lake Itasca, a small glacial lake, is the source of North Americas longest river, the Mississippi River.

Highest point is "Eagle Mountain" at 701 m (2,301 ft), part of the Misquah Hills, located in the north eastern corner of the state.



Population
The "North Star State" (its other nickname) has a population of 5.52 million people (est. 2018) [2], capital city is Saint Paul, largest city is Minneapolis, largest metro area is Minneapolis–Saint Paul metropolitan area, also known as the Twin Cities (urban population 3.1 million, more than half of the state's entire population).
By far the busiest airport in the state is Minneapolis–St. Paul International Airport (Wold–Chamberlain Field; IATA code: MSP).


Cities and Towns in Minnesota



Largest city is Minneapolis (400,000),
Capital and second largest city is Saint Paul (300,000), Rochester (111,000), Bloomington (86,000), Duluth (86,000).



Population figures in 2014



Other cities and towns in Minnesota:
Aitkin, Albert Lea, Alexandria, Anoka, Austin, Bagley, Baudette, Bemidji, Blue Earth, Brainerd, Breckenridge, Brooklyn Park, Burnsville, Cloquet, Coon Rapids, Crookston, Detroit Lakes, East Grand Forks, Eden Prairie, Elk River, Ely, Fairmont, Faribault, Fergus Falls, Grand Marais, Grand Portage, Grand Rapids, Granite Falls, Hallock, Hibbing, Hutchinson, International Falls, Lakeville, Litchfield, Little Falls, Luverne, Madison, Mahnomen, Mankato, Marshall, Milaca, Montevideo, Moorhead, Morris, New Ulm, Northfield, Northome, Olivia, Ortonville, Owatonna, Park Rapids, Pine City, Pipestone, Preston, Red Wing, Redwood Falls, Roseau, Sauk Centre, St. Cloud, St. James, St. Peter, Thief River Falls, Two Harbors, Virginia, Wadena, Walker, Warren, Warroad, Willmar, Windom, Winona, and Worthington.







You are free to use this map for educational purposes (fair use), please refer to the Nations Online Project.