Map is showing Finland and neighboring countries.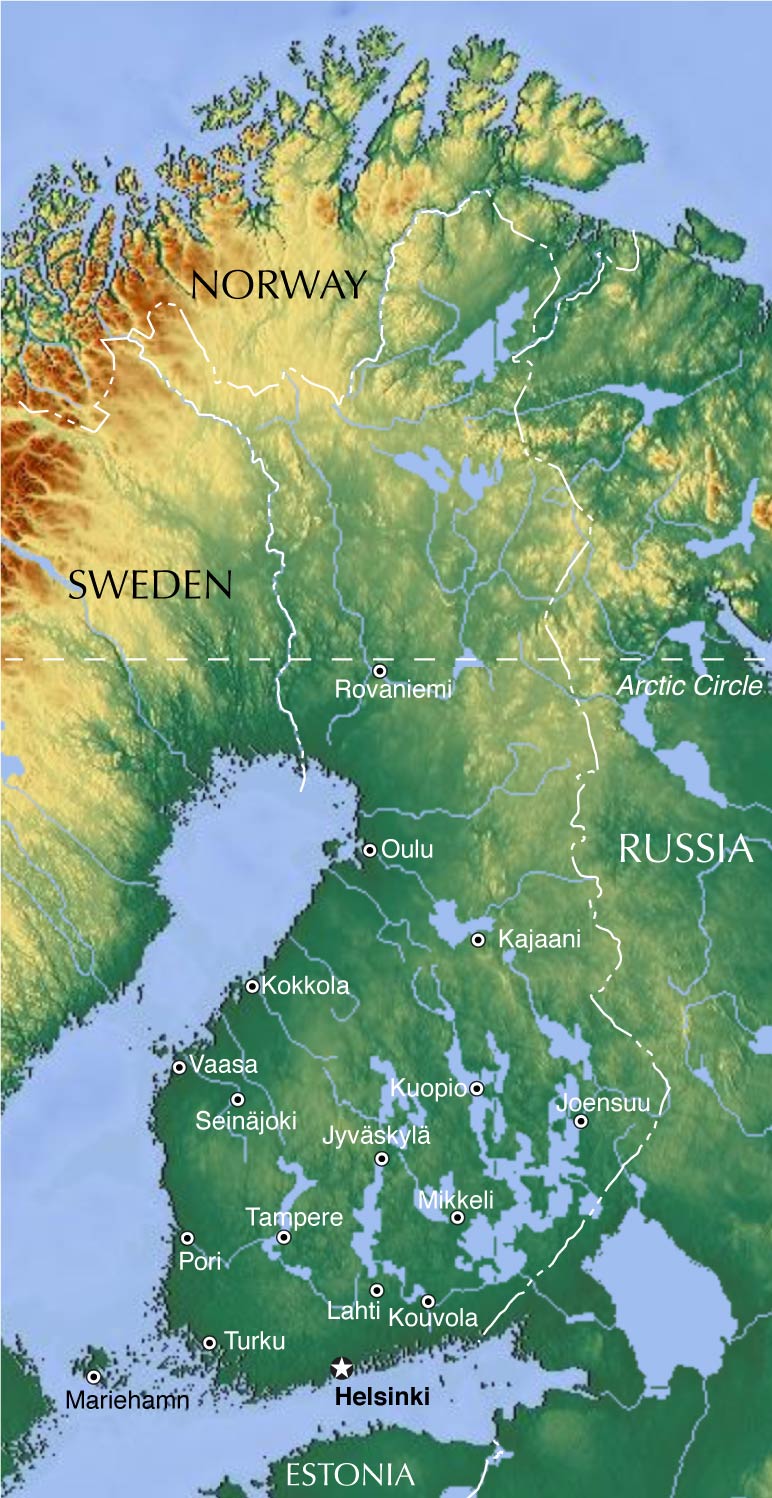 Finland is the northernmost country in the European Union, it is located between Sweden and Russia, bordering the Baltic Sea, the Gulf of Bothnia, and the Gulf of Finland, in north it borders the tip of Norway.

The country covers an area of 338,145 km², making it almost the size of Germany, or slightly smaller than the US state of Montana. From north to south the total length of Finland is 1,157 km. The northern third of the country lies within the Arctic Circle, this part is known as Upland Finland, one of the four geographic regions of Finland, the others are, in south west Archipelago Finland (Archipelago Sea) with a very large number of islands and islets, in the central and south eastern part is the Finnish lake district, a region with extensive forests interspersed with countless lakes.

Finland's mostly flat and low-lying landscape was shaped by the Scandinavian ice sheet during the Pleistocene (the last ice age), a continental sized ice sheet scoured and abraded the region's surface, eroded mountains and rendered the whole landscape flat. The melting ice has left behind a lot of water, Finland is the proud owner of 188,000 lakes these range in size from small forest ponds to large bodies of water. A labyrinth of lakes suffuses the country, especially in the Finnish lake district, about 10% of Finland's area is covered by lakes.

The country's territory offers partly hilly lowlands covered with extensive coniferous taiga forests, interspersed by bogs and fens. Finland has rarely cultivated land, 78% are forested. Main rivers are the Kemijoki, the Torne with its tributary the Muonio.
Halti Mountain at the border between Norway and Finland is the country's highest point at 1,365 m (4,478 ft).

Finland is the most sparsely populated country in the European Union with a population of just 5,5 million people (in 2017). about half of the population live in the southern coastal region which has a more friendly temperate continental climate.

Largest cities are the capital Helsinki, the nearby city of Espoo is part of the capital urban area, Tampere is the most populous inland city, Vantaa is also part of the capital region, while Oulu with a population of 200,000 people is the most populous city in Northern Finland, Turku, a seaport on the southwest coast with ferry services from the Port of Turku to Stockholm (Sweden) and the Åland Islands, Jyväskylä is the largest city in the Finnish Lakeland one of Finland's four landscape regions, and Lahti, the capital of the Päijänne Tavastia region.





You are free to use this map for educational purposes (fair use), please refer to the Nations Online Project.
Political Map of Finland