About Virginia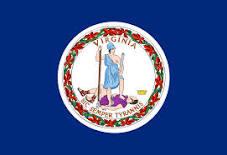 The US state of Virginia, officially the Commonwealth of Virginia, is situated in the eastern United States, bordering Chesapeake Bay and the Atlantic Ocean in east. It is bordered by Maryland and the District of Columbia to the north and east, by North Carolina and Tennessee to the south; by Kentucky to the south west and by West Virginia to the north and west. The states nickname is The Old Dominion.





Virginia was the first chartered colony, with the original 1606 charter including the entire Eastern Seaboard, but King James I of England revoked the colony's charter in 1624 and placed it under royal rule.

The area of Virginia was part of the original territory of the United States. The Commonwealth entered the Union on 25th June 1788, as the 10th of the original thirteen states.



Area
The Commonwealth of Virginia occupies an area of 110,787 km² (42,775 sq mi) [1], making Virginia about the size of Bulgaria or Cuba. The state consists of 95 counties.

The Regions of Virginia


The Atlantic Coastal Plain, a coastal lowland known as the Tidewater region, within that region are major estuaries of Chesapeake Bay and the Eastern Shore of Virginia, the southern part of the Delmarva Peninsula which has a coastline at the Chesapeake Bay and the Atlantic Ocean.
The Piedmont, a moderately fertile, gently inclined region with rolling hills, rising from the coastal plain to the foothills of the Blue Ridge Mountains. In the northern corner of the Piedmont is the densely populated urban area of Virginia's portion of the Washington metropolitan area, known as Northern Virginia (NOVA), it is the most populous region of Virginia.
The Blue Ridge Mountains are a densely wooded mountain range within the Appalachians stretching from southern Pennsylvania to northern Georgia.
The Ridge-and-Valley Appalachians are the remains of an ancient fold-and-thrust belt within the Appalachian Mountains, alternating ridges and valleys forming an arc between the Blue Ridge Mountains and the Appalachian Plateau.
The Appalachian Plateau, (aka Cumberland Mountains) the rugged high plains on the western side of the Appalachian Highlands.
Highest elevation in the state is Mount Rogers with 1,746 m (5,729 ft) located in the Blue Ridge Mountains which geologically belongs to the Appalachians.


Population
population of about 8.44 million people (2018 est.) [2]. Capital city is Richmond, largest city is Virginia Beach (pop. 453,000), largest metropolitan area is Northern Virginia metropolitan area (NOVA), part of the Baltimore–Washington metropolitan area. Other major cities are Norfolk, Chesapeake, Newport News, Alexandria, and Hampton.

Largest airport in the state is Washington Dulles International Airport (IATA code: IAD), other major airports are: Ronald Reagan Washington National Airport (IATA code: DCA), Norfolk International Airport (IATA code: ORF), and Richmond International Airport (Byrd Field; IATA code: RIC).


Cities and Towns in Virginia

The map shows the location of following cities and towns in Virginia:

Largest cities in Virginia with a population of more than 100,000:
Virginia Beach (453,000), Norfolk (245,000), Chesapeake (228,500), Richmond (210,000) Newport News (180,000), Alexandria (146,000), Hampton (137,000)

Other cities and towns in Virginia:
Abingdon, Arlington, Blacksburg, Bluefield, Bristol, Buena Vista, Charlottesville, Chester, Chincoteague, Clifton Forge, Covington, Culpeper, Dale City, Danville, Dillwyn, Emporia, Farmville, Franklin, Fredericksburg, Front Royal, Galax, Harrisonburg, Hillsville, Hopewell, Leesburg, Lexington, Luray, Lynchburg, Marion, Martinsville, Monterey, Norton, Onancock, Petersburg, Portsmouth, Pulaski, Radford, Reedville, Reston, Roanoke, Salem, Saluda, South Boston, South Hill, Staunton, Suffolk, Tappahannock, Warrenton, Waynesboro, Williamsburg, Winchester, and Wytheville.



The detailed map below is showing the Commonwealth of Virginia with boundaries, the location of the state capital Richmond, major cities and populated places, streams and lakes, interstate highways, principal highways, and railroads.




You are free to use this map for educational purposes (fair use), please refer to the Nations Online Project.