Bhutan, officially the Kingdom of Bhutan, is also known as the "land of the dragon". It is a small, land-locked mountainous nation in Asia, located in the eastern Himalaya Mountains north of India and south of China; it controls several key Himalayan mountain passes.

With an area of 38,394 km² the country is somewhat smaller than Switzerland or about half the size of the US state of Indiana. Bhutan landscape is mostly mountainous with some fertile valleys and savanna.

The country has a population of 760,000 inhabitants (in 2015). Capital city is Thimphu. Spoken language is Dzongkha (official), a language closely related to Tibetan and Nepali.

Map is showing Bhutan and the surrounding countries with international borders, district boundaries, the national capital Thimphu, provincial capitals (administrative headquarters), major towns, main roads, trek routes, rivers, mountains, and Bhutan's international airport at Paro.

Border Countries: China (Xizang - Tibet Autonomous Region), and India

Bhutan's Dzongkhags:
Bhutan is divided into twenty dzongkhags (districts):
Administrative Districts of Bhutan (administrative headquarter): 1. Bumthang (Jakar), 2. Chukha (Chhukha), 3. Dagana (Daga), 4. Gasa (Gasa), 5. Haa (Ha), 6. Lhuntse (Lhuntse) , 7. Mongar (Mongar), 8. Paro (Paro), 9. Pemagatshel (Pema Gatshel), 10. Punakha (Punakha), 11. Samdrup Jongkhar (Samdrup Jongkhar), 12. Samtse (Samtse), 13. Sarpang (Sarpang), 14. Thimphu (Thimphu), 15. Trashigang (Trashigang), 16. Trashiyangtse (Trashi Yangtse), 17. Trongsa (Trongsa), 18. Tsirang (Damphu), 19. Wangdue Phodrang (Wangdue), 20. Zhemgang (Zhemgang).



You are free to use this map for educational purposes, please refer to the Nations Online Project.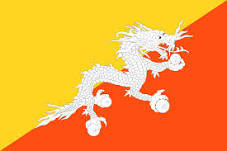 Bookmark/share this page


One World - Nations Online
all countries of the world