Louisiana Map
Louisiana is one of the 50 states in the US, located in West South Central region of the USA, between Texas and Mississippi, and south of Arkansas, it has 3,000 miles (4,800 km) of twisty, meandering shorelines along the Gulf of Mexico in south. The Sabine River forms two thirds of the border with Texas, the Mississippi and the Pearl River form sections of the border with Mississippi.

Almost the entire area of Louisiana was acquired by the US with the Louisiana Purchase in 1803. Louisiana was admitted to the union in 1812 as the 18th state.

With a total area of 135,658 km² (52,378sq mi), the Pelican State (Louisiana's official nickname) is about half the size of Colorado or somewhat larger than Greece.
There are no counties in Louisiana, the U.S. state of Louisiana is divided into 64 parishes.

Louisiana's landscape is mostly flat, the highest point is Driskill Mountain, a hill with an elevation of 163 m (535 ft) is the highest natural summit in the state, located 50 mi (80 km) east of Shreveport.

The state's geography offers a coastal marsh, the wetlands of Louisiana, a water-saturated coastal swamp region of bayous and cheniers in the southern part of the state; the Mississippi Floodplain, which have sufferd severly from human interference. Other features are the Red River Valley; the Terraces; and the Hills. Largest lake is Lake Pontchartrain (not really a lake but an estuary), largest island is the marshy uninhabited Marsh Island southwest of the Atchafalaya Delta. Major rivers are Mississippi River, Red River, Ouachita River, Atchafalaya River, and Sabine River.

Louisiana has a population of 4,67 million people (est. 2015); state capital is Baton Rouge, largest cities are New Orleans, Baton Rouge, Shreveport, Metairie (part of the New Orleans Metropolitan Area), Lafayette, and Lake Charles.

The detailed map is showing the US state of Louisiana with boundaries, the state capital Baton Rouge, major cities and populated places, streams and lakes, interstate highways, principal highways, and railroads.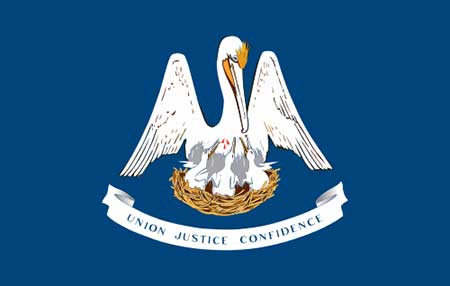 Bookmark/share this page


One World - Nations Online
countries of the world