States and union territories of India


Andhra Pradesh, the state along India's southeastern coast has a population of 49,4 million people, capital is Amaravati (de facto, a planned city on the southern banks of the Krishna river), Hyderabad (de jure, until the planned new capital will be built), largest city and the financial capital of Andhra Pradesh is the port city of Visakhapatnam.

Arunachal Pradesh, the 'land of dawn-lit mountains' is the remote Indian state in the far north-eastern corner of the country, Arunachal, the largest of the 'Seven Sister States' is one of India's several disputed territories, it is administered by India but claimed by China. Population 1.3 million people, capital and largest city is Itanagar, there are several distinct languages spoken in Arunachal: Nyishi (19%), Adi (17.5%), Bengali (9%), Nepali (8.5%), Hindi (7%).

Assam, the second largest of the 'Seven Sister States' in north-eastern India is known for its rich biodiversity, wildlife sanctuaries, Assam tea, and Muga, Pat, and the 'non-violent' Eri silk. The state shares a border with Bhutan. Assam's economy is mainly based on agriculture, oil and some tourism. The state has a population of 31 million people, capital is Dispur, a suburb of the state's largest city Guwahati. About 50% of Assam's population are Assamese people, the indigenous people of the state speaking the Assamese language (49%). Other languages are Bengali (28%) Hindi (6%), and Bodo (5%), main religions are Hinduism (61.5%) and Islam (34%).

Bihar, India's third most populous state with more than 103 million people, is situated in the north east of the country on the Indus-Ganga Plain, south of Nepal. Bihar is bisected from west to east by the Ganges River. Capital and largest city is Patna; Gaya, Bihar's second largest city is of ancient historical and mythological significance, nearby Bodh Gaya, the place where Gautama Buddha achieved enlightenment, is an important center for religious tourism. The Mahabodhi Temple Complex at Bodh Gaya is since 2002 a UNESCO World Heritage Site.
Bihar's official languages are Hindi and Urdu, other spoken languages are Bhojpuri, Maithili, and Magahi. Hinduism (more than 80 %) is the main religion in Bihar.

Chhattisgarh is a landlocked state located in the central-east of the country with an area of 136,034 km², and a population of 28 million people (in 2017). The state was created on 1 November 2000. Sixteen Chhattisgarhi-speaking districts (Dakshina Kosala region) of Madhya Pradesh became the new state. Capital and largest city is Raipur, other major cities are Bhilai, Bilaspur, and Rajnandgaon, official languages are Chhattisgarhi and Hindi. Hinduism (more than 90 %) is the main religion in Chhattisgarh.

Goa is the smallest of the 29 states of India with an area of approximately 3,760 km² and a population of 1.45 million people, located in central-west, with a coastline at the Arabian Sea, the Terekhol River separates Goa from Maharashtra, and it shares a border with Karnataka to the east and south. Capital is Panaji, largest city is Vasco da Gama, Mormugao in South Goa district is one of India's major ports.
Konkani is the official language in Goa. The former overseas territory of Portuguese India is famous for its beaches and places of worship, the Churches and Convents of Goa are a UNESCO World Heritage Site.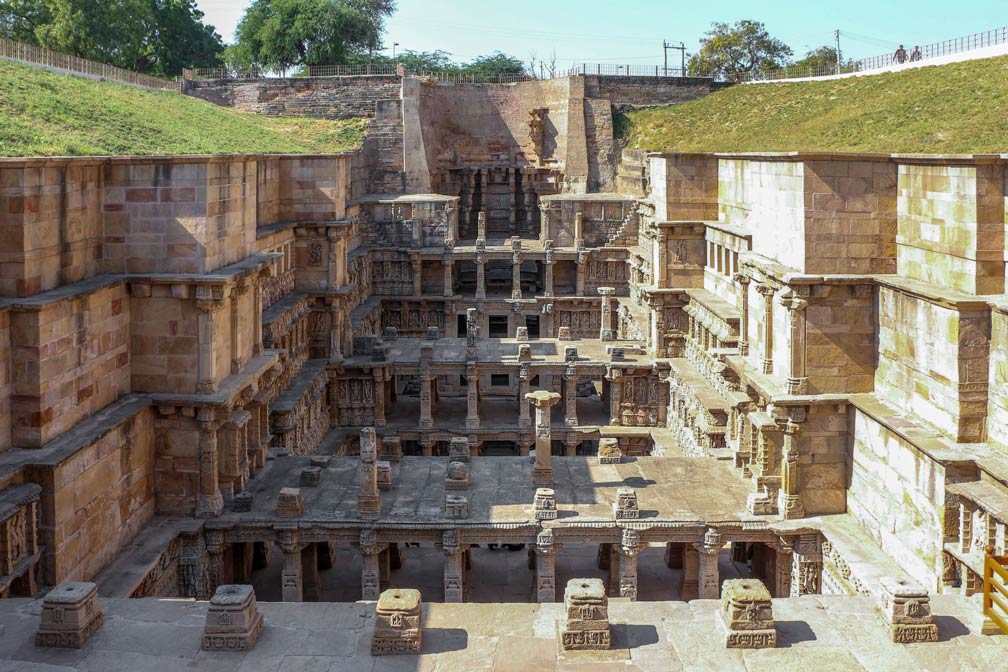 Image: Bernard Gagnon

Gujarat, India's westernmost state is bordered by Pakistan in north west. The state covers an area of 196,024 km². Its location at the Arabian Sea has made Gujarat an important maritime state. The port of Kandla, south of the city of Gandhidham is one of India's major ports built in the 1950s, as the chief seaport serving western India.

The region of Gujarat was formerly one of the main centers of the Indus Valley Civilization (3300–1300 BCE), known as one of four early cradles of civilizations of the Old World (Eurasia). Today more than 60 million people live in Gujarat state. Capital City is Gandhinagar, largest city is Ahmedabad. Principal language is Gujarati, main religion is Hinduism (more than 88 %).


Haryana is a landlocked state in Northern India. Formerly part of East Punjab (until 1 November 1966), the Yamuna river defines its border with Uttar Pradesh. Haryana surrounds the National Capital Territory of Delhi on three sides. The state covers an area of 44,200 km². Haryana's economy is predominantly based on agriculture and manufacturing industries. 27 million people live in Haryana. Capital city is Chandigarh, which is also the capital of neighboring Punjab state. Haryana's largest city is Faridabad. Gurugram (Gurgaon), a satellite city of Delhi in the National Capital Region, is a leading financial and industrial hub. Spoken languages are Hindi (87%) and Punjabi (10%). Hinduism (87%) is the main religion followed by Islam (7%).

Himachal Pradesh is a mountainous landlocked state in North India, dominated by the Great Himalayas in north, it shares a border with Tibet Autonomous Region in east. The state covers an area of 55,673 km², Himachal Pradesh is a multireligious and multilingual state with a population of 6.8 million people. Capital city is Shimla, one of India's largest and most famous hill stations. Some of the most commonly spoken languages in Himachal are Hindi and Pahari with its many dialects. Hinduism (96%) is the main religion.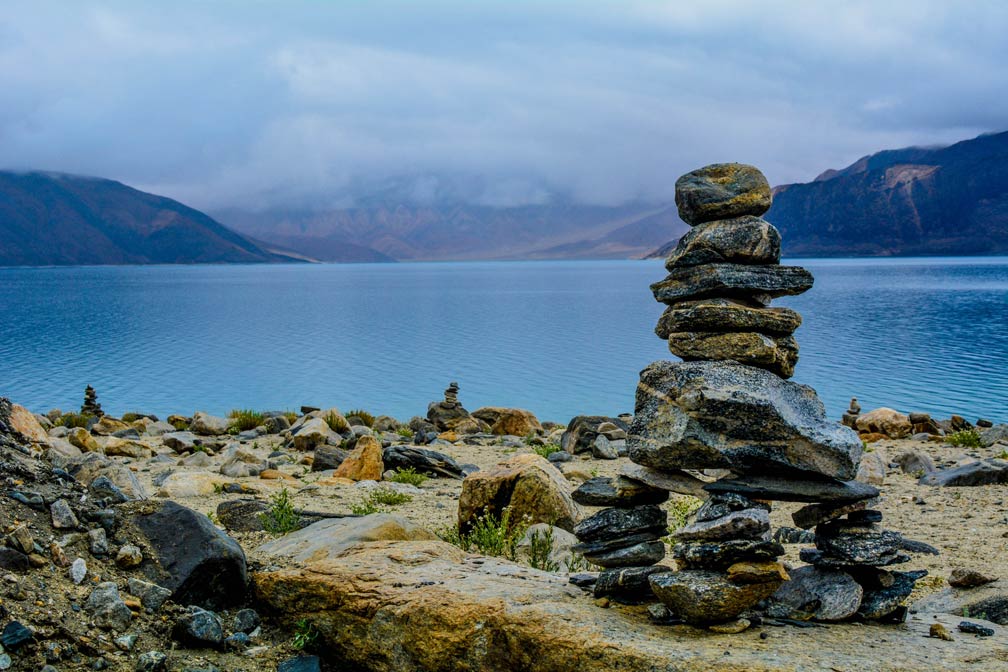 Image: Aaron Thomas

Jammu and Kashmir (J&K) is the northernmost Indian state, located in the Kashmir region and the Himalayan mountains. The size of the Indian controlled area is about 98,340 km², 14 million people live in the state (est. 2017). The former Princely State of Kashmir and Jammu, ruled by Maharajas of the Dogra dynasty, was partitioned between India and Pakistan in August 1947. The Aksai Chin, a disputed border area in the east is claimed by India as a part of the Ladakh region, but the area is under Chinese control since 1962.
There are three administrative divisions within Jammu and Kashmir:
Jammu division in south west, with Jammu city, the winter capital of the state.
The Kashmir Valley division (Vale of Kashmir), a valley in north west of J&K surrounded by the Himalayas and the Pir Panjal mountain ranges, within lies Srinagar, the summer capital of J&K.
The sparsely populated Ladakh in the western half of Jammu and Kashmir is one of the highest regions of the world, its culture and history are closely related to that of Tibet. Most of the population of Ladakh is living in small valley villages at elevations between about 2,750 and 4,550 m. Largest towns are Leh and Kargil.

Jharkhand came into existence when it was formed from the southern half of Bihar in November 2000, the city of Ranchi became its capital. The state covers an area of 79,714 km², most of the state is situated on the Chota Nagpur Plateau, a hilly, highly dissected region with an average elevation of about 700 m. Jharkhand has a population of est. 36 million people (32.96 m in 2011). Largest cities are Jamshedpur, Dhanbad, and Ranchi. Official language is Hindi, other languages are Santali, Bengali, and Urdu, main religions are Hinduism (68%) and Islam (14.5%).

Karnataka is located in the south western region of India with a coastline at the Arabian Sea. Formerly known as the State of Mysore (with Mysore as its capital), it was renamed Karnataka in 1973. The state covers an area of 191,976 km², it has three distinct geographical regions: the coastal region of Karavali (also known as Kanara or Coastal Karnataka), the coastal plain west of the Western Ghats mountain range, the Malenadu region of the Western Ghats south of Goa, and the Bayaluseeme region, a large region east of the Western Ghats on the Deccan Plateau. Karnataka has a population of about 66 million people (est. 2016), capital and largest city is Bengaluru (Bangalore, pop. 9 million), other major cities are Mysore (Mysuru), Hubli (Hubballi), and Mangalore, New Mangalore Port is one of India's major ports.
Karnataka's official language is Kannada (65%), other languages are Kodava, Konkani and Tulu. Main religion is Hinduism (84%) and Islam (13%).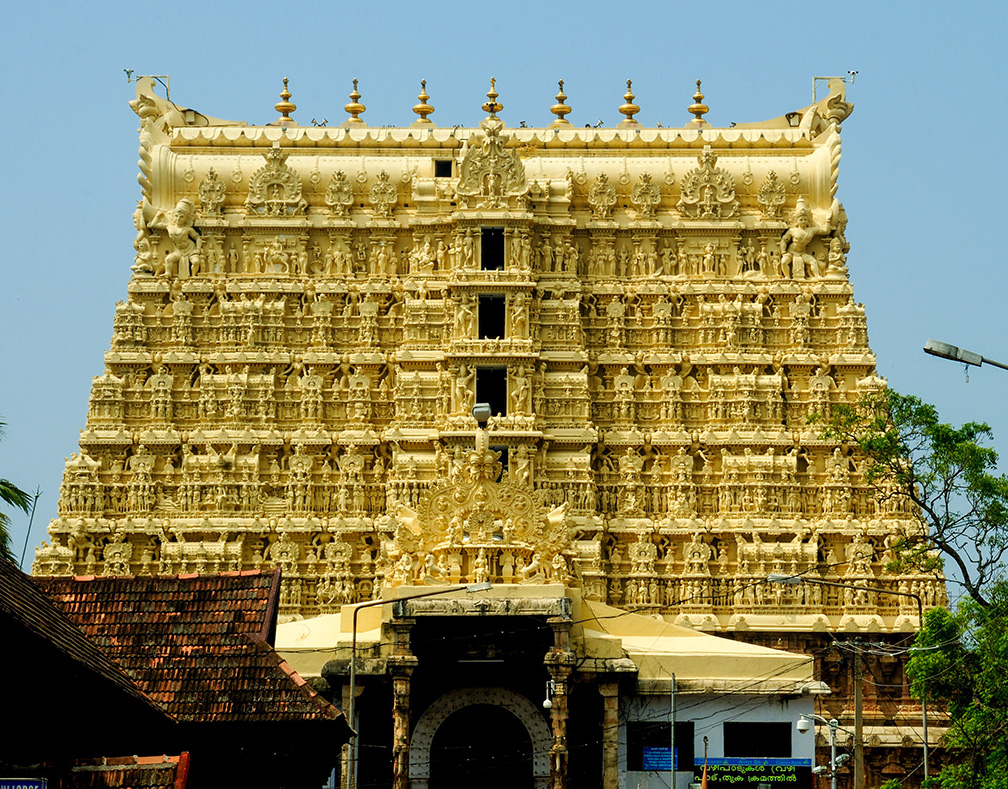 Image: -Reji

Kerala, the south western state between the Western Ghats and the Lakshadweep Sea (Arabian Sea) on India's tropical Malabar Coast. The state was formed in 1956 by merging the British districts of Malabar and Calicut, the South Kanara district, and the princely states of Travancore and Cochin (Thiru-Kochi).
Kerala's landscape and climate has three distinct areas: the eastern highlands, the cool mountainous terrain of the southern Western Ghats, the central mid-lands with rolling hills, and the western lowlands with its relatively flat coastal plains.
Since centuries Kerala is associated with spice production and trade, known as the Spice Garden of India, it was an important commercial center at the spice trade routes. Spice trade brought, along with colonialism, early capitalism to India's Malabar Coast.
Kerala covers an area of 38,863 km², and a population of 34,5 million people, capital and largest city is Thiruvananthapuram (Trivandrum), second city and a major port is Kochi (Cochin). Almost the entire population of Kerala speaks Malayalam, one of the Dravidian languages (97%), Tamil is spoken by 2%. Main religions are Hinduism (55%), Islam (27%), and Christianity (18%).
Kerala Government Website, Kerala Tourism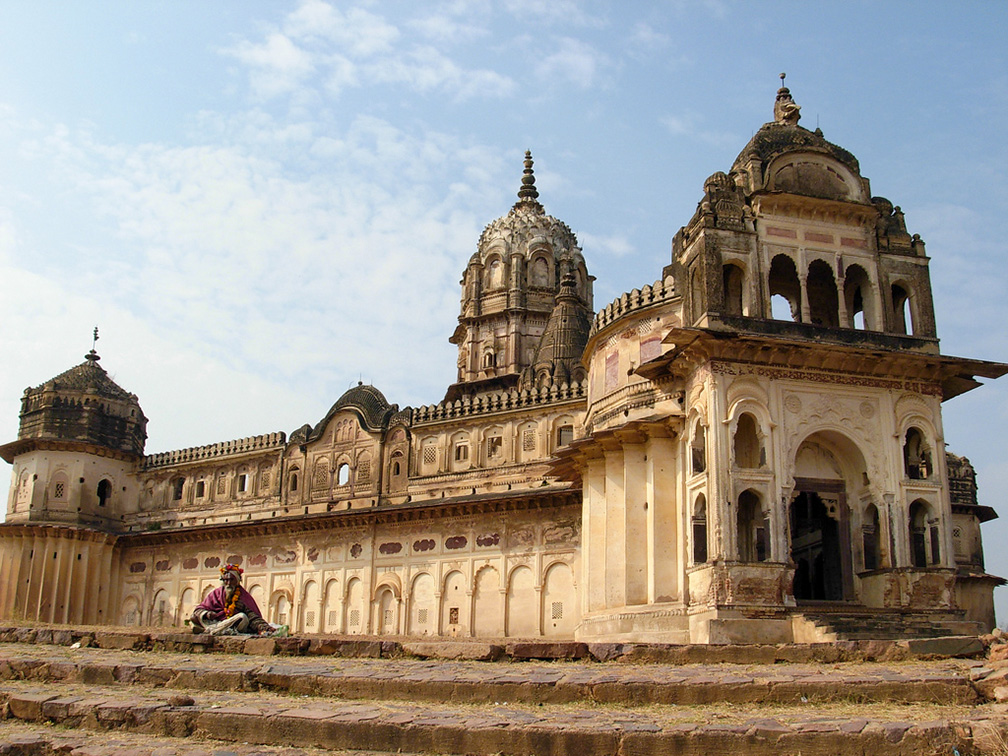 Image: Vishaka Jayakumar

Madhya Pradesh, the "Central Province" is a landlocked large state in central India, bisected from east to west by the state's longest river, the Narmada, which flows in the depression between the highlands and plateau escarpments of the Vindhya range in north, and the hills of the Satpura range in south.

Madhya Pradesh occupies an area of 308,252 km², making it somewhat larger than Italy.
The state has a population of 80 million people (est. 2018), mainly concentrated in south. The inhabitants of Madhya Pradesh are composed of a number of ethnic groups, tribal communities, and various castes.
Capital is Bhopal, the 'City of Lakes'; largest city is Indore, other major cities are Gwalior, Jabalpur, and the ancient city of Ujjain. Official language is Hindi, regional languages are Malwi, Bundeli, Bagheli, and Nimari. Main religion are Hinduism (91%) and Islam (6.6%)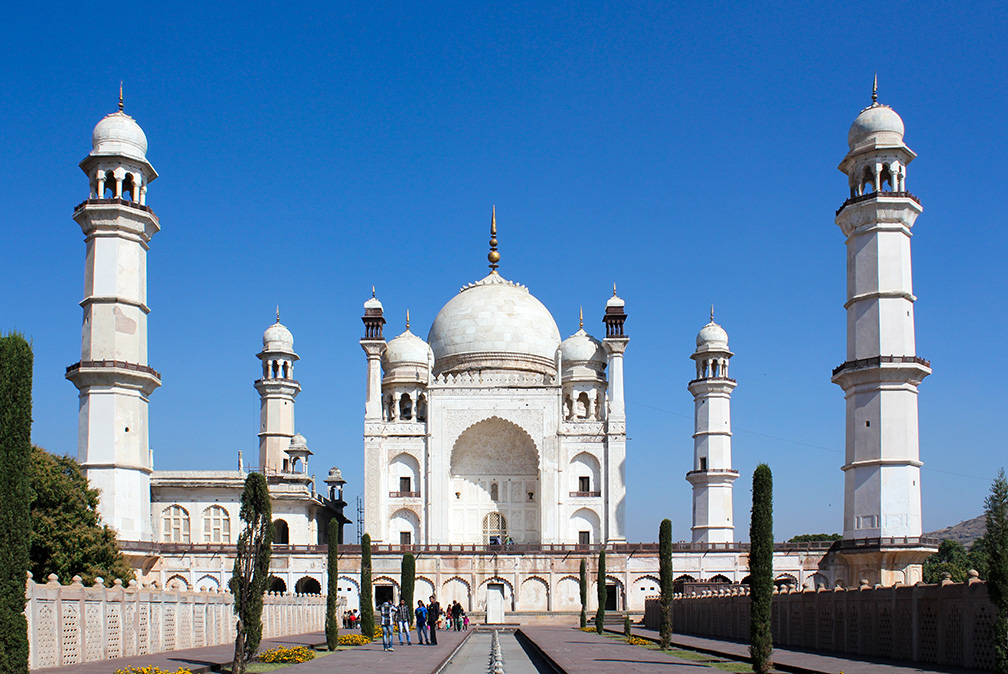 Image: Arian Zwegers

Maharashtra, India's most industrialized state is situated in west-central India with a coastline at the Arabian Sea in west. Large parts of the state occupy the Deccan plateau, one of the main geographical features of India. To the west of the plateau is a section of the Western Ghats (or Sahyadri Mountain Range), a chain of mountains and hills following the coastline, separated from the sea by the Konkan belt, a rugged coastal area section of India's western coast.
Maharashtra covers an area of 307,713 km², this about the size of Italy. Maharashtra is divided into of six administrative divisions: Amravati, Aurangabad, Konkan, Nagpur, Nashik, and Pune. An estimated population of 123,2 million people (in 2017) makes Maharashtra the second-most populous state in India.
Capital City is Mumbai (formerly known as Bombay), India's largest port and a mega-city with a population of 18 million people in its metropolitan area, other major urban areas are Pune, the cultural capital, Nagpur, Maharashtra's Winter capital, the ancient city of Nasik, coastal Vasai-Virar, part of Mumbai Metropolitan Region, and the medieval city and tourism hub of Aurangabad.
Official language of Maharashtra is Marathi, spoken predominantly by the Marathi people. Main religions in the state are Hinduism (80%), Islam (11.5%), and Buddhism (5.8%).

Manipur, the "place of gems", a landlocked mountainous state in northeastern India is bordering Myanmar's (Burma) Chin State in south east and Sagain Division in east. Like the other 7 Sister States in the easternmost region of India, the state is largely isolated from the rest of the country.
The state covers an area of 22,327 km², this is about the size of Israel or the US state of New Jersey. The scenic beauty of the landscape of the former kingdom has two major areas, the Imphal valley and the surrounding forested hills and mountains.

Manipur has a population of estimated 3 million people (in 2017). One third of the state's population belong to the Kuki or the Naga hill tribes, the Hindu Meitei people are the majority ethnic group of Manipur. The relationship between the tribal people in the hills and the Meiteis in the Imphal valley has long been full of tensions. The capital Imphal sits in the center of the state connected to the rest of the world by a spiderweb of roads, passing through Naga inhabited hills, the roads were all closed from November 2016 to March 2017 by Naga people to put pressure on Imphal and the federal government to add emphasis to their rejection to plans of the government to create seven new districts in the state, the Nagas alleged that the new districts encroach on the ancestral land and it is done to weaken their vote in the upcoming state assembly elections.
Unrests in the state making Manipur one of India's "political sensitive areas", separatist movements has been active in the state since 1964, several groups have used economic blockade or even violence toward achieving their goal of a sovereign Manipur, one of the demands of the tribal people was the division of the present state into two or three Indian states along ethnic lines or the integration into an independent Nagaland.


Meghalaya, 'home of the clouds', the state in the north eastern part of India is situated on a mountainous plateau, bordering Bangladesh in south. Formerly part of Assam, it was separated in 1972 to become an autonomous state. Meghalaya covers an area of 22,429 km², its landscape offers valleys, deep gorges, and highland plateaus, and many rivers running through. The Khasi Hills are the highest elevations in the state, with Shillong Peak as its highest peak, overlooking the capital Shillong. Meghalaya is known as home to two of the rainiest places on the planet, the towns of Cherrapunji and Mawsynram. Nohkalikai Falls near Cherrapunji, close to the border with Bangladesh in south east is one of India's tallest waterfalls. Meghalaya has a population of about 3.2 million people. The state is predominantly inhabited by Khasis, Jaintias, and Garo tribal communities. Capital and largest city is Shillong, a hill station at an elevation of 1,495 m (4,900 ft.) with a population of about 150,000 people (in 2017). Main languages are Khasi (47%), Garo (31%), and English (official). Major religions are Christianity (74%), Hinduism (11%), and Islam (4%).


Mizoram, the 'land of the hill people', is a landlocked state in Northeast India, bordered by Bangladesh's Chittagong Hill Tracts in west and Myanmar's Chin State in east. Formerly the Lushai Hills District of Assam, it became a Union Territory in 1972 and an autonomous state in 1987. The state covers an area of 21,087 km², compared, this is about half the size of Denmark, or somewhat smaller than the US state of New Jersey. Mizoram's offers a landscape with an assortment of hills and mountains, rocky cliffs, deep valleys, lakes and rivers, its terrain is covered with verdant forests dominated by bamboo groves. Highest point is Phawngpui (Blue Mountain) at 2,157 m (7,077 ft).
Mizoram is home of the Mizos, tribal people with several sub-tribes known as Luseis, Lais, Maras, and Kukis. About 1.1 million people live in the state. Capital city is Aizawl, official languages are Mizo and English. Animism was the traditional religion of the Mizos, since the 19th century American Baptist missionaries have propagated their Christian belief along with formal education which eventually resulted in the Mizos becoming one of the most literate communities in the country.
Mizoram Government, Mizoram Department of Tourism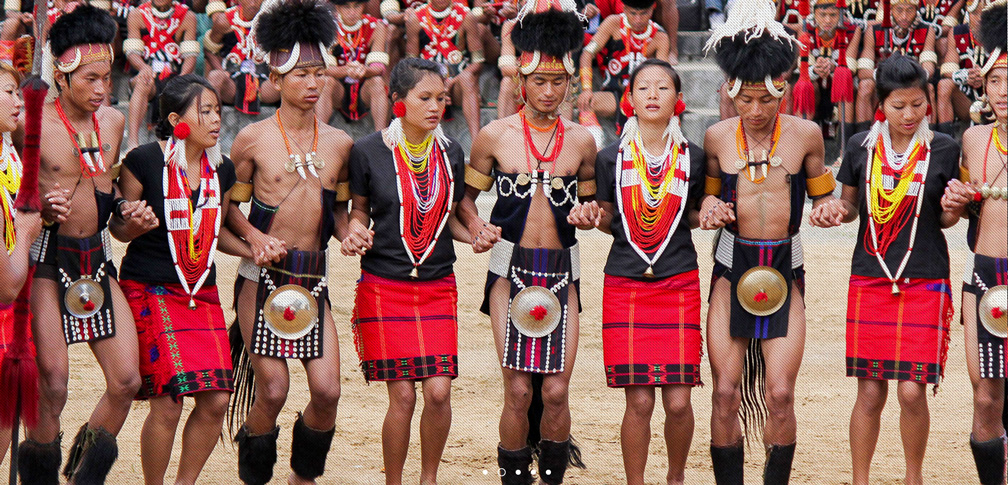 Image: Nagaland Tourism

Nagaland, a rural, remote state in the north eastern part of India, one of the Seven Sisters States, bordering a portion of Naga Self-Administered Zone in the Sagaing Region of Myanmar. Nagaland gained statehood in 1963. The state covers an area of 16,579 km². The mountainous landscape of Nagaland is known as the Naga Hills. The Naga Hills rise from the Brahmaputra Valley in Assam to about 610 m (2,000 ft.), highest peak is Mount Saramati at 3,840 m on the unmarked India-Myanmar border.
Nagaland is home to diverse indigenous tribes, sixteen major and several minor ethnic groups, all called Nagas. The tribal communities are distinct in character from each other in terms of customs, language and costumes. About 2.2 million people live in Nagaland, capital town is Kohima, the largest city is Dimapur with the only airport in Nagaland. Spoken languages are a number of dialects, all belonging to the Sino-Tibetan language family. The traditional Naga religion is animistic, but like many other Seven Sister States, main religion is Christianity due to large-scale proselytization since the 19th century by Baptist missionaries in Northeast India and neighboring regions in Myanmar.
Nagaland official State Portal, Nagaland Department of Tourism


Odisha, until 2011 known as Orissa, the state is situated in the tropical zone in central east India with a coastline at the Bay of Bengal in east. The state covers an area of 155,707 km², compared it is about half the size of Poland, or slightly larger than the US state of Georgia.
The state has four major geographical regions: the Northern Plateau, the mountains of the Eastern Ghats, a series of steep ridges alternate with river valleys, the two broad plateaus of the Central Table Land, and the Coastal Plain (Utkal Plains), also known as the "Gift of Six Rivers", the plains are formed by the alluvial deposits of six major rivers, the Subarnarekha, the Budhabalanga, the Baitarani, the Brahmani, the Mahanadi, and the Rushikulya. Within the plains is Chilika Lake, a large brackish water lagoon at the mouth of the Daya River. About one-third of the state is forested. Odisha has an abundance of natural resources such as iron, coal, zinc, and forest products.
Odisha has a population of 42 million people, the majority are Hindus. Tribal people constitute over 20 percent of the population. Capital and largest city is Bhubaneswar. Oriya (Odia) is the local language with a number of dialects. Main religion is Hinduism with more than 94%.
Government of Odisha, Odisha Department of Tourism

Punjab, the "land of five rivers" is a state in the north western part of India in a plain to the south west of the Himalayas, it shares a border with Pakistan's Punjab province in west. The Indian State of Punjab was created in 1947, when the partition of India split the former Raj province of Punjab between India and Pakistan. The Indian state covers an area of 50,362 km², compared it is about the size of Slovakia or twice the size of the US state of Vermont. The state is situated on a flat alluvial plain bordered by some hills in north east. Only three of the original five rivers flow in today's Indian Punjab, the Sutlej, Ravi and Beas rivers, all tributaries of the Indus. The rivers are the source for an extensive irrigation canal system in the state. While the region near the foothills of Himalayas receive sufficient rainfall, the southwestern part of the state is semiarid and merges into the Thar Desert.
Punjab India has a population of about 30 million people (in 2017). Capital city is Chandigarh (also the capital of Haryana), largest city is Ludhiana, other major cities are Amritsar, Jalandhar and Patiala. Spoken languages are Punjabi (92%) Hindi (8%). Main religions are Sikhism (58%) Hinduism (38%).
Government of Punjab, Punjab Tourism Department

Rajasthan, until 1949 known as Rajputana, a landlocked state in north western India, bordering Pakistan in west. It is India's largest state with an area of 342,239 km², compared it is somewhat smaller than Germany, or also somewhat smaller than the US state of Montana. The landscape of Rajasthan has two major geographical features, the hilly region of the Aravalli Range, the "line of peaks" runs northwest to southeast through the state, the Aravalli hills are the eroded remains of ancient mountains, dating back to times when the Indian subcontinent still was an island.
To the north east of the range spreads the inhospitable Thar Desert, also known as the Great Indian Desert or the Rajasthan Desert, an arid region that covers an area the size of the UK, the desert extends into Pakistan, Gujarat, Punjab, and Haryana. Rajasthan's desert is inhospitable but not uninhabitable, in fact it is one of the most heavily populated desert areas in the world, its inhabitants engage in farming and animal husbandry, it is the biggest wool-producing area in India.
Rajasthan's historical forts, palaces, art and culture making it a major tourist destination in India.
Rajasthan has a population of 76 million people (est. 2017), capital and largest city is Jaipur, other major cities are Jodhpur, Kota, Bikaner, Ajmer, and Udaipur. Spoken languages are Hindi and Rajasthani.
Government of Rajasthan, Rajasthan Department of Tourism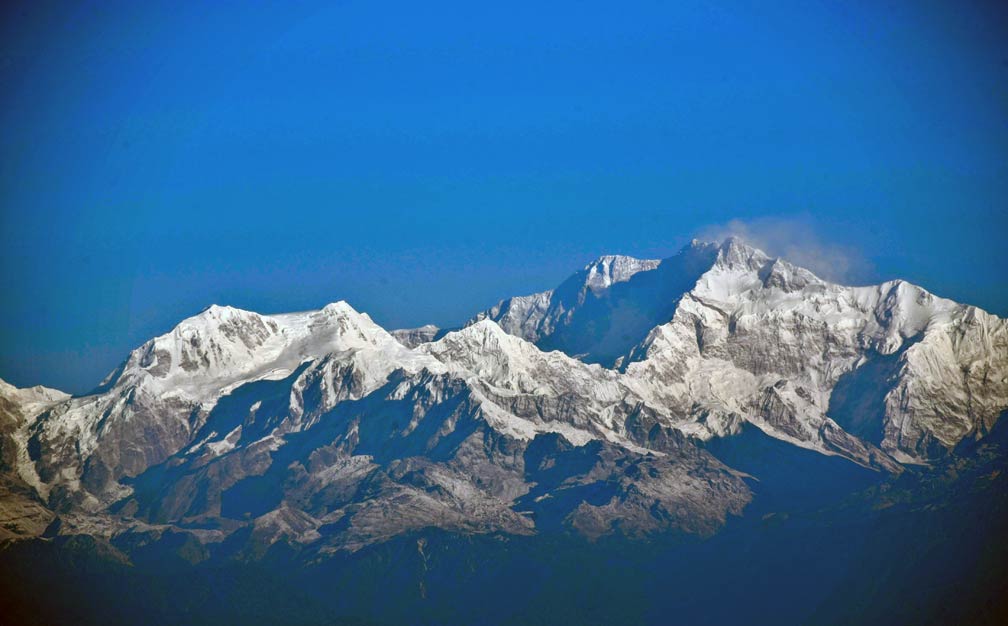 Image: DC Assam

Sikkim, (Dejong in Tibetan, the rice country) is a small state on the southern slopes of the Himalayas in north eastern India, bordering Nepal in west, the Tibet Autonomous Region in north and north east, Bhutan is south east and West Bengal in south.
The former Buddhist kingdom became a princely state of British India in 1890. After India's independence in 1947, Sikkim continued its protectorate status with India. In 1975, the Indian military deposed the Sikkimese monarchy and annexed the kingdom. A referendum was delivered some days later.
Sikkim covers an area of 7,096 km², it is India's second smallest state after Goa. Its landscape is mountainous with the Sivalik Hills of the outer Himalayas in south and the Great Himalaya range in north. Some of the highest mountains in Sikkim are Chomo Yummo (6829 m) on the Tibet-Sikkim border, Kangchengyao (6889 m), Kirat Chuli (7,362 m), the Jongsong Peak (7,462 m) on the China–India–Nepal tripoint, and Kangchenjunga (8,586 m) India's highest mountain is located on the Sikkim-Nepal border.
Sikkim is India's least populous state with a population of 650,000 (est. 2017), capital and largest city is Gangtok, formerly the seat of the Sikkimese Chogyal, the monarchs of the former kingdom. Today Sikkim's population is multiethnic and multilingual with 11 official languages. Main languages are Nepali (63%), Sikkimese (Bhutia), (7.6%) Hindi (6.6%), Lepcha (6.5%), and Limbu (6.3%). Major religions are Hinduism (57.8%), Buddhism (27.3%), and Christianity (9.9%).
Sikkim State Portal, Official Sikkim Tourism portal

Tamil Nadu, the state at the south eastern tip of the Indian subcontinent, with a coastline known as the Coromandel Coast at the Bay of Bengal in east, the Palk Strait and Palk Bay in south east, the Gulf of Mannar and the Laccadive Sea in south.
The state covers an area of 130,060 km², making it slightly smaller than Greece, or somewhat larger than the US state of Mississippi.
Tamil Nadu's terrain is mostly flat, along its northern border are the southern parts of the Eastern Ghats, subdivisions of the hilly mountain range are (from west to east) the Nilgiri mountains, the Servarayan hills, and the Javadi Hills. The Western Ghats define the state's western border with Kerala, within the Palani Hills, an eastward extension of the mountain range. Major rivers are the Kaveri (Cauvery), the Palar, and the Ponnaiyar rivers.
Tamil Nadu is home of the Tamil people, descendants of the more 3,000 years old early Indian civilization of the Dravidians, one of the last surviving classical civilizations, with cultural developments parallel to those of Mesopotamia and Sumeria. Today Tamil Nadu has a population of 78 million people (est. 2017), capital and largest city is Chennai (formerly known as Madras), other major cities are Coimbatore, Madurai, Tiruchirappalli (Trichinopoly), and Tiruppur, spoken language is Tamil (90%) and some English. Main religions are Hinduism (87%) Christianity (6%) Islam (6%).
Tamil Nadu Government, Tamil Nadu Tourism

Telangana, home to the Telugu-speaking people, became the 29th state of India on 2nd June 2014 by separation of ten districts from north-western Andhra Pradesh to form the new state. The state is situated on the eastern Deccan Plateau, also known as the Telangana Plateau of the Indian subcontinent. Telangana covers an area of 112,077 km², making it slightly larger than Bulgaria or somewhat larger than the US state of Virginia. The region is drained by two major rivers, the Godavari and the Krishna River.
The economy of Telangana is mainly based on agriculture. Rice is the major food crop. Industrial manufacturing and services are established mostly around Hyderabad, the capital and primate city of Telangana. Other major cities are Hyderabad's twin city Secunderabad, Warangal, Nizamabad, Khammam and Karimnagar.
Telangana has a population of 38 million people (est. 2017), official language is Telugu, spoken by about 77% of the population, second language is Urdu (12%). Main religions are Hinduism 85% and Islam 13%.
Telangana State Portal, Telangana Department of Tourism


Tripura, the small landlocked state in northeast India, bordered on three sides by Bangladesh. The third-smallest state covers an area of 10,491 km², about four times the size of Luxembourg or about half the size of the US state of New Jersey.
The terrain of the former kingdom offers a plain in west and five hilly mountain ranges separated by valleys, extending in a north-south direction, the landscape is mostly forested. A number of rivers originate in the hills of Tripura and flow into Bangladesh. Tripura's economy is based on agriculture and related activities, rice is the major crop, rubber and tea are important cash crops. The National Highway 8 connects Tripura with the rest of the country.
The state has a population of about 4 million people, capital and largest city is Agartala, spoken languages are Bengali (67%), Kokborok (Tripuri, 25%), and English. Major religions are Hinduism (83%) Islam (9%) Christianity (4%).
Tripura State Portal, Tripura Tourism Department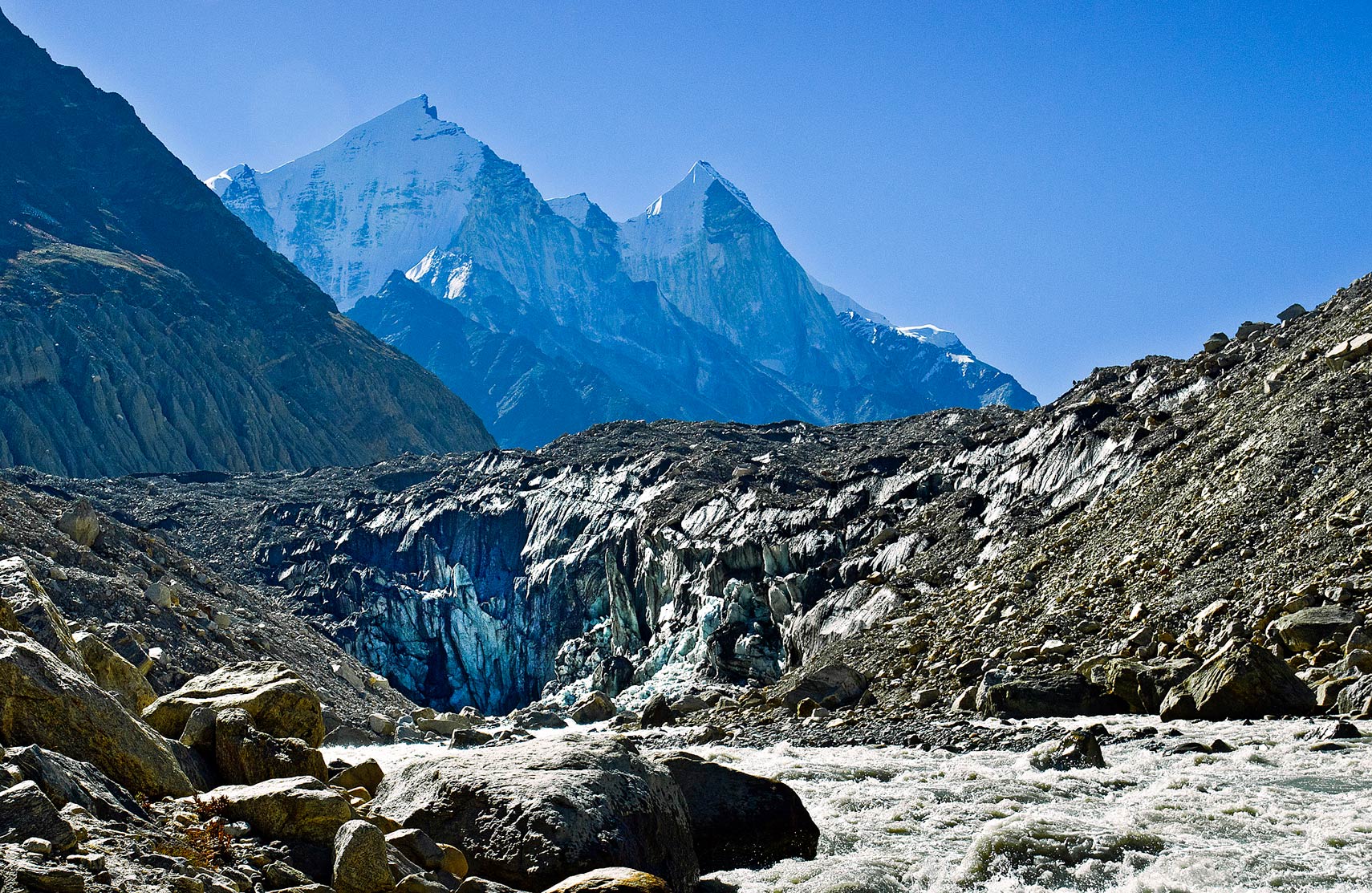 Image: Pranab basak

Uttarakhand was formerly known as Uttaranchal. The state in northern India in the Himalayas is bordered to the north east by the Tibet Autonomous Region of China and to the south east by Nepal.
The state was created in 2000 from the northern quarter of Uttar Pradesh, it covers an area of 53,483 km², compared it is about half the size of Bulgaria, or about twice the size of the US sate of Massachusetts.
The landscape of Uttarakhand is dominated to the north by the Himalaya Mountain range. Nanda Devi at 7,816 m, is the highest mountain in India which is located entirely within the country.
Two of the most important rivers in Hinduism originate in the glaciers of Uttarakhand, the Gangotri Glacier is one of the primary sources of the Ganges, and the Champasar Glacier near the pilgrim town of Yamunotri in the Garhwal Himalayas is the source of the Yamuna River.
Uttarakhand is home to four of the most revered Hindu sites in India (Chota Char Dham): the holy town of Badrinath, the Kedarnath Hindu temple in Haridwar District, Gangotri, the pilgrim town on the banks of the river Bhagirathi, and Yamunotri, the source of the Yamuna River and seat of the Goddess Yamuna (Kalindi).
Uttarakhand has a population of 10.3 million people (est. in 2017), capital and largest city is Dehradun (Dehra Dun), other major cities are Haridwar, Roorkee, and Haldwani.
The state has the highest Hindi language speaking population (88.26%) in India, followed by Urdu (5.88%), Punjabi (2.92%), Bengali (1.46%) and Nepali (1.46%). Main religions are Hindus 60%, Muslims 27%, Christian 8%, and Sikh 5%.


Uttar Pradesh (UP), the state in the central north of India in the Gangetic Plain is bordered by the Himalaya foothills in north, it shares a border with Nepal in north east. The state covers an area of 243,290 km², compared, it is about the same size as the United Kingdom. Its terrain offers a variety of landscapes, in the north there are the Shivalik foothills, a mountain range of the outer Himalayas, and the Terai, a lowland belt of grasslands, scrub savanna and sal forests, interspersed with marshes and swamps. Much of the state is situated on the Gangetic Plain, a mostly flat area with many rivers and fertile alluvial soils. Main rivers are the Ghaghara, the Yamuna and the Ganges rivers.
India's most populous state has an estimated population of 220 million people at the end of 2017, compared it would be the 5th most populous country in the world after Indonesia (265 million). Capital city is Lucknow (pop. 3 million), second city is Kanpur, other major cities are Ghaziabad, Agra, Varanasi, Meerut, and Allahabad. Spoken languages are Hindi in its various dialects and Urdu. Main religions are Hinduism (80%) Islam (19%).


West Bengal, the long stretched state in central eastern India is wedged between Bangladesh and several Indian states. In in the Himalaya region in the north, it borders Nepal and Bhutan, in south east it is bordered by the Bay of Bengal. The state covers an area of 88,752km², compared the state is somewhat smaller than Portugal, or also somewhat smaller than the US state of Maine.

West Bengal's terrain has two natural geographic areas, in north are the sub-Himalayan and Himalayan areas, internationally famous is the Darjeeling district, at the border to Sikkim, well known for its tea. In the south there is the fertile Gangetic Plain with its rivers and their tributaries and distributaries, major rivers are the Damodar river, the Hooghly river, and the Ajay river, the Ganges runs through the narrow middle section of the state and then forms a short section of its border with Bangladesh. In 1947, Bengal was partitioned along religious lines, the eastern part went to the Dominion of Pakistan (now Bangladesh), the western part went to India.
West Bengal has a population of about 95 million people, capital, a river port, and the primate city is Kolkata (pop. 5.2 million), other major cities are Asansol, Siliguri, Durgapur, and Bardhaman. Spoken languages are Bengali 85%, and Hindi 7%, Nepali is the official language in three Hill Sub-divisions of the Darjeeling District. Main religions are Hinduism (71%) and Islam (27%).
Government Of West Bengal, West Bengal Tourism