Map of Pakistan, South Asia
About Pakistan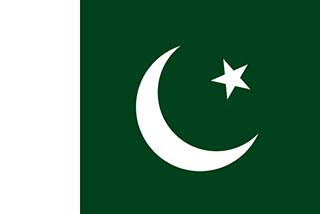 The map shows Pakistan, a country located in the northwest of the Indian subcontinent in South Asia. The Muslim nation's official name is the Islamic Republic of Pakistan. The Arabian Sea bounds the state in the south; it borders
Afghanistan
,
China
,
India
, and
Iran
.
Pakistan occupies an
area
of 796,095 km², compared it is slightly larger than
Turkey
(783,562 km²) or somewhat less than twice the size of the
U.S. state
of
California
.
Pakistan is the world's sixth-most populous country with a
population
of 208 million people (data from
PBoS
, 2018). The federal capital is
Islamabad
. Main port, largest city and economic hub is
Karachi
; the second largest city is
Lahore
. Other major Pakistani cities are Faisalabad, Rawalpindi, Multan, Gujranwala, Hyderabad, Peshawar, and Quetta.
Spoken
languages
are Urdu, English (both official), Punjabi, Sindhi, and Pashto.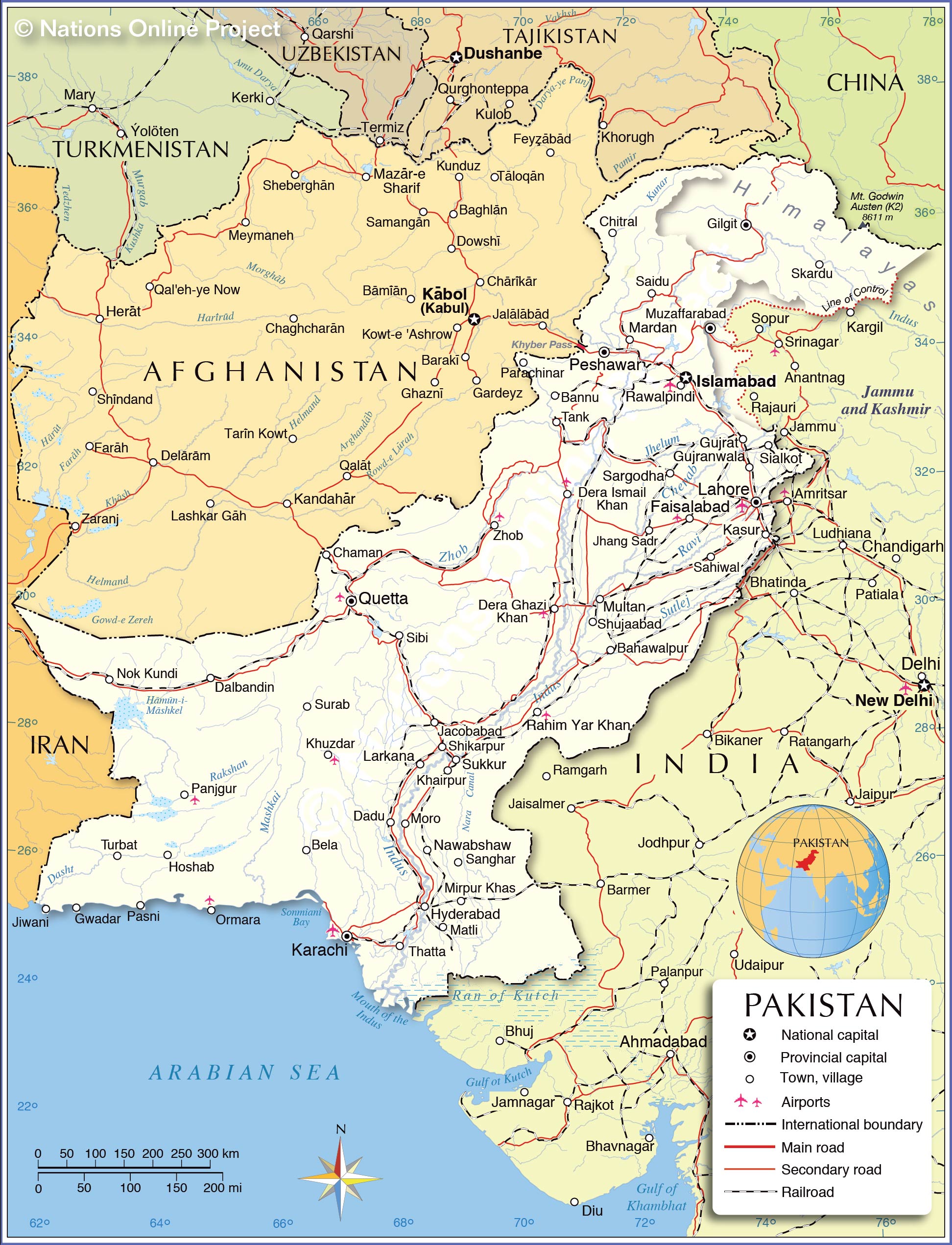 Political Map of Pakistan
The map shows Pakistan and surrounding countries with international borders, the national capital Islamabad, province capitals, major cities, main roads, railroads, and major airports.

You are free to use above map for educational purposes, please refer to the Nations Online Project.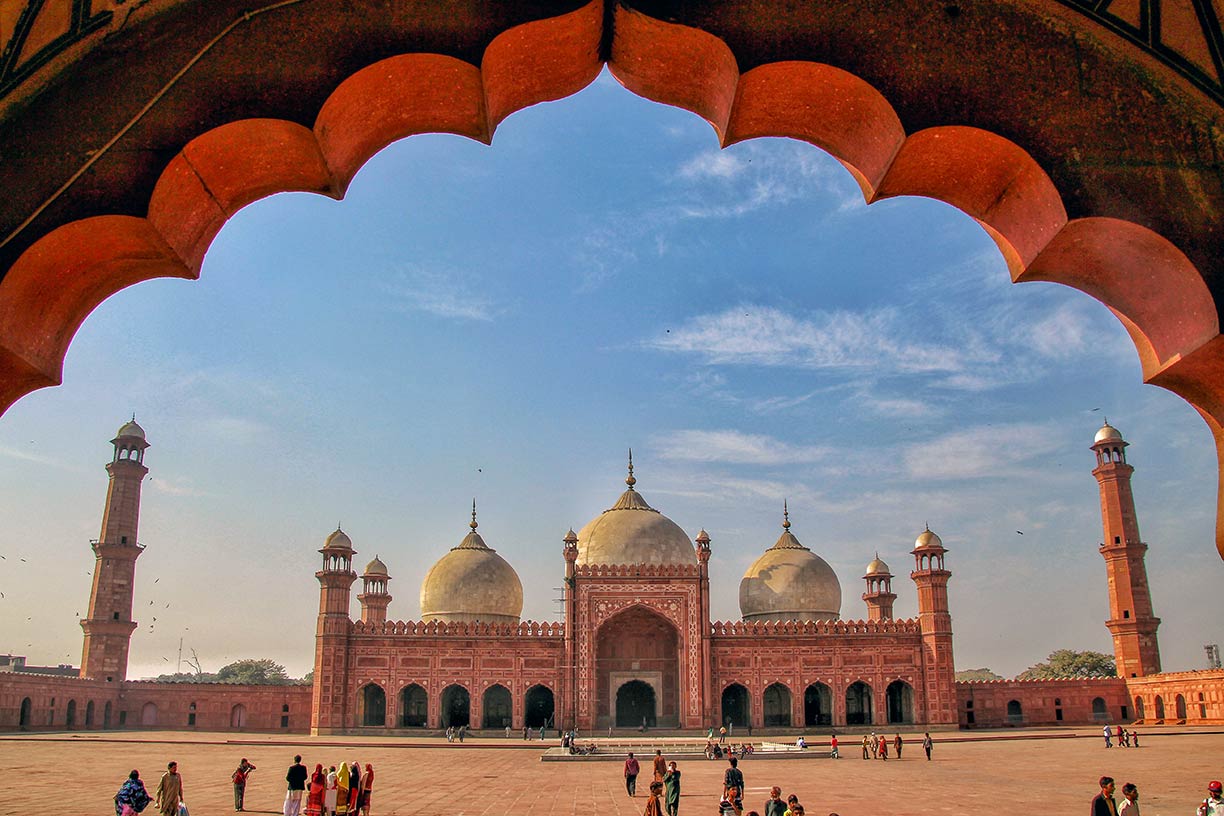 Photo: Fassifarooq
Pakistan came into being on 14 August 1947 out of Muslim-majority territories in the northeastern and northwestern parts of British India. Initially, the country consisted of two parts of the former territory of British India; Pakistan was split in 1971 when the eastern portion seceded and became the
Republic of Bangladesh
.
Pakistan's terrain is characterized by the flat Indus plain (part of the Indo-Gangetic Plain), crossed by the Indus river and its tributaries. The Indus is the country's longest river and an essential water resource, but it also causes floods and mudflows.
Pakistan's area northeast of the capital Islamabad is dominated by mountains of the Himalayas, known as the Karakoram, the second highest mountain range in the world. The highest peak in the country is K2 with 8,611 m; it is the second-highest mountain on
Earth
, located on the border between Pakistan and China in the Himalayas. The mountain is also known as Mt. Godwin-Austen, Chhogori/Qogir, and Ketu/Kechu.
Wedged between the Arabian and the Indian tectonic plates is the Iranian Plateau; the Pakistani portion of the plateau is known as the Balochistan plateau, part of the Eurasian Plate. Balochistan is an arid desert and mountainous region in south-western Asia.
Cities and Towns in Pakistan

Depicted on the map are the location of following Pakistani cities and towns (ordered by provinces, province capital in parentheses):

Gilgit-Baltistan (Gilgit)
Chitral, Mardan, Saidu, and Skardu.

North-West Frontier Province or Khyber Pakhtunkhwa (Peshawar)
Tank, Bannu, Mardan, Chitral, and Saidu.

Azad Kashmir (Muzaffarabad)

Federally Administered Tribal Areas (Peshawar)
Parachinar

Punjab (Lahore)
Bahawalpur, Dera Ghazi Khan, Dera Ismail Khan, Faisalabad, Gujranwala, Gujrat, Jhang Sadr, Kasur, Multan, Rahimyar Khan, Rawalpindi, Sahiwal, Sargodha, Shujaabad, and Sialkot.

Balochistan (Quetta)
Jiwani, Gwadar, Pasni, Ormara, Panjgur, Surab, Nok Kundi, Sibi, Chaman, Zhob, Dalbandin, Khuzdar, Belaurbat, and Hoshab.

Sind (Karachi)
Jacobabad, Shikarpur, Hyderabad, Mirpur Khas, Nawabshaw, Khairpur, Larkana, Sukkur, Sanghar, Matli, Thatta, Moro, and Dadu.

More about Pakistan
Cities:
Searchable maps and information about:

Abbottabad

Islamabad
(capital city)

Karachi

Lahore
Country:

Searchable Map and Satellite View of Pakistan

Administrative Map of Pakistan

Pakistan Country Profile

Pakistan in Figures
Pakistan key statistical data.
Continent:

Map of the Kashmir Region

Map of Asia

Map of Southeast Asia

Capitals of Asia

Flags of Asia

Languages of Asia