About Karnataka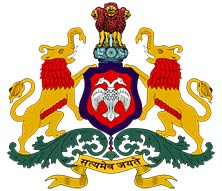 Satellite view is showing the Indian state of Karnataka situated on the western edge of the Deccan plateau in southwestern India. The state was formerley (until 1973) known as Mysore.
The state is bordered by the Arabian Sea in west,
Goa
in northwest,
Maharashtra
in north,
Telangana
in northeast,
Andhra Pradesh
in east,
Tamil Nadu
in south and
Kerala
in southwest.
With an
area
of 191,791 km² (74,051 sq mi), Karnataka is somewhat larger than half the size of
Germany
, or slightly smaller than the US state of
South Dakota
.
Karnataka has a
population
of 66 million people (est. 2018). Capital city is Bangalore (officially Bengaluru). Official
language
is Kannada, one of the major South Indian languages.
The map shows a map of Karnataka with borders, cities and towns, expressways, main roads and streets, and the location of
Bengaluru International Airport
(
IATA code
: BLR).
To find a location use the form below.