Map is showing South Korea, an East Asian nation on the southern half of the Korean Peninsula. The country is bordered by the the Sea of Japan in east and the Yellow Sea in west, the Korea Strait in south. It has one of the world's most heavily militarized borders with North Korea in north and it shares a maritime border with Japan.

With an area of 99,678 km² the country is about the size of Iceland, or slightly smaller than the U.S. state of Pennsylvania. Its landscape offers hills and mountains in particular in the eastern part, most of the terrain is not arable. And there are the Lowlands, wide coastal plains in west and southeast. Highest point is Halla-san with 1,950 m, the extinct volcano on Jeju, the nation's largest island in the Korea Strait, southwest of the Korean Peninsula.

South Korea has a population of 51,360,000 people (in 2015), capital and largest city is Seoul.

Map shows South Korea and surrounding countries with international borders, provincial boundaries, the national capital Seoul, provincial capitals, major cities, main roads, railroads and major airports.




You are free to use this map for educational purposes, please refer to the Nations Online Project.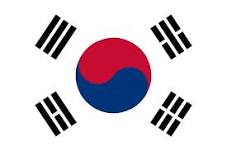 Bookmark/share this page


One World - Nations Online
all countries of the world