Map is showing the islands of Indonesia with surrounding countries, international borders, provinces, provincial boundaries, the national capital Jakarta, provincial capitals, and major cities.

Indonesia is the largest archipelago in the world, the country is situated in Maritime Southeast Asia, between South China Sea and the Pacific Ocean (in north) and the Indian Ocean (in south). Indonesia consists of more than 17,000 islands, the largest are Sumatra, Java, Borneo (known as "Kalimantan" in Indonesia), Sulawesi, also known as the Greater Sunda Islands, and New Guinea, most of the larger islands are mountainous, with peaks ranging between 3,000 and 3,800 m. With an area of 1,904,569 km² and a population of 238 million people making Indonesia the largest and most populous country situated only on islands, the combined archipelago is slightly smaller than Mexico.

Border Countries:
Malaysia, Papua New Guinea, Timor-Leste. Indonesia shares maritime borders with: Australia, India, Palau, the Philippines, Singapore, Thailand, and Vietnam.

related countries: Netherlands, Japan



You are free to use this map for educational purposes, please refer to the Nations Online Project.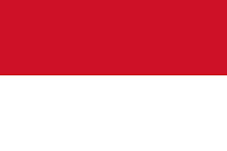 Bookmark/share this page


One World - Nations Online
all countries of the world