About Raleigh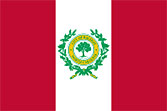 Satellite view showing Raleigh, the "City of Oaks", second most populous city and capital of the North Carolina, one of the 50 states in the

United States. The seat of Wake County is located 140 mi (225 km) north east of Charlotte and 280 mi (450 km) south west of Washington D.C. in central North Carolina.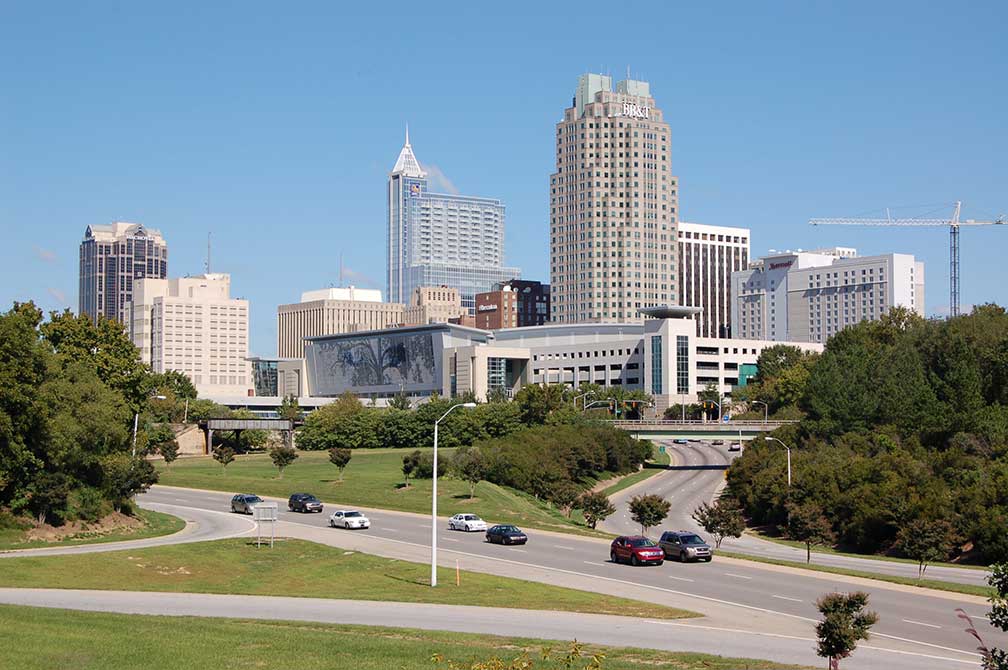 Image: Mark Turner

In the late 16th-century, by charter of Queen Elizabeth I, Sir Walter Raleigh founded an English settlement on North Carolina's Roanoke Island, albeit Raleigh himself never visited North America. The idea was, the settlement should become a base from which to send British privateers on raids against the treasure fleets of Spain.
In 1587, a group of colonists land on Roanoke Island to found the "Cittie of Raleigh". The colonists' food supplies soon began to grow short, the settlers pressed White to return to England to get help. White left the colony for England, 115 colonist were more or less left on the island, among them Virginia Dare, the first English child born in the New World, the granddaughter of John White, a friend of Raleigh and chief Governor of the new colony. Due to misfortune (bad weather, pirates, hostile Spaniards) White only was able to return to Roanoke Island three years later and found his colony had been long deserted. This abandoned site became known as the "Lost Colony."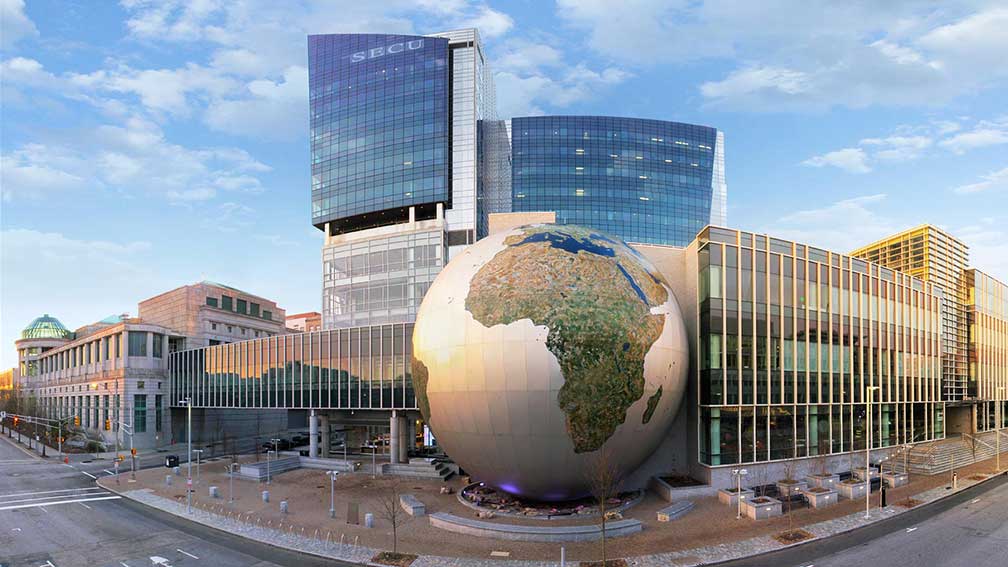 Image: NC Natural Sciences

200 years later subsequent English settlers had put down roots in North Carolina and were now US citizens. In 1792 the NC legislature authorizes the purchase of land to establish a capital city. Said and done, in the same year Raleigh was founded as capital of North Carolina. Two years later the State House was built. In 1800 Raleigh's population was 669.

Today Raleigh's city population counts about 450,000 inhabitants (est. 2015). The cities of Raleigh, Durham and Chapel Hill are forming one of the state's major urban areas, the "Research Triangle" with a population of more than 1.27 million people.

Raleigh's economy is based on banking/financial services; electrical, medical, electronic and telecommunications equipment; clothing and apparel.
Major employers are the State of North Carolina, Wake County Public School System, the North Carolina State University, WakeMed (hospitals), Rex Hospital (general hospital), and Red Hat (software).

The city is home to North Carolina State University. The university forms one of the corners of the Research Triangle together with Duke University in Durham and The University of North Carolina at Chapel Hill.

Raleigh is home to three major state museums: The North Carolina Museum of Art NCMA, the North Carolina Museum of History, and the North Carolina Museum of Natural Sciences.


Other capital points of interest: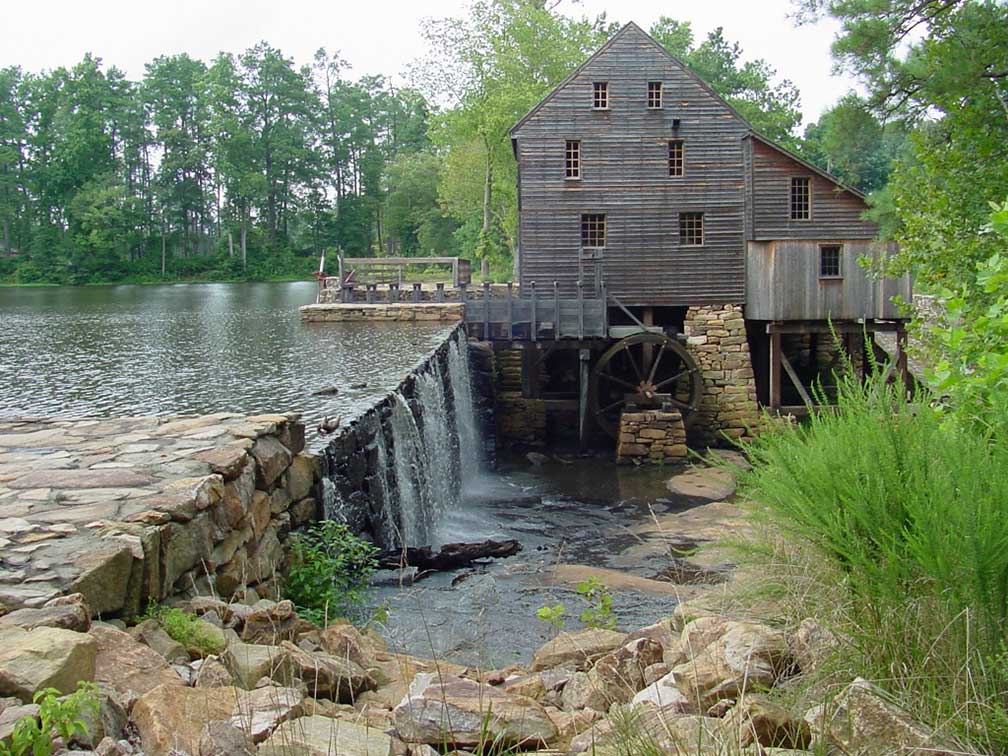 Image: Vince DiNoto

Historic places: North Carolina State Capitol (former seat of the General Assembly (until 1963), houses now offices of the Governor of NC). Mordecai Historic Park (Mordecai House is the oldest residence in Raleigh and the centerpiece of Mordecai Historic Park museum. The park features also the original birthplace of President Andrew Johnson, the 17th US President)

Churches: St. Paul A.M.E. Church (historic American Gothic Revival style church built in 1884)
Performing arts: Duke Energy Center for the Performing Arts (three theater venues, and the stage for the North Carolina Symphony and the Carolina Ballet - www.dukeenergycenterraleigh.com). Raleigh Little Theatre (community theater). Coastal Credit Union Music Park (the Walnut Creek Amphitheater is host to concerts)
Children's museum: Marbles Kids Museum (children's museum with an IMAX Theater)
Convention center: Raleigh Convention Center (convention and exhibition complex).
Shopping: Triangle Town Center (shopping mall); Crabtree Valley Mall (regional shopping mall).
Planetarium: Morehead Planetarium and Science Center (one of the oldest and largest planetariums in the United States, located on the UNC campus at Chapel Hill)
Parks: Pullen Park (public park with a pond, adjacent to the campus of North Carolina State University). JC Raulston Arboretum (arboretum and botanical garden). William B Umstead State Park (NC state park offers hiking, bridle paths and bike trails, boat rentals, camping, picnic areas, and educational programs)
Sports: PNC Arena (indoor arena for basketball, ice hockey and concerts). J. S. Dorton Arena (multi-purpose arena, host to sporting events, concerts, political rallies and circuses). Carter–Finley Stadium (football stadium, home to the NC State Wolfpack football team)

Just zoom in (+) to see the Capitol Area Historic District with North Carolina State Capitol, a National Historic Landmark and the main house of the government of the U.S. state of North Carolina.

The page shows a city map of Raleigh with expressways, main roads and streets, zoom out to find Raleigh-Durham International Airport (IATA code: RDU) located in northwest 14 mi (23 km) by road, midway between the cities of Raleigh and Durham.
.
To find a location use the form below. To view just the map, click on the "Map" button.

To find a location type: street or place, city, optional: state, country.


Local Time Raleigh:

Tuesday-April-24 2018 21:54

Standard time zone Eastern (EST): UTC/GMT -5 hours
Daylight Saving Time (EDT) in use from the second Sunday in March, ends on the first Sunday in November; time zone offset: UTC/GMT -4 hours