Satellite view showing Honolulu, most populous city, principal port and capital of the state of Hawaii,

United States. The city is located along the southeast coast of the island of Oahu.
Honolulu is the gateway to Hawaii, a chain of islands in the North Pacific, about 2500 mi (4100 km) south west of Los Angeles. Hawaii was annexed by the US in 1898 and became the 50th state in 1959.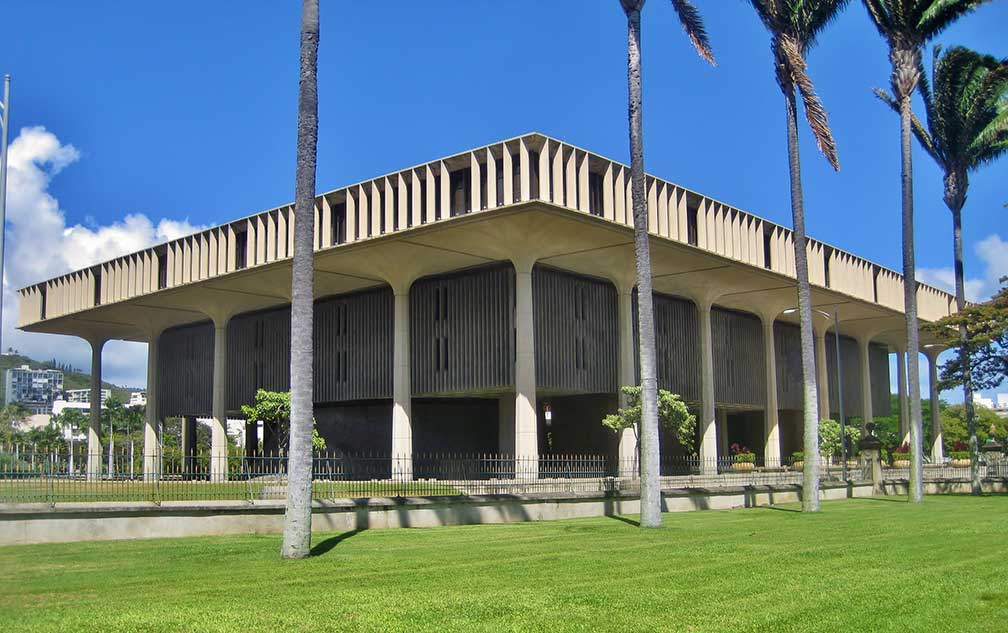 Image: Teemu008

The capital and the islands are a popular tourist destination and a first choice for retirement plans among Americans, understandable because temperatures vary little throughout the months with average high temperatures of 27-32°C (80-89°F) and lows of 19-24°C (65-75°F) throughout the year.

Downtown Honolulu is the financial, commercial, and governmental center of Hawaii and offers anything a metropolis has to offer, plus the Hawaiian charm of Aloha spirit.

Honolulu is most famous for its beaches, surfing, downtown nightlife and the fact that U.S. President Barack Obama spent his childhood here.

Honolulu has about 352,000 inhabitants (in 2015), 998,000 people live in Honolulu County, which comprises the entire population of Oahu island.

The city is home to the University of Hawaii at Mānoa and the Hawaii Pacific University.
Honolulu is in National Geographic's Top 10 list of Beach Cities. In Mercers Top 50 Eco-City Ranking 2010 Honolulu ranks # 2 after the city of Calgary, Canada.


Honolulu points of interest: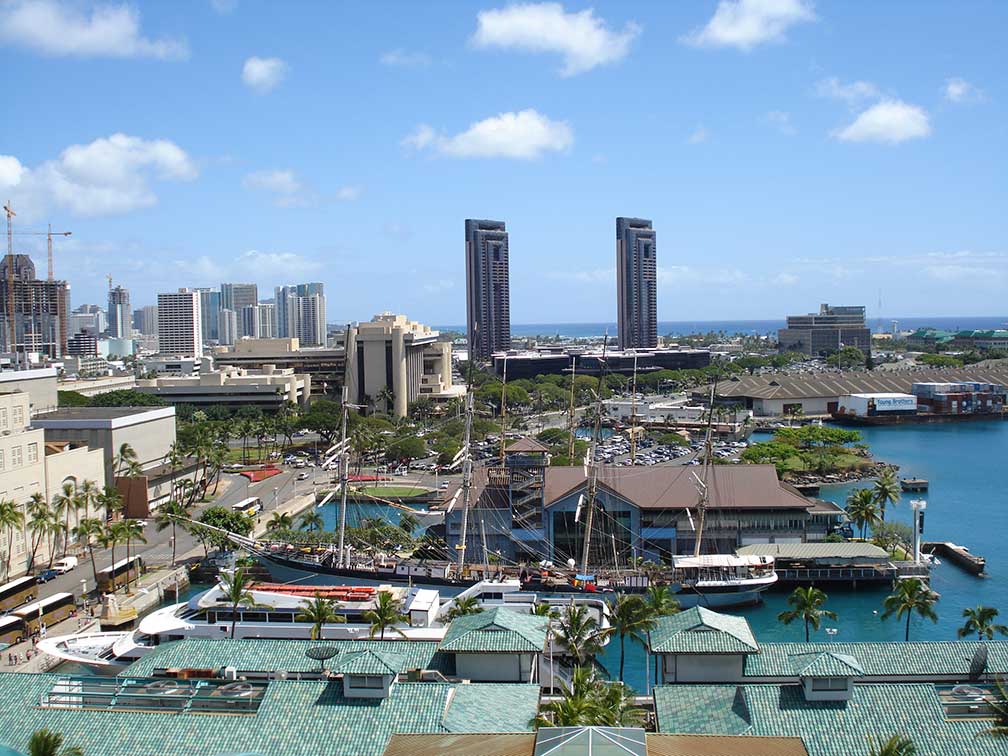 Image: Cumulus Clouds

Diamond Head (a famous vantage point on a sleepy volcano), ʻIolani Palace (former royal residence, from 1893 until 1969 it was used as the capitol building for the Provisional US Government of Hawaii), Moana Hotel (famous historic hotel), Aloha Tower (Hawaii landmark), Bishop Museum (Hawaiʻi State Museum of Natural and Cultural History), Honolulu Museum of Art (art museum), Foster Botanical Garden (flowers), Lyon Arboretum (trees), Manoa Falls (a vertical drop of water), Ford Island (the heart of Pearl Harbor), Kuhio Beach Park and Ala Moana Beach Park (public beach parks), Halona Blowhole (rock formation with a blowhole), Wet'n'Wild Hawaii (water park), Haiku Stairs (hiking trail).

For military fans there is the USS Bowfin (a Balao-class submarine), USS Missouri (BB-63, an Iowa-class battleship), the U.S. Army Museum of Hawaii (inside Battery Randolph), and the Pacific Aviation Museum Pearl Harbor (aviation museum with exhibits relating to the attack on Pearl Harbor).

Just zoom in (+) to see Aloha Tower one of the best known landmarks of Hawaii, located at Pier 9 of Honolulu, to south-east docked is the Falls of Clyde, the last surviving iron-hulled, four-masted full-rigged ship in the world.

The Map shows a city map of Honolulu with expressways, main roads and streets, Honolulu International Airport (IATA code: HNL) is located 6 mi (10 km) by road northwest of Oahu's central business district.

To find a location use the form below. To view the map, click on the "Map" button.

To find a location type: street or place, city, optional: state, country.


Current Local Time Honolulu:

Sunday-August-19 22:32

Hawaii-Aleutian Standard Time UTC/GMT -10 hours