___ List of major Canadian and US Airports with Airport-links and IATA 3-Letter Codes
Major international airports in the United States and Canada
List of the major international airports throughout the United States and Canada. The largest, most busiest and most important airports of the United States and Canada are listed.

Find maps, links and IATA airport codes and airport's passenger statistics on this and the following pages.

To find more information about an airport and its location on a map use the respective Location: City link.

You may also use the map to the right, with short information and passenger statistic for the individual airport.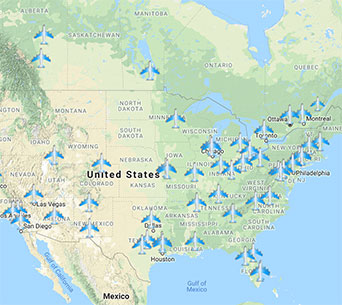 Searchable Map of major U.S. and Canadian Airports
Bookmark/share this page