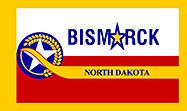 Satellite view showing Bismarck, capital and second most populous community (after Fargo) of the State of North Dakota in the

United States.

The city is located on the Missouri Plateau, at the east bank of the Missouri River, in the south-central part of North Dakota.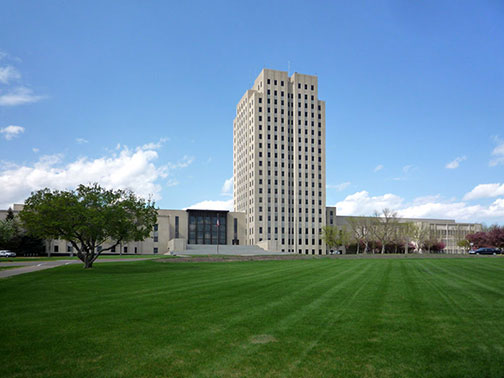 Image: Bobak

Bismarck was founded in 1872 at a site known as Missouri Crossing, because the Lewis and Clark party presumably crossed the Missouri river there. In 1873 the Northern Pacific Railway renamed the city Bismarck, in honor of German chancellor Otto von Bismarck. The city became North Dakota's capital when the state was created from Dakota Territory in 1889.

Today Bismarck has a population of about

67,000

inhabitants (in 2015).

Bismarck is home to North Dakota State Capitol, seat of the state's legislature, the North Dakota Heritage Center, the state's official history museum. The Bank of North Dakota, the only state-owned bank in the US.

In recent years, the city has benefitted from the oil activity in western North Dakota, leading to rapid growth and a robust economy. The capital is also a distribution and services center for the surrounding agriculture industry.


Image: By Will Kincaid, AP

City Highlights:

North Dakota State Capitol (21 story Art Deco skyscraper, the tallest building in North Dakota)

Sertoma Park (park along the Missouri River)

Dakota Zoo (community zoo within Sertoma Park, has cougars, tigers, snow leopards, wolves, bears, and lynx)

North Dakota Heritage Center (North Dakota's official history museum, with Triceratops and Tyrannosaurs skeletons on display)

Superslide Amusement Park (be amused)


Just zoom in (+) to see Kirkwood Mall, the city's major shopping center.

The map shows a city map of Bismarck with expressways, main roads and streets, zoom out to find the location of Bismarck Municipal Airport (IATA code: BIS), 3 mi (5 km) southeast of the central business district.

To find a location use the form below. To view just the map, click on the "Map" button.

To find a location type: street or place, city, optional: state, country.


Local Time Bismarck:

Tuesday-April-24 20:42

Standard time zone: Central Standard Time (CST); UTC/GMT -6 hours Central Daylight Time (CDT) in use from the second Sunday in March, ends on the first Sunday in November; time zone offset: UTC/GMT -5 hours