Flag of Philippines

Background:
The Philippines are the highest portions of a partly submerged mountain chain and is made up of 7 107 islands;
main island groups are Luzon, Visayas, and Mindanao.
Spain (1565-1898) and the United States (1898-1946), colonized the country and have been the largest influences on the Philippine culture. The Philippines is one of the most westernized nations in Southeast Asia, a unique blend of eastern and western culture.

The Philippines share maritime borders with: China, Indonesia, Japan, Malaysia, Palau, Vietnam, and Taiwan.

related countries: Japan, Spain, United States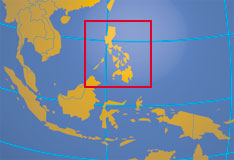 Official Name:
Republika ng Pilipinas
short form: Pilipinas
int'l long form: Republic of the Philippines
int'l short form: Philippines

ISO Country Code: ph

Time:
Local Time = UTC +8h
Actual Time:

Tue-Sept-27 09:52



Country Calling Code: +63

Capital City: Manila (pop. city proper 1 654 761 (1995) 9.9 million in metropolitan area)

Other Cities:
Quezon City (2 million), Davao City (1.2 million); Cebu City (0.7 million)

Government:
Type: Republic
Independence: 12 June 1898 (from Spain)
Constitution: 2 February 1987, effective 11 February 1987

Geography:
Location: Southeastern Asia, archipelago between the Philippine Sea and the South China Sea, east of Vietnam.
Area: 300,000 km² (115 739 sq m)
Terrain: Mountains on the smaller islands, larger islands have mountains with fertile river valleys in the interior and narrow to extensive coastal plains.

Climate: Tropical, March to May is hot and dry, rainy season from June to October, November to February moderate. Average temperatures: 78°F / 25°C to 90°F / 32°C

People:
Nationality: Noun--Filipino(s). Adjective--Philippine.
Population: 100 million (in 2014)
Luzon, the largest island group, accounts for more than half of the entire population.
Ethnic Groups: Malay, Chinese.
Religions: Catholic 80%, Moslem 15%, Christian denominations and Buddhist.
Languages: Filipino and English (official). Filipino which is based on Tagalog, is the national language. English is also widely used and is the medium of instruction in higher education.
Literacy: 92%

Natural resources: Timber, limited offshore petroleum, extensive mineral deposits of copper, gold, silver, nickel, lead, and chromium.

Agriculture products: Rice, coconuts, corn, sugarcane, bananas, pineapples, mangoes, pork, eggs, beef, fish.

Industries: electronics assembly, textiles, pharmaceuticals, chemicals, wood products, food processing, petroleum refining, fishing.

Currency: Philippine Peso (PHP)

Source: Philippines Department of Tourism and others.



Philippines in Figures
Philippines key statistical data.