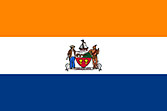 Satellite view showing Albany, capital city of the State of New York in the

United States. Albany is located in the Hudson Valley, surrounded by mountain ranges. The city lies at the west bank of the Hudson River in the eastern part of New York state, about 215 km (145 mi) north of New York City and about 38 km south of Lake Saratoga.

Albany is a relative small city for a US state capital with a population of just under 100,000 inhabitants (2014).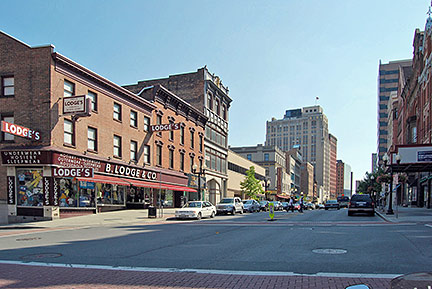 Photo: UpstateNYer

History (short version)
In the colonial era it was a fur-trading center and the site of meetings between Indians and Europeans. Henry Hudson, sailing up the Hudson River in 1609, reached a point near modern Albany. In 1614 the Dutch explorer Hendrick Christiaensen built Fort Nassau on Castle Island in the Hudson, a little south of Albany's site. When this was destroyed by a flood in 1617 it was replaced by building Fort Orange on the present location. Seven years later a group of civilian settlers arrived. When the English took control of the colony of New Netherland in 1664, they renamed the settlement Albany. The Albany Congress of 1754, which met here, was the first attempt of the American colonists to organize a union of the colonies. Representatives from seven colonies negotiated with the Iroquois Indians and voted favorably on Benjamin Franklin's Plan of Union, which was later rejected by colonial legislatures. The New York state capital was moved to Albany in 1797. With the building of the Erie Canal, completed in 1825, the city grew economically. It is today a deepwater port and a busy commercial center.
In 2009 Albany was awarded "All-America City 2009", the award is given by the National Civic League.

The Map shows a city map of Albany with expressways, main roads and streets, zoom out to find Albany International Airport (IATA code: ALB) about 6 mi (10 km) north of Albany.

To find a location use the form below. To view just the map, click on the "Map" button.

To find a location type: street or place, city, optional: state, country.


Local Time Albany

Monday-June-27 2016 07:20

Standard time zone Eastern (EST): UTC/GMT -5 hours
Daylight Saving Time (EDT) in use from the second Sunday in March, ends on the first Sunday in November; time zone offset: UTC/GMT -4 hours