Searchable Map and Satellite View of Jefferson City using Google Earth Data (with 45-degree image coverage)
Satellite view showing Jefferson City, named after the third president of the United States Thomas Jefferson.

The city is the capital of the State of Missouri in the

United States, located close to the geographic center of the state at the Missouri River, north of the the Ozark Mountains.

Formerly a trading post called Lohman's Landing, today Jefferson City has a population of about 43,000 inhabitants, about 150,000 live in the Jefferson City metropolitan area.

The city is kind of isolated because it is one of the four state capitals not served by an interstate highway. Jefferson City was chosen as Missouri's capital in 1821.

The city is home to Lincoln University, Missouri, a historically black college.

Just zoom in (+) to see Missouri State capitol. Street view and 45-degree images available.

The page shows a city map of Jefferson City with expressways, main roads and streets, an the location of Jefferson City Memorial Airport (IATA code: JEF).


Map Help

To find a location use the form below. To view just the map, click on the "Map" button.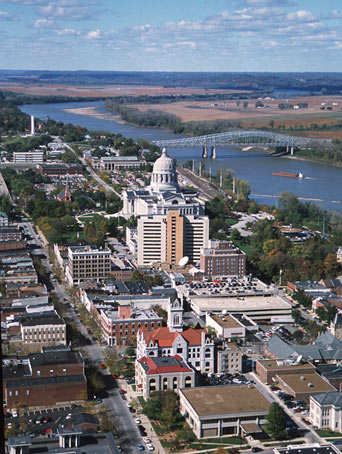 Aerial view of Jefferson City, with Missouri State capitol in center.
Image: Sarah Minor, USDA Natural Resources Conservation Service

To find a location type: street or place, city, optional: state, country.


Local Time Jefferson City:

Monday-September-1 2014 15:55

Standard time zone: Central Standard Time (CST); UTC/GMT -6 hours.
Central Daylight Time (CDT) in use from Sunday, 10 March 2013 ends on Sunday, 3 November 2013; time zone offset: UTC/GMT -5 hours