About the Statue of Liberty
Satellite view is showing the Statue of Liberty, New York,

United States, located on a 12 acre (4.85 hectar) island at the mouth of the Hudson River in New York Harbor.

The Statue of Liberty was a gift of international friendship from the people of France to the people of the United States, in recognition of the friendship established during the American Revolution.

The French sculptor Frederic Auguste Bartholdi was commissioned to design a sculpture with the year 1876 in mind for completion, to commemorate the centennial of the American Declaration of Independence.

Height from base to torch 151 ft 1 in, (46 m)
Foundation of pedestal to torch 305 ft 1 in; (93 m)
Thickness of copper sheeting 3/32 of an inch (2.4 mm)
Total weight used in Statue 450,000 pounds 204.1 tons.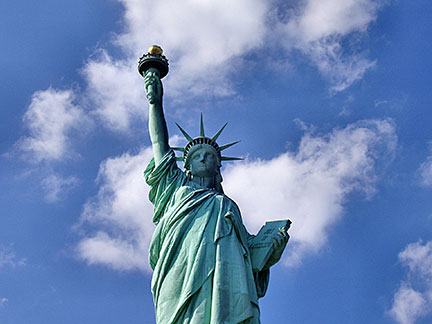 (In Street view you will notice that the face of Liberty has been blurred-out - maybe to maintain her anonymity?)