Flag of Romania

Background:
Soviet occupation following World War II led to the formation of a communist "peoples republic" in 1947 and the abdication of the king.
The decades-long rule of President Nicolae CEAUSESCU became increasingly draconian through the 1980s. He was overthrown and executed in late 1989.
Former communists dominated the government until 1996 when they were swept from power.
Much economic restructuring remains to be carried out before Romania can achieve its hope of joining the EU.
(Source: CIA - The World Factbook)


border countries: Bulgaria, Hungary, Moldova, Serbia, Ukraine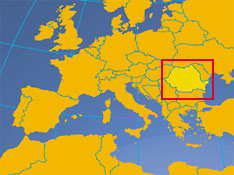 Official Name: Romania

ISO Country Code: ro

Time:
Local Time = UTC +2h (Summer +3h)
Actual Time:

Fri-Oct-28 03:32



Country Calling Code: +40

Capital City: Bucuresti (Bucharest; pop. 2 million)

Other Cities: Iasi (350 000), Constanta (344 000), Timisoara (327 000), Cluj-Napoca (334 000), Galati (331 000), Brasov (316 000)

Government:
Type: Republic.
Constitution: 8 December 1991, amended by referendum October 2003.

Geography:
Location: Southeastern Europe, bordering the Black Sea, between Bulgaria and Ukraine.
Area: 238,391 km² (92,043 sq. mi.).
Terrain: Consists mainly of rolling, fertile plains; hilly in the eastern regions of the middle Danube basin; and major mountain ranges running north and west in the center of the country, which collectively are known as the Carpathians.

Climate: Temperate-continental, four seasons, cold winters with frequent snow; sunny summers.

People:
Nationality: Romanian(s).
Population: 19 million (2011 census)
Ethnic groups: Romanians 88.6%; Hungarians (including Szecklers) 6.5%; Roma (Gypsies) 3.2%; other ethnic groups -1.4%.
Religions: Eastern Orthodox - 86.7%; Protestant - 5.2%; Roman-Catholic - 4.7%; Romanian Greek-Catholic - 0.9%, Evangelical - 0.1%; Unitarian - 0.3%; other religions - 0.4%.
Languages: Romanian (official), Minority languages: Hungarian, German, Chinese.
Literacy: 98%.

Natural resources: Petroleum (reserves declining), timber, natural gas, coal, iron ore, salt, arable land, hydropower.

Agriculture products: Wheat, corn, barley, sugar beets, sunflower seed, potatoes, grapes; eggs, sheep.

Industries: Textiles and footwear, light machinery and auto assembly, mining, timber, construction materials, metallurgy, chemicals, food processing, petroleum refining.

Exports partners:
Germany 18.9%, Italy 12.3%, France 7.1%, Turkey 5.5%, Hungary 5.5% (2012)

Imports partners:
Germany 17.5%, Italy 11%, Hungary 9.1%, France 5.7%, Russia 4.4%, Poland 4.3%, Austria 4.2%, Kazakhstan 4.1% (2012)

Currency: Leu (RON)

Source: Presidency of Romania and others.