Flag of Belgium

Background:
Belgium became independent from the Netherlands in 1830 and was occupied by Germany during World Wars I and II.
It has prospered in the past half century as a modern, technologically advanced European state and member of NATO and the EU.
Tensions between the Dutch-speaking Flemings of the north and the French-speaking Walloons of the south have led in recent years to constitutional amendments granting these regions formal recognition and autonomy.
(Source: CIA - The World Factbook)

border countries: France, Germany, Luxembourg, Netherlands, Belgium shares maritime borders with the United Kingdom.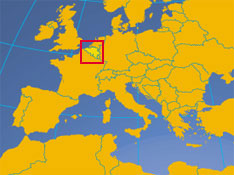 Official Name:
Royaume de Belgique - Koninkrijk Belgie
local short form: Belgique - België
int'l long form: Kingdom of Belgium
int'l short form: Belgium


ISO Country Code: be
Time Zone: CET -- Central European Time
Actual Time:

Mon-Mar-2 06:01


Local Time = UTC +1h
Daylight Saving Time (DST) March - October (UTC +2)

Country Calling Code: +32

Capital: Bruxelles (Brussels - pop. 954 460)

Other Cities:
Antwerp (pop. 445,570)
Brugge (pop. 116,559)
Charleroi (pop. 202,233)
Gent (pop. 224,685)
Liège (pop. 184,550)
Namur (pop. 105,248)
Verviers, Waterloo

Government:
Federal parliamentary democracy under a constitutional monarch
Independence: 1830 (from the Netherlands)

Geography:
Location: Western Europe
Area: 30,528 km² (11,786 sq. mi.)
Highest elevation: Signal de Botrange (694 m)

Climate: Temperate; mild winters, cool summers; rainy, humid, cloudy

People:
Nationality: noun: Belgian(s)
adjective: Belgian
Population: 10.9 million (2011)
GNI per capita PPP: $ 31 549 (year)
Religions: Predominantly Roman Catholic (although less than 20% practicing); Protestant, Jewish, Islamic, Anglican, Greek and Russian Orthodox recognized.
Languages: Dutch, French, German
Linguistic regions: Dutch-speaking 58%; French-speaking 32%; legally bilingual (Brussels) 9.3%; German-speaking 0.7%
Literacy: 98%.

Natural resources: Coal, natural gas, construction materials, silica sand, carbonates.

Agriculture products: Sugar beets, fresh vegetables, fruits, grain, tobacco; beef, veal, pork, milk.

Industries: Engineering and metal products, motor vehicle assembly, processed food and beverages, chemicals, basic metals, textiles, glass, petroleum.

Exports partners: Germany 19.5%, France 17.4%, Netherlands 11.7%, UK 9%, USA 6.7%, Italy 5.4% (2003)

Imports partners: Germany 17.7%, Netherlands 16.5%, France 13.2%, UK 7.5%, USA 5.9%, Ireland 5.7% (2003)

Currency: Euro (EUR)