Image: DFID - UK
Hurricane Harvey, Irma, Maria, Nate, the catastrophic storms
There is no global warming or climate change, isn't it? It's just a change in the weather pattern and it can get really rough, actually, you should have been prepared for the worst case scenario.

Back-to-back storms wreaked havoc in Central America, the Caribbean, and states along the U.S. Gulf Coast.

It was a very harsh awakening after more and more powerful Atlantic storms have swept abrasively many islands in the Eastern Caribbean and bashing several states along the U.S. Gulf Coast, causing major damage to buildings, destroyed infrastructure, damaged crucial economies, ripped communities apart — and killed people. Hurricanes Harvey and Irma wiped out more than 30,000 jobs in Texas and Florida, let alone in parts of the Caribbean.

Due to an extensive, and for some guys extremely dangerous press coverage, the world has witnessed unimagined scenes of devastation. But now — there is hardly a way to rebuilt towns and communities without electricity, fuel, clean water, food, roads, jobs, sanitation, and telecommunication, for all this necessities were destroyed by the hurricane. The US may have the capacity to restore devastated towns and communities in the long term, but poor Caribbean islands may have not. Tossing paper towels is really not enough.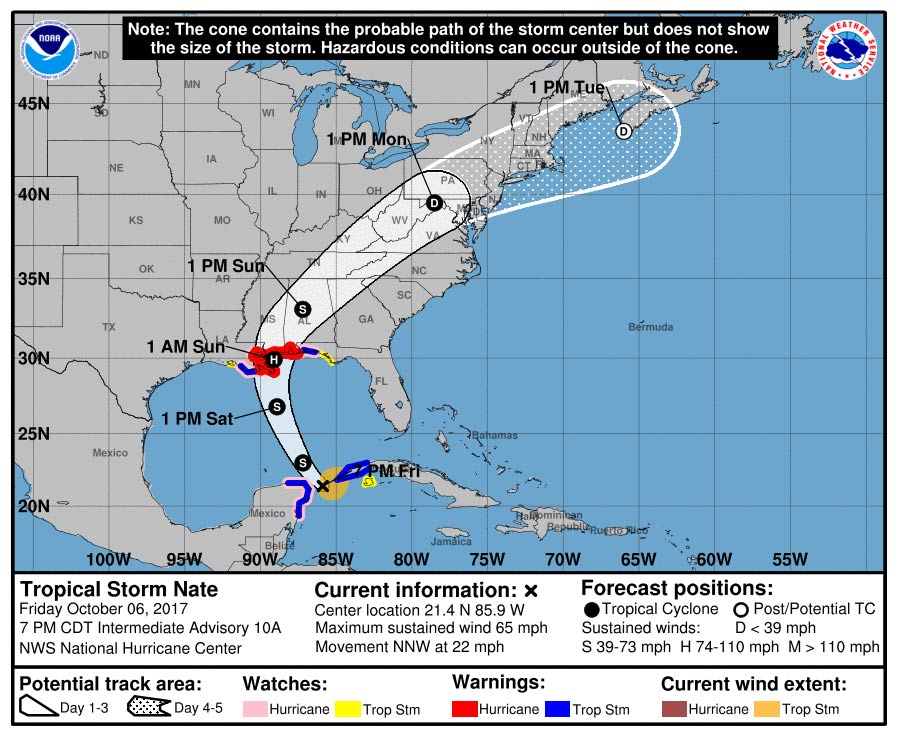 Image: National Hurricane Center

Central America
Tropical storm Nate has already killed at least 22 people in Nicaragua and Costa Rica. The United States Virgin Islands were hit twice, what was left by Hurricane Irma, Hurricane Maria has put it over the edge.

Caribbean
Hurricane Maria destroyed Dominica and devastated Puerto Rico and left the islands without power and .

Island territories in the path of the Category 5 Hurricane Irma, one of the strongest Atlantic storms ever recorded (another great superlative), were the northern Leeward Islands, a group of islands in the West Indies (Caribbean), some of the French Caribbean islands and the former territories of the Netherlands Antilles (Guadeloupe, St. Barthélemy (St. Barts) and Saint Martin (Sint Maarten)), Anguilla, the British Virgin Islands and the US Virgin Islands.

Irma has slammed Anguilla and made parts of St Martin/Sint Maarten look like a war zone, then it went head-on to the island of Barbuda (Antigua and Barbuda), when the eye of the storm passed Barbuda it rendered it barely habitable and cut it off from the rest of the world.
Later the storm whirled along the unincorporated US territory of Puerto Rico, then the Dominican Republic and Haiti on the island of Hispaniola and on to the British Turks and Caicos Islands. Just hours later it hit Cuba, with disastrous consequences for the people of the northern coast of the largest island in the Caribbean.

Florida
From Cuba the storm moved north at a speed of 6 to 8 mph, in direction of Florida, it made landfall in Cudjoe Key, to wreak havoc on the low lying islands of the western Florida Keys.

Meanwhile downgraded to a Category 2 tropical storm Irma crushed down on the peninsula of Florida itself. The storm made landfall on Sunday (9/10) and ravaged the Sunshine State for one very long night and a day.

More than six million people in Florida have been requested to leave their homes and to go to public shelters, the largest evacuation ever in US history has converted the cities in parts of Florida into ghost towns. People on the run from the hurricane streamed northward in packed vehicles, causing major congestions, downright horror traffic jams, until now only known from Hollywood flicks.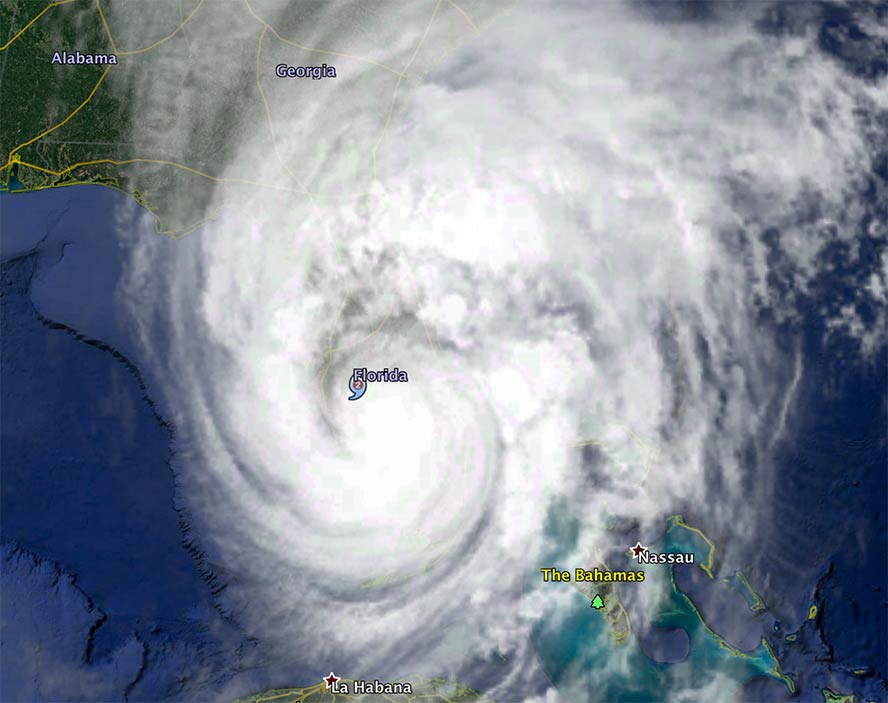 Image: Google Earth

Public shelters in the region were crammed, people were waiting for hours in front of stadiums, arenas and other 'save' facilities.

Even so Irma has been downgraded to a Category 2 tropical storm, strong force winds were lashing out for the whole state. It was feared that storm surges could reach 10-15 feet (3-4.5 m) at the south western coast of Florida. Storm surges are a hurricane's greatest threat to coastal communities. Even Florida's major cities like Jacksonville, Miami, Miami Beach, Orlando, Tampa and Tallahassee were not really save havens.

Emergency calls
During Hurricane Irma and its aftermath, use 911 for emergencies, not Twitter, experts say.

Florida Emergency Information: 1-800-342-3557
Emergency referral line: 211
Red Cross Issues Safety and Preparedness Tips
Voice of NOAA's National Weather Service



Tropical Cyclones
A hurricane or a tropical cyclone is a more or less localized, very intense low-pressure wind system, forming over tropical (warm) oceans with winds of hurricane force, accompanied by torrential rain and howling noises people described it as insane or apocalyptic.

Tropical cyclones are fueled by vast areas of warm surface waters of around 26°C or more. A tropical cyclone is classified as a hurricane when its sustained winds run at least 74 mph (33 m/s; 64 kn; or 119 km/h), this is just Category 1. Find out more about IRMA at the US National Hurricane Center.



99+ of the world's most amazing countries
Check out the top up-and-coming travel destinations for 2018.
Don't be fooled by claims like 'Top 10 best destinations on Earth', they deceive you to find your special location on the planet. Because each country is one-of-a-kind in culture, history, people, languages, nature and environment, there is a place you really want to be.

Take a look at the most mind-blowing places on this planet and update your bucket list. This site offers you more open space for top-notch adventures, take your lucky break at blinged-out locations and get some colorful glimpses into foreign customs and traditions, you might catch some new perspectives and probably expand your horizon for ever.

For each country you will find in-depth information about the nation, its cities and attractions, get local news, board national airlines, find embassies, get information from tourist boards and immerse yourself in an adventure of a lifetime. Delve into the unknown. Find out more about a region's art, history, and culture - where to go, and where not.



All Countries of the World