Flag of Japan (hi-no-maru)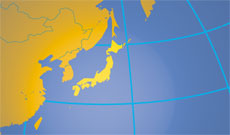 Official Name:
Japan
Local Name: Nihon (Nippon)
Local Formal Name: Nihon Koku

ISO Country Code: jp

Actual Time:

Tue-Dec-6 05:37


Local Time = UTC +9h

Country Calling Code: +81

Capital City: Tokyo

Other Cities: Chiba, Fukuoka, Hiroshima,
Kobe, Kyoto, Osaka, Sendai, Yokohama.



List of the most populated cities in Japan

List of the Prefectures of Japan


Government:
Type: Constitutional monarchy with a parliamentary government.
Constitution: 3 May 1947.
Independence: 660 BC (traditional founding by Emperor Jimmu, held as official dogma until 1945.)

Geography:
Location: Eastern Asia, island chain between the North Pacific Ocean and the Sea of Japan (East Sea), east of the Korean Peninsula.
Area: 377 864 sq. km. (145 902 sq. mi.)
Terrain: Rugged, mountainous islands.
Highest peak: Mount Fuji (富士山, Fuji-san)

Climate: Varies from subtropical to temperate.

People:
Nationality: Japanese.
Population: (2012) 128 million.
Ethnic groups: Japanese.
Religions: Shinto and Buddhist.
Language: Japanese (Nihongo)
Literacy: 99%.

Natural resources: Negligible mineral resources, fish.

Agriculture products: Rice, sugar beets, vegetables, fruit, pork, poultry, dairy products, eggs, fish.

Industries: Among world's largest and technologically advanced producers of motor vehicles, electronic equipment, machine tools, steel and nonferrous metals, ships, chemicals, textiles, processed foods.

Exports partners: USA 24.8%, China 12.1%, South Korea 7.3%, Taiwan 6.6%, Hong Kong 6.3% (2003)

Imports partners: China 19.7%, USA 15.6%, South Korea 4.7%, Indonesia 4.3% (2003)

Currency: Yen (JPY)



Background:
While retaining its time-honored culture, Japan rapidly absorbed Western technology during the late 19th and early 20th centuries.
After its devastating defeat in World War II, Japan recovered to become the second most powerful economy in the world and a staunch ally of the US.
While the emperor retains his throne as a symbol of national unity, actual power rests in networks of powerful politicians, bureaucrats, and business executives.
The economy experienced a major slowdown in the 1990s following three decades of unprecedented growth.
(Source: CIA - The World Factbook)

related countries: China, Russia, South Korea, United States

Note: External links will open in a new browser window.

Official Sites of Japan

The Imperial Household Agency
Introduction to the official duties and various public activities of Their Majesties the Emperor and Empress, and other members of the Imperial Family.


Japans National Diet
Japans National Diet is composed of two houses:
Shugiin
The House of Representatives.
Sangiin
The House of Councillors.

Kantei of the Prime Minister
The Prime Minister's office website.


The Ministry of Foreign Affairs
MOFA Japan

Diplomatic Missions
Permanent Mission of Japan to the United Nations
Japan's representation to the UN.
Embassy of Japan
Washington D.C.
Japan Embassies and Consulates Abroad
List of Japan Embassies and Consulates around the world.
Foreign Embassies and Consulates in Japan
List of Embassies, Consulates and International Organizations in Japan.
Visa for Japan
Information on visa requirements to enter Japan.

Statistics
Statistics Bureau & Statistics Center
Japan in figures.
STATISTICS
Up-to-date statistical data of Japan in English.


Maps


Map of Japan
Political Map of Japan.


Google Earth Map Japan
Searchable satellite view and map of Japan.


Google Earth Map Tokyo
Searchable satellite view and map of Tokyo.

Searchable maps/satellite views of the cities of:


Fukuoka,

Fukushima,

Kobe,

Kyoto,

Nagoya,

Osaka,

Sapporo,

Sendai,

Yokohama


See also:

Most populated cities of the world

Reference Map of Asia
Political Map of Asia.