ပြည်ထောင်စု သမ္မတ မြန်မာနိုင်ငံတော်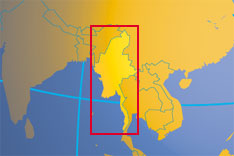 Official Name:
Pyidaungzu Myanma Naingngandaw
short form: Myanma
int'l long form: Republic of the Union of Myanmar
int'l short form: Myanmar
formerly, but still in use: Burma

ISO Country Code: MM, MMR, .mm

Country Calling Code: +95

Capital City since 6 November 2005: Naypyidaw (Nay Pyi Taw)

Other Cities:
Yangôn (Rangoon, pop. 5 million), Mandalay (pop. 700 000)

Government:
Type: nominally civilian government (since 29th March 2011, when Burma's military handed over power). The new political system came into effect after an election in November 2010.
Constitution: 3 January 1974 (suspended since 18 September 1988 when latest junta took power). Burma has been under military authority since 1962.

Geography:
Location: Southeast Asia, bordering the Andaman Sea and the Bay of Bengal.
Area: 676,578 km² (261,228 square miles).
Terrain: A land of hills and valleys rimmed in the north, east and west by mountain ranges forming a giant horseshoe. Enclosed within the mountaion barriers are the flat lands of Ayeyarwaddy, Chindwin and Sittaung River valleys where most of the country's agricultural land and population are concentrated.

Climate: Tropical monsoon; cloudy, rainy, hot, humid summers (southwest monsoon, June to September); less cloudy, scant rainfall, mild temperatures, lower humidity during winter (northeast monsoon, December to April).

People:
Nationality: Burmese.
Population: 51.4 million (2014 census)
Ethnic groups: according to Myanmar's Ministry of Foreign Affairs there are 8 Major National Ethnic Races in Myanmar, which all comprises different ethnic groups: the Kachin, the Kayah, the Kayin, the Chin , the Mon, the Bamar, the Rakhine, and the Shan.
according to the CIA World Factbook the ethnic groups are: Burman 68%, Shan 9%, Karen 7%, Arakanese 4%, Chinese 3%, Mon 2%, Indian 2%, other 5%.
Religions: Buddhism (89.2%), Christianity (5.0%), Islam (3.8%), Hinduism (0.5%), Spiritualism (1.2%) and others (0.2%).
Languages: Burmese; Myanmar is a union of 135 ethnic groups with their own languages and dialects.
Literacy: 90% (2003 official Government of Burma statistics); estimates of functional literacy are closer to 30%

Natural resources: Timber, tin, antimony, zinc, copper, tungsten, lead, coal, limestone, precious stones like jade, ruby and sapphires, natural gas, hydropower, and some petroleum.

Agriculture Products: Rice, pulses, beans, sesame, groundnuts, sugarcane, hardwood, fish and fish products.

Industries: Agricultural processing; knit and woven apparel; wood and wood products; copper, tin, tungsten, iron; construction materials; pharmaceuticals; fertilizer; cement.


Myanmar in numbers
Myanmar key statistical data.


Background:
Previously an independent kingdom, Burma was annexed by the British Empire into the colony of India in 1886. The occupation brought social, economic, cultural and administrative changes to the once-feudal society. The Japanese Empire invaded and occupied the country during World War II but it was returned to British control until independence in 1948.

From 1962 to 2011, the country was ruled by a military junta with absolute power. The name of the country was changed in 1989 by the ruling military government, officially recognized by the United Nations. Some national governments, such as Canada, the United Kingdom, the United States, and much of the Burmese population do not recognize this name change, since they do not recognize the military government.

Despite multiparty elections in 1990 that resulted in the main opposition party winning a decisive victory, the military junta refused to hand over power.
Key opposition leader and Nobel Peace Prize recipient AUNG San Suu Kyi, has been set under house arrest from 1989 to 1995, and was again placed under house detention in September 2000; her supporters are routinely harassed or jailed. In 2011 the military junta was dissolved following a general election in 2010 and a civilian government has been installed.

Border countries: Bangladesh, China, India, Laos, Thailand